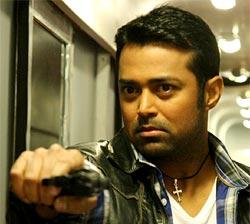 India's tennis legend Leander Paes is gearing up for a new challenge in life as he gets set for his debut in Bollywood.
Paes, who has won 13 Grand Slam titles, will make his foray into movies with Rajdhani Express, a socio-political drama, which releases on January 4, 2013.
Paes potrays the role of Keshav in the movie, which also stars Jimmy Shergill, Gulshan Grover, Mukesh Rishi and Sayali Bhagat among others.
Paes, 39, has been the flagbearer of Indian tennis for more than two decades having taken part in six Olympic Games, which included the bronze medal in singles at the 1996 Atlanta Olympic Games.

He revealed that he always had interest in acting in movies and there are a few more movie projects in the pipeline now.
Join the tennis superstar as he connects with Rediff readers from 2 pm on Thursday, December 27, only on Rediff ZaraBol.