A prosecutor on Monday dropped charges against a 20-year-old college student who jumped out of the stands, ran onto the field and hugged Real Madrid soccer star Cristiano Ronaldo during an exhibition match in Miami in August.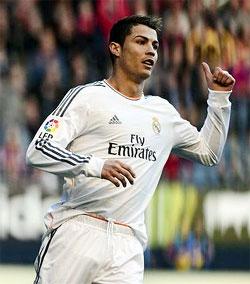 The Portugal striker personally intervened in the case of Ronald Gjoka, a Canadian who faced charges of disorderly conduct and trespassing after the incident in the second half of the International Champions Cup match between Real and Chelsea.
After learning of Gjoka's legal predicament, Ronaldo wrote a letter to the prosecutor in the case appealing for the charges to be dropped.
"We are happy to announce the prosecutor today dropped the charges against our client in open court," Richard Hujber, a lawyer for Gjoka, said on Monday.
"In particular, we thank Cristiano Ronaldo for all his assistance and consideration in this important matter involving a young college student with an extremely bright future."
Gjoka, who attends Palm BeachStateCommunity College, said he hoped to have a chance one day thank the star personally. "My dream now is just to see him again to say thanks," he said.
Wearing a No. 7 Ronaldo shirt, Gjoka sprinted onto the field during the August 7 match and did a knee slide, imitating the striker's traditional goal-scoring celebration.
He then stood up and embraced the star, who reacted calmly and chatted with Gjoka during a hug that lasted almost a minute and elicited wild cheers from the crowd of 70,000 fans. Security guards then escorted Gjoka off the field.
Photograph: Vincent West/Reuters