India's Karun Chandhok added to his points score in the fourth race weekend of the 2008 GP2 Series at Magny-Cours in France on Sunday.
The 24-year-old from Chennai, who prior to the race weekend, secured fresh backing from the growing petro-chemical brand Punj Lloyd in addition to his existing partners Red Bull, JK Tyre, Amaron and ICSA Logistics, was on a high from his recent podium finish in Monaco. He started from eighth place on the grid for the feature race, and despite a delay in the pits, when a rival car drove very close to his mechanics, drove a solid and consistent race to finish seventh.
"I had a pretty strong race. I wasn't really able to hook the lap up in qualifying but in the race the car worked very well and I got into a good rhythm. I lost a place to d'Ambrosio in the pit-stops because Pastor Maldonado's car was uncomfortably close to my mechanics but otherwise I think it's been a good afternoon," said Chandhok. "I had a good battle with Jerome d'Ambrosio and Sebastien Buemi straight after the stop, but it's so difficult to pass here that I couldn't make more progress. It's good to keep my points score ticking over after Monaco, though."
Seventh place meant a front row start to Sunday's sprint race, but on a damp track, his engine bogged down at the start, dropping him into the pack. Following a pitstop to change to slick tyres, he was battling back towards the points when he clashed with Saturday's winner Giorgio Pantano.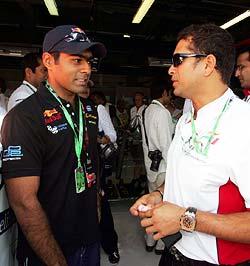 "The race was a big mess. It was a tough choice with the tyre strategy and it was one of those where all the guys at the back who could afford to gamble came out on top while those of us at the front lost out. After changing tyres, I was really catching the group of cars in front including Giorgio, but at one stage about five of us tried to squeeze into the chicane and he and I didn't come out unscathed ! It damaged my front wing and the brake duct, so I had to retire," Chandhok said.
Chandhok did have the pleasure of meeting and interacting with one of his sporting heroes, Sachin Tendulkar, who was attending the race as a guest of the Force India Formula 1 Team. "It was nice to meet Sachin for the first time. I was surprised at how humble he is for someone with such stature in India. He is more than just a casual viewer of the sport and was certainly very keen to learn about the technical and driving intricacies of the sport. Moreover, it was great to interact sportsman to sportsman with a man who has done a lot for our country."
Chandhok's next race is at Silverstone in Great Britain on July 5 and 6.
"Until I get an Indian Grand Prix, Silverstone is the next best thing for me. I live 5 minutes from the circuit and have a great affection for the place. It's really frustrating to have 4 non-finishes out of 8 races and I'm looking forward to a good weekend at Silverstone where we can really score a good haul of points. It's a home race for the team as well and we're going to be pushing like mad for a good result."