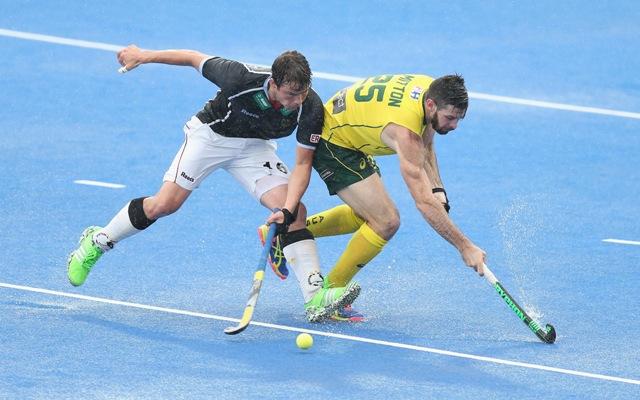 IMAGE: Pilt Arnold of Germany and Trent Mitton of Australia during the FIH men's Hero Hockey Champions Trophy. Photograph: Alex Morton/Getty Images.
World champions Australia rallied from a two-goal deficit to prevail 4-3 over Olympic gold medallists Germany and bolster their position in the 36th Hero Champions Trophy hockey tournament, at the Lee Valley Hockey Centre, in London, on Monday.
Posting their second victory in three outings, Australia now head the standings with seven points from three outings, followed by India and Great Britain, on four points each.
Britain outplayed South Korea 4-1 for their first win in three matches, while Asian Games champions India have four points from two outings and take on Belgium later today.
Goals from German captain Florian Fuchs, in the 12th minute, and Tobias Hauke, in the 14th, gave Germany a two-goal lead in the first quarter before Australia's strikers got into action.
Glenn Turner (17tth) and Tristian White (22nd) made flash strikes for Australia in the space of five minutes to draw parity, but an open play goal by Fuchs put the Germans ahead in the 30th minute.
In the fast-paced encounter, a part of which was played in rain, Australia gradually seized the initiative.
Blake Govers restored parity at 3-3 with a penalty corner conversion in the 40th minute, and the match-winner came through a field goal by Aran Zalewski in the 51st minute.
Germany's desperate attempts to equalise failed to produce results as the Australians' compact defence did not give anything away.
The loss seems to have dashed Germany's hopes of making the final as they now have just two points from three games.
David Condon scored two goals for Great Britain, who opened the scoring through a seventh minute penalty stroke conversion by Ashley Johnson. The stroke was awarded because of an obstruction committed on captain Barry Middleton in the goalmouth by goalkeeper Hong Doo-pyo.
Condon leaned forward to deflect a cross from left for Britain's second goal in the 18th minute, but the Koreans shot back with a penalty corner conversion by You Seung-ju four minutes later.
Alistair Brogdon got into goal-scoring action in the 33rd minute on a penalty corner and Condon rounded off the scoring with another field goal in the 46th.
The victory revived Britain's chances of making the final after Saturday's loss to India. After their loss, South Korea have three points from three outings.