Galatasaray do not have a chance of beating Chelsea in the last 16 of the Champions League, manager Roberto Mancini said on Tuesday.
Mancini, who comes up against the Premier League leaders in the Round of 16 first-leg at the Turk Telekom Arena in Istanbul on Wednesday, does not fancy his side's prospects.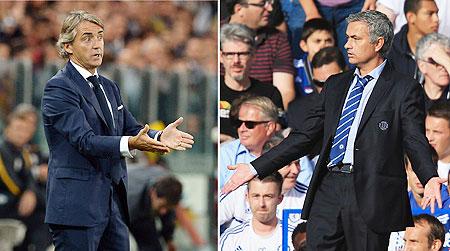 "We don't have a lot of chance, even at home," the Italian, who has been in charge of the Turkish club since September, told the London Evening Standard.
"Chelsea are better, one of the best teams in Europe.
"But for Galatasaray to just play Chelsea is an important moment and we need to do a good job."
Mancini will go head-to-head with Chelsea manager Jose Mourinho, the man who replaced him as Inter Milan coach in 2008 and who subsequently guided the Italian club to the Champions League title in 2010.
Despite Mourinho steering Inter to the title for the first time since 1965, Mancini does not believe the Portuguese boasts the better record of the two managers.
"Mourinho won the Champions League because he took a good team," the former Italy striker said.
"He took a team that, like ManchesterCity, I had built.
"To win a Champions League you should be lucky. Champions League is a difficult competition but a strange one.
"Strange because you can win your group in October, November, December and, after maybe February (in the knockout stages), everything can change."
The 49-year-old Mancini, who won the Premier League in 2012 with ManchesterCity but was dismissed by the English club last year after failing to win a trophy, said he was surprised to lose his job.
"I changed (football) history in Manchester," Mancini said.
"I changed ManchesterCity history on the pitch.
"I know very well in football not every job can finish well, even when you win.
"But I always had a very good relationship with the chairman. I didn't understand why this happened."
Image: Roberto Mancini and Jose Mourinho
Photograph: Claudio Villa/Getty Images and Richard Heathcote/Getty Images