Jose Mourinho is a very angry man. But what is it that has ticked off the otherwise light-hearted Chelsea boss?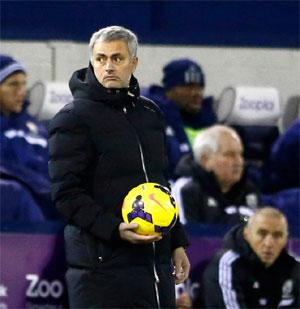 If reports are to be believed, it is a video posted online that has got the Portuguese's goat. According to the European press, Canal Plus, a French TV channel put up a video where Mourinho has questioned the quality of strikers in his Chelsea squad.
The video surfaced just before Chelsea left for Turkey for their Champions League last 16 first-leg match against Galatasaray on Wednesday.
Chelsea has three big strikers in Samuel Eto'o, Fernando Torres and Demba Ba on who's shoulders lie the club's fate, at least till the end of the season.
"The problem with Chelsea is we lack a scorer. I have one [Eto'o] but he's 32. Maybe 35, who knows?", Mourinho is heard saying in the video.
In what was meant to be a private conversation with the head of Hublot watches at a sponsor's event last week in Nyon, Switzerland, Mourinho has been left embarrassed and exasperated that footage of the exchange has since been published online, The Guardian reported.
Chelsea have not denied Mourinho made the comments, British media reported, but said he was speaking in a light-hearted conversation and did not know he was being filmed.
The conversation then veered towards the availability of Monaco forward Radamel Falcao, a player in whom Chelsea have long been interested.
"I don't have Falcao but Falcao doesn't have a team," said Mourinho.
"Who wants to play in front of 3,000 supporters? If I was one day to go to Monaco it would be at the end [of my career]."
Image: Chelsea manager Jose Mourinho
Photographs: Darren Staples/Reuters