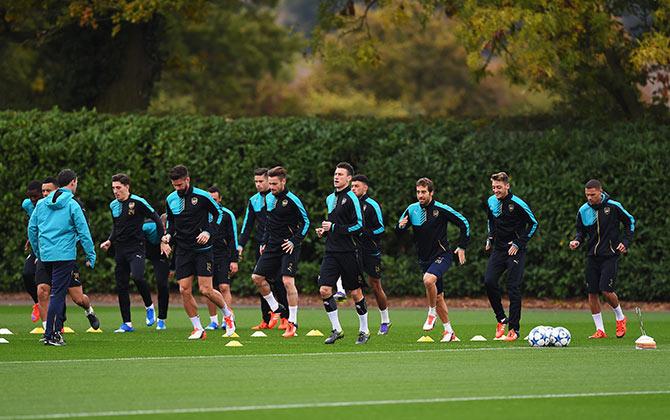 IMAGE: Arsenal players warm up during a training session ahead of the UEFA Champions League match against Bayern Munich. Photograph: Shaun Botterill/Getty Images
Confident Arsenal travel to Bayern Munich on Wednesday hoping to tame the German champions for a second time in two weeks, and are promising to attack despite a string of injuries.
The English club are on a high after a fifth consecutive Premier League win at the weekend - a 3-0 victory at Swansea - and the timing of their visit to the Bavarian capital could hardly be better.
Bayern dropped their first points in the Bundesliga on Friday with a goalless draw at Eintracht Frankfurt.
It followed 10 consecutive victories from the start of the season and, coupled with their 2-0 loss at the Emirates Stadium on Oct. 20 - their first defeat in all competitions - Bayern have shed some of that invincible aura.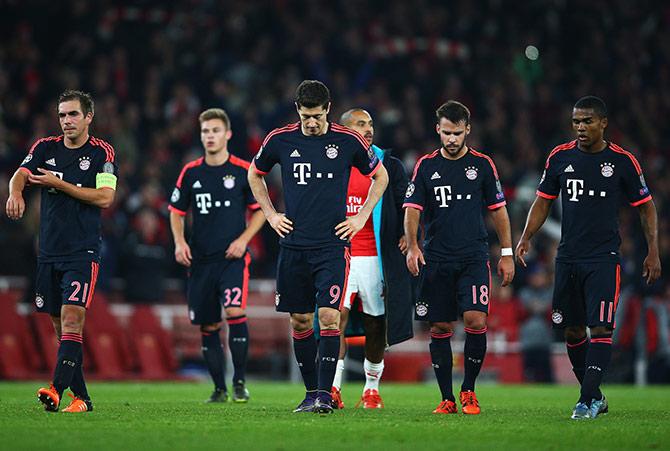 IMAGE: Philipp Lahm (21), Joshua Kimmich (32), Robert Lewandowski (9), Juan Bernat (18), Douglas Costa (11) of Bayern Munich look dejected in defeat after the UEFA Champions League Group F match against Arsenal. Photograph: Paul Gilham/Getty Images
Arsenal's victory over Bayern put Arsene Wenger's side back in contention in Group F with three points. Bayern and Olympiakos have six.
"They (Bayern) will be angry," said Arsenal defender Per Mertesacker. "We are the first team who really challenged them and beat them. They will be on the ball and try to show that they are back and better than us."
The former Germany international added: "They are clever, the Germans. We showed that we can beat them. That is a good sign but it will be a different game at their place.
"We improved our position in the last game against Munich but we need to get something out of this game."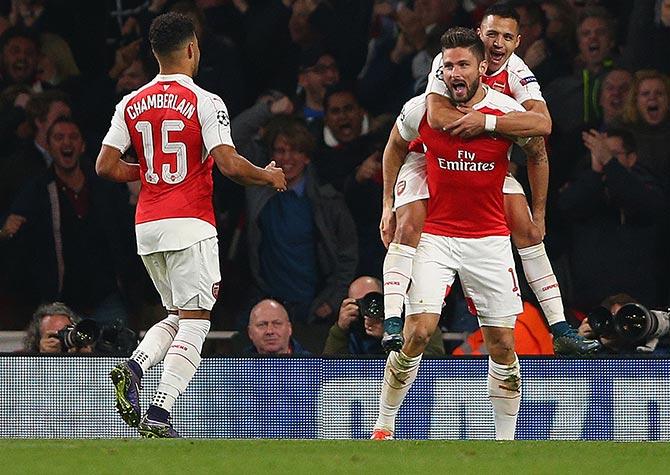 IMAGE: Olivier Giroud of Arsenal (center) celebrates with Alex Oxlade-Chamberlain (15) and Alexis Sanchez as he scores their first goal during the UEFA Champions League Group F match against FC Bayern Munchen at Emirates Stadium. Photograph: Paul Gilham/Getty Images
Arsenal are missing key players, including Theo Walcott, Alex Oxlade-Chamberlain, Danny Welbeck and Jack Wilshere.
But with Olivier Giroud having scored six goals in his past six games and playmaker Mesut Ozil delivering nine assists in 10 league games, they are not prepared to sit back and defend.
"I would sign today to take a point," said coach Arsene Wenger. "But to sit off Bayern, with their offensive quality, would be difficult to maintain for 90 minutes. We have to relieve the ­pressure whenever we can and try to score goals.
"That is our structure of the team, to attack. If you get our players to defend then I do not think we will be so efficient. We have to play every time we can."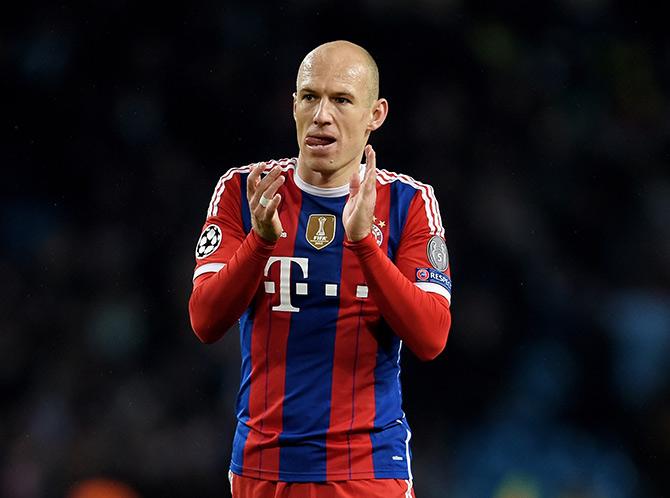 IMAGE: Arjen Robben of Bayern Munich applauds the travelling fans. Photograph: Michael Regan/Getty Images
Bayern, who last season won all six home games in the competition en route to the semi-finals, are by no means in a slump, and their dominance and string of chances against defensive Eintracht was indicative of the team's attacking instincts.
Bayern will have Arjen Robben fit for his first Champions League game of the season after the Dutchman was injured in September, but they will be without Mario Goetze, while Juan Bernat and Holger Badstuber are doubtful.
"We will show Arsenal on Wednesday the real Bayern," said Bayern midfielder Arturo Vidal. "Our confidence is high and this time we will use our chances and get the three points."