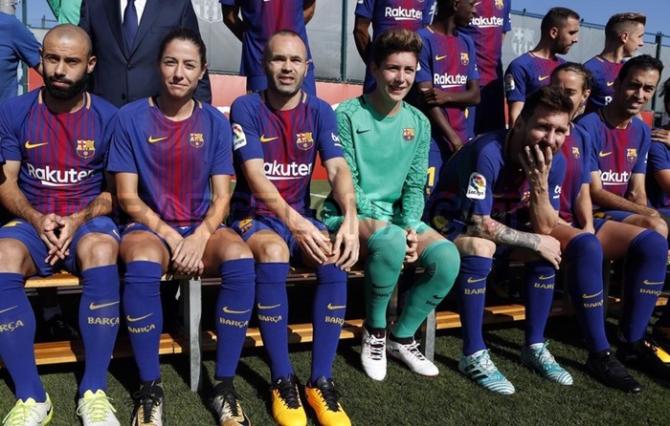 IMAGE: Andres Iniesta and Lionel Messi with Barcelona women's team. Photograph: FC Barcelona/Twitter
Barcelona have joined captain Andres Iniesta in calling for dialogue between the Spanish government and leaders in Catalonia to resolve the crisis between the central government and its richest region following Sunday's disputed referendum.
Heavy-handed tactics employed by Spanish police trying to stop the ballot on Sunday which the regional government said left over 840 people needing medical treatment have been widely criticised.
Spain's Constitutional Court issued a ruling on Thursday suspending a session of the Catalan parliament that planned to declare Catalonia's independence.
"I have never publicly weighed in on situations that are as complex and that arouse such diverse sentiments as this and I never will but the current situation we find ourselves in is exceptional," Spain midfielder Iniesta wrote on Facebook.
"I am clear about one thing, and before we do ourselves more damage, we need those in charge to open dialogue with each other. Do it for all of us, as we deserve to live in peace."
Iniesta, who scored the winning goal for Spain in the 2010 World Cup final against the Netherlands, is one of few Barcelona players universally liked in Spain and often receives standing ovations when playing at visiting grounds. He has even been cheered at arch-rivals Real Madrid's Santiago Bernabeu stadium.
The 33-year-old, who has played 121 times for Spain and also won the 2008 and 2012 European Championships, is currently injured and was unable to join up with the squad for their final World Cup qualifiers against Albania and Israel.
Barcelona also released a statement, signed by club President Josep Maria Bartomeu, reiterating their support for the Independent Commission for Mediation, Dialogue and Conciliation on the dispute, which is promoted by the Barcelona Bar Association.
"FC Barcelona, as one of the leading institutions in the country, demands a process of dialogue and negotiations to find political solutions to the situation happening in Catalonia, and for this to be done with the utmost respect for the wish of the majority of Catalan people to decide on their future," Barcelona said.
"We are More than a Club. And it is precisely because of that that we feel that it is our duty to stand by our people, under such difficult circumstances as those that are being experienced right now," they added.
"Together with other bodies from civil society, we want to build bridges with dialogue that contribute to resolving the conflict in a peaceful and consensual fashion."
Pique scrutinised in Spain team for Catalonia stance
Spain could clinch their place in the 2018 World Cup on Friday but the figure of Gerard Pique has cast a shadow on their qualifier with Albania following Sunday's highly-disputed independence referendum in Catalonia.
Barca defender Pique, who voted in the banned referendum and has been outspoken about his home region's right to decide on its future, was booed upon arrival at the team's hotel in Alicante on Thursday by around 100 supporters, who urged him to quit the national team.
Pique broke down in tears after Barcelona's win over Las Palmas on Sunday, declaring "I am Catalan and feel Catalan" and offered to quit the Spain team if anyone in the side had a problem with his views.
Pique also fiercely criticised the Spanish government and prime minister Mariano Rajoy after Catalan officials said over 840 people had been injured in clashes with police as they stormed polling stations across the region.
The Barcelona defender was mercilessly booed by Spain fans during an open training session on Monday, prompting him to give a lengthy news conference on Wednesday to explain his views.
He insisted he is still proud to represent his country, saying the national team is like a family to him and that he had the support of his team mates and coach Julen Lopetegui, who later gave the defender his backing in a radio interview.
Last week, however, Spain captain Sergio Ramos criticised Pique for tweeting in favour of the referendum ahead of the World Cup qualifiers.
"Pique's tweet was not the best thing to do if he doesn't want to be booed, perhaps the tweet is not the best thing for the group," said Ramos, who has been Pique's centre back partner for Spain since 2012 and is set to play alongside him again against Albania.
Spanish media reported that Ramos admonished Pique when the Spain team met up on Monday although Pique said any talk of ill feeling with his team mate was untrue, adding that he gets on "phenomenally well" with Ramos and is working on a business project with the Real Madrid defender.
Spain are three points clear at the top of their World Cup qualifying group and will seal their spot in Russia on Friday if they better Italy's result against Macedonia. They travel to Israel on Monday for their final qualifier.
Pique's Barca team mate Sergio Busquets said he would never discuss politics, which was received in the Spanish media as a thinly veiled pop at the defender.
"I only focus on playing football and I'm sure it'd be better if everyone else did the same," Busquets said in a radio interview.
The midfielder backed Pique a day later, but said it was inevitable his team mate would face the wrath of some supporters against Albania.
"I'm sure there will be people that boo Pique, this has been happening for a long time," Busquets said.
"The booing affects us all, it's not nice, we're all on the pitch, it doesn't just affect Pique and we don't deserve it."