'Whether or not I can reach a calendar slam, that's still a possibility. But I don't think about it right now. Right now I just try to enjoy this experience of winning the trophy that I had never won before'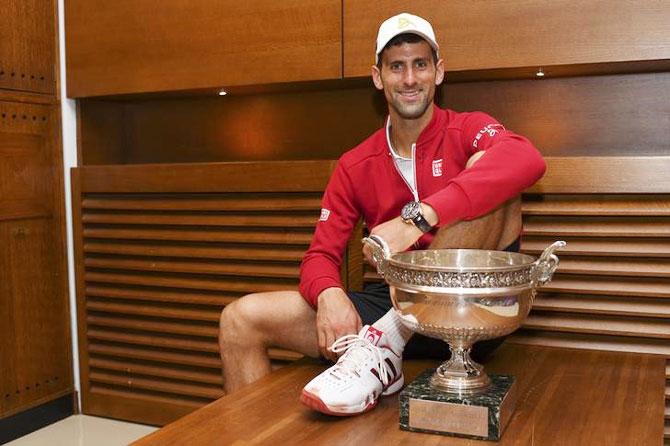 IMAGE: Novak Djokovic poses with trophy after winning the French Open on Sunday. Photograph: Nicolas Gouhier/FFT/Pool/Reuters
Having claimed his first career Grand Slam after winning the French Open on Sunday, Djokovic can now turn his sights towards a calendar Grand Slam that was last achieved in 1969 by Laver.
Having won the Australian Open and the French Open, he needs to win at Wimbledon and the US Open.
Djokovic insists the enticing prospect of becoming only the third man to sweep a calendar Grand Slam and the first since Rod Laver in 1969 is "achievable".
"I don't want to sound arrogant, but I think everything is achievable in life," he said.
"You know, winning this trophy today gave me so much happiness and fulfilment. I'm trying to grasp and I'm trying to cherish, obviously, these moments right now.
"Whether or not I can reach a calendar slam, that's still a possibility. But I don't think about it right now. Right now I just try to enjoy this experience of winning the trophy that I had never won before."
The world number one became just the third man in history to hold all four majors at the same time after his victory at Roland Garros on Sunday.
The 29-year-old's 3-6, 6-1, 6-2, 6-4 win over Andy Murray allowed him to claim a 12th major and join Don Budge, in 1938, and Laver, in 1962 and 1969, as the only players to simultaneously possess the French Open, Australian Open, US Open and Wimbledon trophies.
The last player to even have the chance of a calendar Grand Slam at this stage of the season was America's Jim Courier who won the Australian Open and French Open back-to-back in 1992.
But he failed while even the likes of Djokovic's biggest contemporary rivals, Roger Federer and Rafael Nadal have never yet even held all four majors at the same time even though they have completed career Grand Slams.
IMAGE: Novak Djokovic lies on the ground as he celebrates his French Open win on Sunday. Photograph: Clive Brunskill/Getty Images
Djokovic's first French Open title came after heartbreaking losses in his three previous finals in Paris.
But his 12 majors -- six in Australia, three at Wimbledon, two at the US Open and now one in Paris – have taken him to within five of Federer's record of 17 while he is just two off the 14 held by Nadal and Pete Sampras.
"It's incredibly flattering to know that Rod Laver is the last one that managed to do it (the calendar Slam). It's one of the ultimate challenges that you have as a tennis player," added Djokovic who endured a nervous conclusion to Sunday's final.
He served for the title at 5-2 in the fourth set before Murray broke and held to get to 4-5.
The world number one then double-faulted on a first match point and went wide with a nerve-racked forehand on the second.
But Murray then netted a backhand after a lengthy rally and Djokovic's place in the history books was confirmed.
Djokovic said he was so stressed in the closing stages that he felt he was having an out of body experience.
"When I broke him the second time and I got to 5-2 in the fourth, I just started laughing. I don't know. I had that kind of emotion. I didn't feel too much pressure, honestly. Maybe I took things a bit too lightly and just played a loose game at 5-2," he recalled.
"We're all humans, and arriving so close like never before in my life to this trophy and winning it, you know, I felt it. I felt the tension and excitement, all the emotions. You name it.
"In the last point I don't even remember what happened. It was really one of those things -- moments where you just try to be there. It's like my spirit has left my body and I was just observing my body fight the last three, four exchanges going left to right and hoping that Andy will make a mistake, which happened."