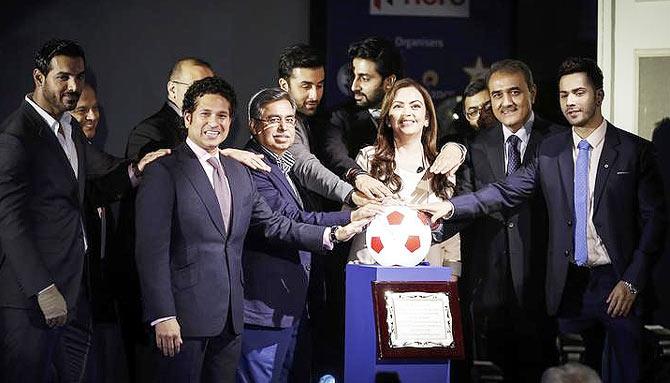 Club owners and representatives of sponsors and organisers take a pledge during the emblem-unveiling ceremony of the Indian Super League in Mumbai on August 28. Photograph: Danish Siddiqui/Files
India's new soccer league with its cast of celebrity owners, experienced foreign managers and a sprinkling of high-profile players will kick off on Sunday, igniting hopes of waking the country from its football slumber.
Italian World Cup winners Alessandro Del Piero and Marco Materazzi, Spain's Joan Capdevila and Luis Garcia, and French stars David Trezeguet and Robert Pires have all signed up to play in the Indian Super League.
Cricket-obsessed India, with its population of 1.2 billion, is ranked 158th in the world, leading FIFA President Sepp Blatter to call it the 'sleeping giant' of world football.
The national league has failed to inspire youngsters to take up the sport, which remains popular only in certain areas of the country, while the appetite to watch televised games is restricted to the English Premier League or Spain's La Liga.
Modelled on cricket's popular Indian Premier League, the ISL, with its franchise-based model, slick promotion and branding, and the presence of stars from cricket and the country's film industry, is aiming to change all that.
"Indian football had somewhat stagnated," All India Football Federation (AIFF) Vice President Subrata Dutta told Reuters.
"Nothing great was happening and we were not progressing at the desirable rate. We have been hovering between 140 and 160 in rankings for many years now and we needed something big to push us forward.
Cricketers, Bollywood stars add glamour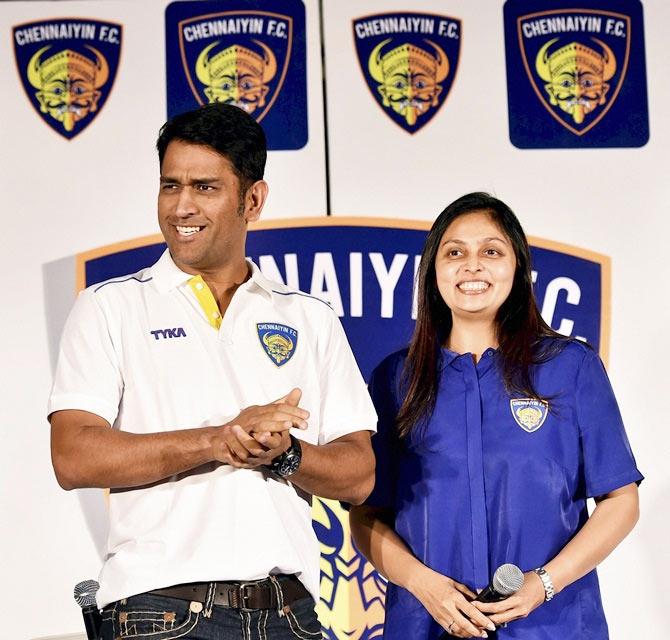 Indian cricket team captain MS Dhoni addressing the media after signing as co-owner of Indian Super League (ISL) franchise Chennaiyin FC in Chennai. Photograph: PTI
"We at the AIFF felt that an explosion is needed in Indian football. We felt the ISL would give the necessary push to Indian football, it would make a difference."
Bankrolled by India's Reliance Industries, Rupert Murdoch's Star India and sports management group IMG, the ISL has welcomed former cricket greats Sachin Tendulkar and Sourav Ganguly, as well as current captain Mahendra Singh Dhoni, among the team owners.
In addition to the veteran players, the competition will also see former international coaches Zico, Peter Reid and Ricki Herbert in a managerial capacity.
In its inaugural season, the ISL will feature eight city-based franchises taking part in the October 12-December 20 tournament.
There will be lots of glamour and entertainment on display during Sunday's opening ceremony in Kolkata.
The match between Atletico de Kolkata, owned by a consortium including Spanish champions Atletico Madrid, and Mumbai City FC is expected to draw more than 100,000 people at Salt Lake Stadium, the world's second-largest by capacity at 120,000.
'What India needs is grass-roots development to grow into a footballing power'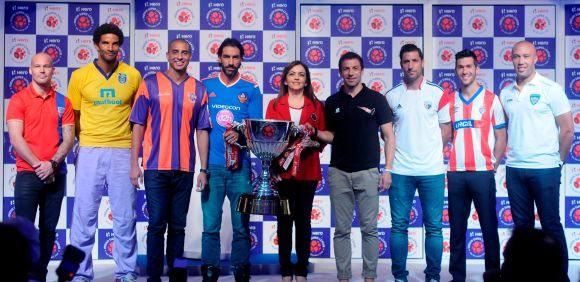 ISL players during the unvieling of the trophy in Mumbai.
The tournament, to be played in a round-robin format, will then move around the country to the seven other cities.
The top four sides will qualify for the semi-finals, which will be played over two legs, with the winners advancing to a one-off final.
While the inaugural season will have a novelty factor and has all the ingredients to be a commercial success, critics believe it will be the quality and intensity of play that will be crucial in sustaining the appeal.
Promoters and teams have promised to make an investment towards developing standards in India and according to Spain's Capdevila, who will line up for North East United FC, that is exactly what the country needs to make a significant difference.
"The ISL is a good start," said the defender, who was part of Spain's Euro 2008 and 2010 World Cup winning sides.
"Two and half months is not enough time so it will be better if the period of the league is increased to like nine months in future," he told Reuters last month.
"It's a new baby but what India needs is grass-roots development to grow into a footballing power."