India's best chance of a medal is in the mixed doubles, in which Leander Paes is expected to partner Sania Mirza
IMAGE: Tennis stars Sania Mirza and Leander Paes in action during the mixed doubles exhibition match against Martina Navratilova and Mahesh Bhupathi in Hyderabad. Photograph: PTI
India have a good chance of winning medals in the men's and mixed doubles events at next year's Rio Olympics, feels former tennis doubles ace Mahesh Bhupathi.
"Men's doubles and mixed doubles – in both we have a good chance (of winning medals). Rohan (Bopanna) and Leander (Paes) are both world-class players (who will be the men's doubles partners), so why not," said Bhupathi.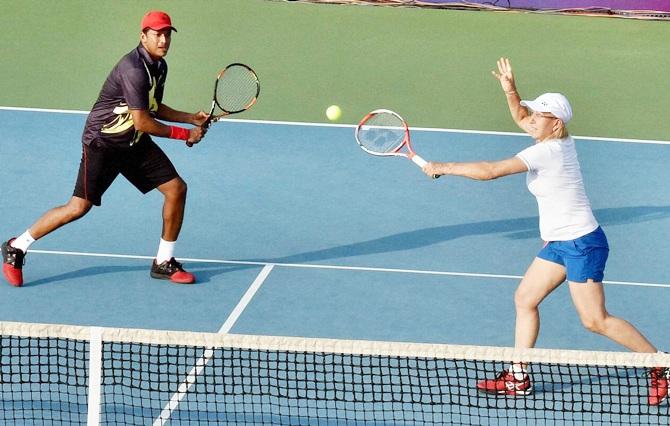 IMAGE: Martina Navratilova, right, and Mahesh Bhupathi in action during the exhibition match. Photograph: PTI
He shared the view of another ex-Davis Cup star, Ramesh Krishnan, that India's best chances of a medal are in the mixed doubles, in which Paes is expected to partner Sania Mirza, currently the world's top women's doubles player.
Mirza has admitted that winning a medal at the Rio Olympics next year would be a dream come true for her.
Paes is the only Indian tennis player win an Olympic medal. He famously won the men's singles bronze at the 1996 Games at Atlanta.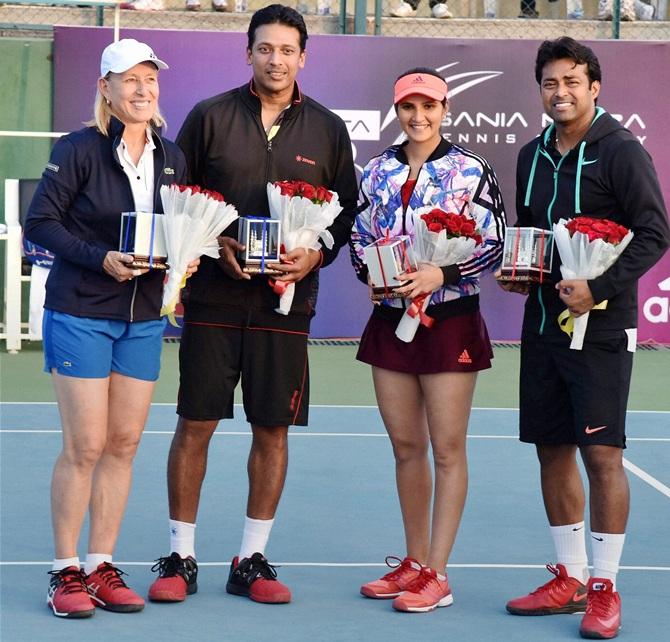 IMAGE: (From left) Tennis stars Martina Navratilova , Mahesh Bhupathi , Sania Mirza and Leander Paes. Photograph: PTI
After a successful season last year, Indian Premier Tennis League (IPTL) founder Bhupathi said he is looking forward to the second edition of the tournament, starting on December 2.
"It was fairly successful (last year). We are looking forward to it. It is growing slowly," he told reporters after playing the mixed doubles exhibition match, where he paired with the legendary Martina Navratilova against Leander Paes and Sania Mirza.
Marked by camaraderie among the veteran players, the match was won by Sania-Paes 6-2,7-6 (7-3).