Lightning struck twice for Marc-Andre ter Stegen on Saturday when the Borussia Moenchengladbach goalkeeper scored a bizarre own goal in a 1-1 draw at Eintracht Braunschweig and his opposite number also put through his own net.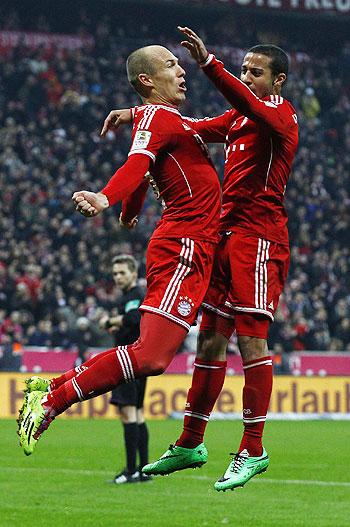 Braunschweig goalkeeper Daniel Davari inadvertently gave Gladbach a first-half lead and ter Stegen returned the compliment when he failed to control a back pass and instead knocked the ball into the net shortly after the break.
Arjen Robben scored a hat-trick as runaway leaders Bayern Munich won their 15th league match in a row, beating Schalke 5-1 in an embarrassingly one-side contest with four of their goals coming in the first half hour.
Werder Bremen eased their relegation fears and left arch-rivals Hamburg SV in deep trouble after a 1-0 win in the 100th Bundesliga meeting between the old rivals, northern Germany's two biggest clubs.
Borussia Dortmund moved into second place with a 3-0 win over Nuremberg, Robert Lewandowski getting among the scorers to take his tally for the season to 15, and overtook Bayer Leverkusen who lost 1-0 at home to Mainz 05.
Bayern, who have a 100 percent home record, moved 20 points clear. The Bavarians have 65 points from a possible 69, while Dortmund have 45 points and Leverkusen 43.
Ter Stegen's misfortune was almost a replica of the goal he conceded in Germany's 4-3 friendly defeat to the United States last year when he completely missed a back pass and the ball rolled into the net.
There was not the slightest danger when Filip Daems rolled the ball back to ter Stegen, who was not even in front of his goal.
However, the hapless goalkeeper miskicked the ball completely and it rolled into the net in a moment of pure slapstick.
"I can only apologise to my team, I know I made a mistake," said ter Stegen, who was involved in an angry exchange with Daems as they left the pitch.
The goal spared Davari's blushes after he had attempted to block a corner at the near post, only for the ball to bounce into the net off his knee.
"I must congratulate Marc. Not everyone could concede a goal like that and then play so well afterwards," said Gladbach coach Lucien Favre.
FLOOD GATES
Schalke, beaten 6-1 at home by Real Madrid in the Champions League on Wednesday, shipped another four in the first half hour at Bayern.
David Alaba opened the flood gates with a free kick which took a wicked deflection, then Robben scored twice and Mario Mandzukic headed the other.
"It was one of the best first halves I've seen since I've been here. We were aggressive and didn't let them play," Robben told Sky.
Schalke reduced the arrears when Rafinha put through his own goal in the 64th minute but Robben completed the scoring with a penalty harshly awarded after Kyriakos Papadopoulos nudged Mandzukic.
To add insult to injury, the referee judged it was a clear scoring chance and Papadopoulos was sent off, prompting a furious reaction from the Greek who could be in further trouble for a finger-wagging protest to the referee.
Zlatko Junuzovic scored the only goal as Bremen sank Hamburg SV, who reverted to losing ways after last week's 3-0 win over Dortmund had ended a seven-month winless run.
The defeat left Hamburg, the only ever-present team in the Bundesliga's 51-year history, in 16th place, the relegation playoff spot with 19 points, ahead of Freiburg on goal difference. Braunschweig have 16 points.
Dortmund completely dominated their match and only an outstanding performance from Nuremberg goalkeeper Raphael Schaefer prevented the hosts from doubling their tally. Mats Hummels, Lewandowski and Henrikh Mkhitaryan shared the goals for last season's runners-up.
Erik Maxime Choupo-Moting scored the only goal as Mainz handed fading Leverkusen their third successive Bundesliga defeat.
Image: Bayern Munich's Arjen Robben (L) and Thiago jump in the air while celebrating a goal during their German Bundesliga match against Schalke 04 in Munich on Saturday
Photograph: Michaela Rehle/Reuters