FIFA has been plagued by a wave of scandals and controversy
Boycott unlikely to gather much support outside Europe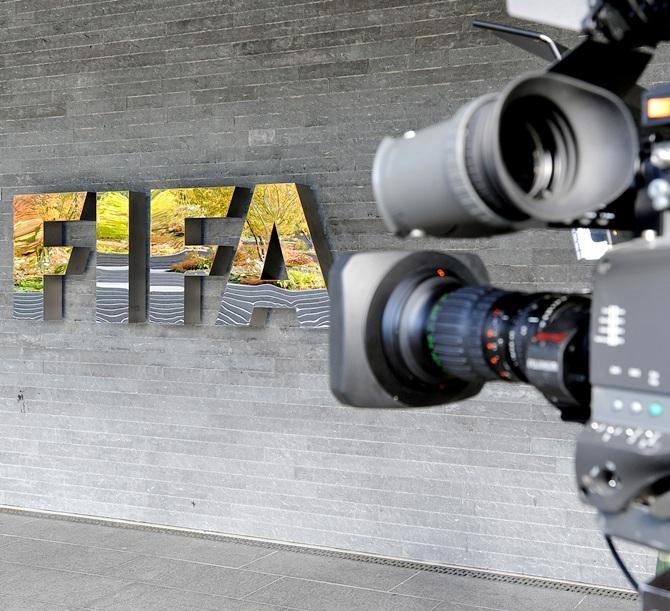 Image: A camera is seen by the FIFA logo outside the FIFA headquarters. Photograph: Harold Cunningham/Getty Images
A European-led boycott of FIFA or the World Cup is unrealistic in the foreseeable future and, even if a breakaway were to eventually take place, experts say it could leave soccer's administration hopelessly splintered.
FIFA has been plagued by a wave of scandals and controversy, ranging from allegations of corruption in the 2018/2022 World Cup bidding process to a row over $25,000 watches gifted to executive committee members at the World Cup in Brazil. Anger mounted last month when a FIFA's ethics report identified inappropriate and 'problematic' conduct by people involved in a number of bids involved in the race to host the 2018 and 2022 World Cups, won by Russia and Qatar respectively, but found insufficient grounds to recommend a re-vote. With soccer's governing body seemingly oblivious to criticism and its president Sepp Blatter favourite to be elected for a fifth term in May, there have been calls for co-ordinated action to force change.
Two former English FA chairmen, David Bernstein and David Triesman, have called for European teams to boycott the 2018 World Cup, while German Football League president Reinhard Rauball pondered the idea of UEFA's member associations pulling away from FIFA.
"In the short to medium-term this is a completely unrealistic option, and statements coming out of the likes of England are Germany are simply shots across the bows of FIFA," said Simon Chadwick, professor of sport business strategy and marketing at Coventry University in central England.
"Longer term, it is a possibility... but it's a big call for the dissenting nations as it would create a multitude of political and organisational problems for domestic and continental associations."
Little appetite for change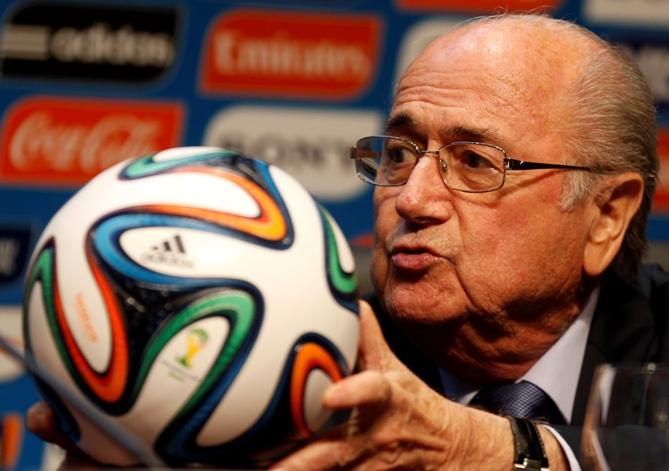 Image: FIFA president Sepp Blatter holds an official 2014 FIFA World Cup soccer ball Photograph: Paulo Whitaker/Reuters
Kevin Carpenter, a sports lawyer specialising in governance and integrity, said a boycott was unlikely to gather much support outside Europe, and that there was little appetite for change in much of the globe.
"It is only a small handful of European nations plus Australia and maybe the United States who feel aggrieved. The rest of the world finds the system works for them." FIFA presidential candidate Jerome Champagne, who himself has proposed sweeping changes to the way FIFA is run, said a boycott was the wrong approach.
"It's not possible to boycott FIFA, the players want to play the World Cup, public opinion wants to play the World Cup," he said. "Mr Bernstein and Mr Rauball should join the effort of making the necessary changes. Boycotts never function. I'm more worried about the image of FIFA and its capacity to govern, to be credible." Apart from a short-lived Colombian experiment from 1949 to 1954, where the Colombians paid top players directly to quit their clubs and join their outlawed league, football has managed to remain largely free of breakaways. FIFA has expanded significantly since the 1960s and early '70s when only one World Cup slot was on offer to all Asian and African countries combined, leading to a boycott of the 1966 competition by many countries in those two confederations.
Brazilian Joao Havelange, who became president in 1974, opened the doors to those nations previously marginalised by the powerful Europeans and South Americans and offered one nation one vote at Congresses, leading to the modern organisation which now boasts 209 national associations.
'We don't need a strong FIFA'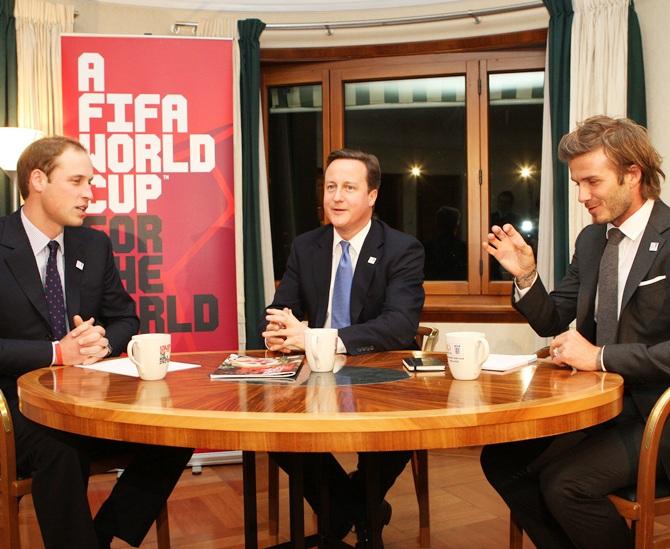 Image: England 2018 Bid Ambassador David Beckham, right, Prince William, left, and British Prime Minister David Cameron meet in Hotel. Photograph: Matthew Childs/Getty Images
But the positive work is seemingly overshadowed by continuing scandals.
Although Blatter says FIFA's reformed ethics committee is an example to other sports, other recommendations such as an age limit for leading directors, or a restricting of the number of mandates they can serve, have not been adopted. Jens Sejer Andersen, international director of Danish sports governance watchdog Play the Game, said he was not advocating a boycott, but that the Europeans must "get their act together".
"If a number of major football countries decided on a boycott then it would be a risk but there would be reconciliation, and if the Europeans don't get their act together, there will be no reform."
A boycott could easily backfire, Chadwick warned, pointing to boxing which is now governed by four world bodies.
"The divisive way in which boxing has developed is an object lesson in how not to effectively address the importance of organisation, governance and commercial change," he said.
"Football faces intense competition from many other sports around the world and the last thing the sport needs is for a fragmentation of power, agreements and markets."
FIFA can ill-afford to lose credibility at a time when the power and wealth of European clubs continues to grow and some critics see international football as being over-shadowed by competitions like the Champions League and England's Premier League.
Champagne has warned that soccer could follow basketball and end up with all its top players concentrated in one or two leagues, completely detached from the rest of the sport, if the trend towards elitism is not contained.
"If we want to continue that way, we don't need a strong FIFA," he said.
"We can make do with a vague structure which organises the World Cup every four years... where one country, or one league or a few clubs would have the deciding power."