The Sports Authority of India (SAI) said it has no issues on Olympic bronze medallist boxer Vijender Singh joining the camp in Patiala as he has got clearance from the National Anti-Doping Agency (NADA).
SAI director general Jiji Thomson told reporters on Thursday that Vijender is welcome to join the camp.
- I want to be the Sachin Tendulkar of boxing: Vijender Singh
"He has been given clean chit by NADA and therefore we absolutely have no issues with him. He is currently on leave but can join the camp any day he wants," said Thomson.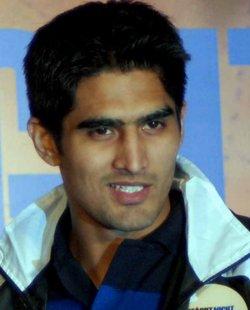 The SAI DG undertook his maiden visit to the National Institute of Sports (NIS) in Patiala to review the working of the institute.
He said since Vijender has tested negative for all prohibited substances, including heroin, there is no question of doubting his credentials as far as consuming heroin is concerned.
But, SAI has decided to begin the scientific monitoring of players and coaches so as to avoid any such controversy in future, he said.
Vijender found himself embroiled in a drug scandal after his name cropped up when the police recovered 26 kg of heroin from an NRI's house in Shivalik Vihar in Zirakpur on March 7.
The presence of a car used by Vijender's wife Archana near the NRI's house raised doubts.
On April 1, Punjab Police said Vijender allegedly bought heroin for personal consumption on 12 different occasions from a Canada-based NRI drug dealer.
The police had said that the heroin was first allegedly procured by Vijender's sparring partner Ram Singh in December from alleged drug dealer Anoop Singh Kahlon.
Vijender was initially reluctant to provide samples for tests, but after the sports ministry insisted, the boxer relented.
The Olympic bronze medallist has been skipping training and was subsequently dropped from the national team.