Completing India's rehabilitation into the international boxing fold, AIBA unanimously gave permanent membership to the recently-elected Boxing India during its quadrennial congress in Jeju Islands, Korea.
"We are extremely delighted to be unanimously accepted as the permanent Member of AIBA, at the ongoing AIBA quadrennial Congress at Jeju Island, South Korea," Boxing India president Sandeep Jajodia said in a statement.
"Boxing India carries the aspiration of the nation and will do its utmost to enable India win global acclaim in Boxing. We will work hard to promote boxing in the country and ndeavour to make it the most viewed sport in the nation while focusing on replenishing and further developing the boxing economy of the region," he added.
India was provisionally suspended in December 2012 for "possible manipulation" in the erstwhile Indian Amateur Boxing Federation's elections.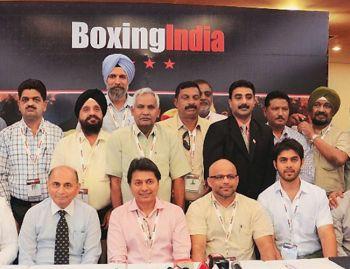 After prolonged administrative wrangling between the various state units, elections to form a new body were successfully conducted in September under the supervision of an International Boxing Association (AIBA) observer.
Boxing India was earlier granted provisional recognition by AIBA after the elections but is still to get the approval from the Sports Ministry and the Indian Olympic Association.
"Our immediate step now would be to get recognition from Ministry of Youth Affairs and Sports, Government of India and membership from IOA," Jajodia said.
Boxing India secretary general Jay Kowli said getting permanent membership in AIBA will enable the body to work towards developing the sport smoothly.
"It is indeed a great development for Indian boxing and will enable in streamlining the boxing activities," he said.
"Boxing is a priority sport in India and in sports, we all fall down but it's about getting back up and Boxing India is gearing up to immediately kick off all boxing programs with AIBA for training, development and competitions.
"We will also strengthen our presence in the other formats of the competition - AIBA Pro Boxing (APB) and World Series of Boxing (WSB), as this will provide good exposure to our pugilists and will enhance their performance," he added.