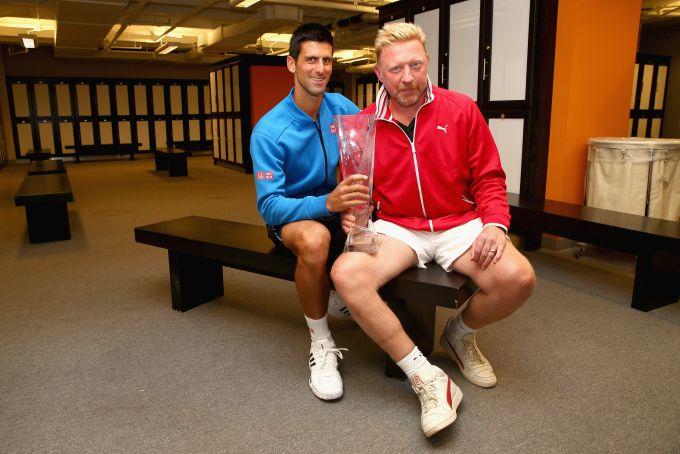 IMAGE: Novak Djokovic of Serbia poses for a locker room photograph with his coach Boris Becker. Photograph: Clive Brunskill/Getty Images
German tennis legend Boris Becker has issued a stringing rebuke against second-ranked Andy Murray for saying that he has been suspicious of his opponents doping in the past and described his comments as "totally out of order".
Becker, who coaches top-ranked Novak Djokovic, said it is completely wrong to accuse players of indulging in doping because of their victories and fitness, news.com.au reported.
"We have random drug testing and unless it's proven, they are 100 per cent innocent," Becker told Sportsmail, "So to throw in a curve ball and assume something because somebody has won a Grand Slam or is fitter I think is totally out of order."
The 48-year-old further slammed Murray, saying he was one of the fittest players and often outclasses players but nobody questions his ethics.
Becker believes players like Roger Federer, Murray, Rafael Nadal, and Djokovic are all clean players and have never doped.
Pointing that there was always a suspicion of Nadal, Becker said he felt extremely disrespectful to hear such type of claims about one of the greatest players of all time.
But Becker, who coaches world No 1 Novak Djokovic, insisted all the top players are clean, to the best of his knowledge.
"It's a very dangerous subject. I can only repeat that tennis is clean. I believe 100% Andy is clean," said Becker, speaking at the Laureus World Sport Awards, "Roger is clean, Rafa (Nadal) is clean, Stan (Wawrinka) is clean, all these guys are clean.
"There was always a suspicion of Rafa and I find that so unbelievably disrespectful about one of greatest players of all time.
"I can only speak for Novak and believe me he gets tested a lot! That can mean twice in a Grand Slam.
"In Melbourne he got tested in the first week and the second week. He would be playing a match at night and somebody comes to his hotel room at 7am to do a urine test and I think, 'how dare you'. But those are the rules."
Nadal ended his four-year title drought as he swept aside Frenchman Gael Monfils 7-5, 5-7, 6-0 to claim his ninth Monte Carlo Masters trophy on Sunday.