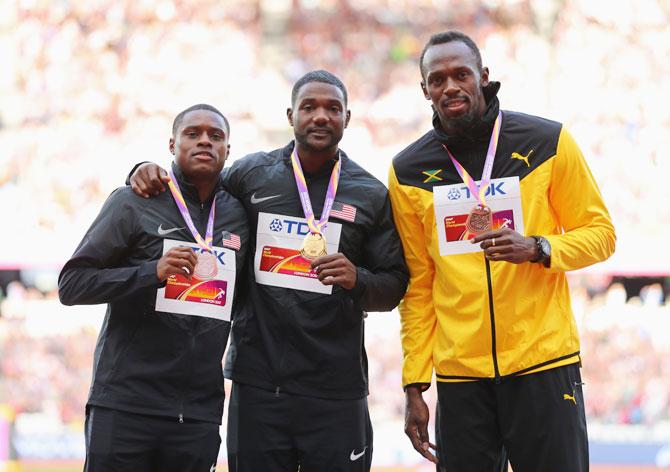 IMAGE: (L-R) Silver medallist Christian Coleman of the United States, gold medallist Justin Gatlin of the United States, and bronze medallist Usain Bolt of Jamaica, pose with their medals for the Men's 100 metres during day three of the 16th IAAF World Athletics Championships at The London Stadium in London, on Sunday. Photograph: Richard Heathcote/Getty Images
Newly-crowned world 100m champion Justin Gatlin had to endure more insult as he was booed yet again by the crowd at the Olympic stadium during the medal ceremony while Usain Bolt received massive cheers despite his third place finish.
The 35-year-old Gatlin, who has served two suspensions for doping offences, ruined retiring Usain Bolt's fairytale farewell on Saturday by beating the Jamaican sprint superstar in a highly anticipated 100m final.
Bolt, who is expected to be a part of Jamaican title defence in men's 4x100m relay on August 12, came third, behind Gatlin and another American Christian Coleman.
Stunned to see their favourite Bolt losing the race, the crowd booed Gatlin while chanting 'Usain Bolt! Usain Bolt!'. Gatlin was simply cold-shouldered by the London crowd and the American had responded with a 'keep quiet' gesture by putting his index finger on his lips.
During the victory ceremony on Sunday, held just before the afternoon session, Gatlin was booed a again by the crowd. When bronze winner Bolt's name was announced, the crowd responded with loud cheers.
But as soon as the announcer in French took Gatlin's name, the crowd booed him. It was not a prolonged boo though as some sections of the crowd began to clap in acknowledgement of Gatlin's victory.
Gatlin took the abuse on his chin as he stood stoically on the podium without showing any emotions.
He later called up Bolt and silver medal winner American compatriot Coleman to pose together for the shutterbugs.
Interestingly, athletics' world governing body (IAAF) chief Sebastian Coe had earlier said that the American should have been banned for life for a 2006 dope offence.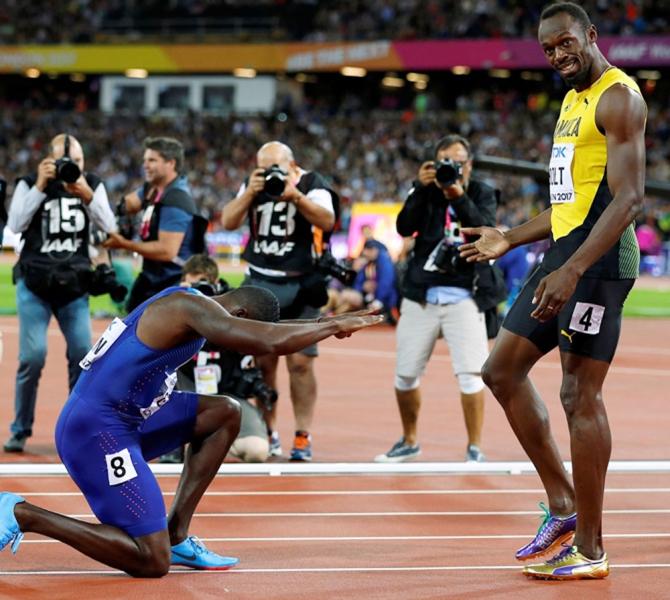 IMAGE: Usain Bolt of Jamaica with Justin Gatlin of the US after the 100m final on Saturday. Photograph: Phil Noble/Reuters
Meanwhile, Bolt, who had to settle for bronze in the 100m on Saturday night at the World Championships after being defeated by Justin Gatlin, has hailed the American as one of the best competitors he has faced.
Gatlin surprised everyone with a season's best 9.92 as he denied Bolt his last individual gold medal. Christian Coleman (9.94) took silver, with Bolt clocking 9.95 seconds.
Gatlin, a two-time dope cheat, was greeted with boos while he was handed his gold at Sunday's medal ceremony.
But, Bolt, the eight-time Olympic Gold winner, insisted that the reactions of the crowd were unfair.
"I always respected him as a competitor," Bolt said.
"He's one of the best I have faced.
"For me he deserves to be here, he's done his time and he's worked hard to get back to being one of the best athletes. He's run fast times, he's back and he's doing great. I look at him like any other athlete, as a competitor," he added.
Bolt, who will be turning 31 this month, also insisted that he has no regrets, adding that he tried his best.
"I have no regrets," Bolt said.
"I came out and did my best; win, lose or draw. I did it for the fans, they wanted me to do one more season. No one is going to be happy to not win. But it doesn't change anything in my career," he added.
Meanwhile, 35-year-old Gatlin also paid his tribute to Bolt and said that the Jamaican's exit would leave a massive hole in track and field.
This was not the last time the world saw the eight-time Olympic champion on the track though, as the 30-year-old is set to race in August 12's 4x100m final.
Bolt holds the world record for the 100m (9.58 seconds), the 200m (19.19 seconds) and the 4x100m relay (36.84 seconds). At the Rio Olympics in 2016, Bolt won the 100m in 9.81 seconds.