Defending champions Maharashtra claimed the team championship crown, while Sunil Sakpal of Maharashtra 'A' was the toast of an eventful finals day, in the Optimum Nutritions-Nice Pharmaceuticals co-sponsored Mr. India 45th Senior National Body Building Championship at the Matoshree Sports Complex, Mumbai on Sunday.
The hosts bagged an impressive tally of six gold, two silvers and one bronze to dominate the competition that included tight contests in all the nine weight categories.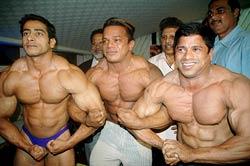 Sakpal stole the day's honours when he gave Maharashtra a dream start by clinching the 55 kgs gold and completed a rewarding campaign as the 'Most Improved Body Builder'.
While Mr. Mumbai Paresh Mhatre of Maharashtra 'A' lived up to his reputation by claiming the 70 kgs gold, defending champion Bobby Singh of Assam retained the 75 kgs gold amidst tight competition.
Former champions Bijit Gogoi of Assam and Sham Rahate of Maharashtra 'A' were declared joint winners in the 90 kgs category in controversial circumstances.
After Gogoi deservingly was declared the gold medallist, Rahate strongly protested the decision that was announced after an unusually long gap of 15 minutes.
With the 90 kgs and above category remaining, Rahate and his agitated supporters held up the competition, which went into the early hours of the morning, for an hour and forced the cancellation of the Champion of Champions title round.
Renowned coaches Bhai Kadam and Manohar Pathare and nine-time former Mr. India Prakash Koyande were given Lifetime Achievement Awards.
Team Championship: 1. Maharashtra (165 points), 2. Delhi (68 pts).
Best Poser: Y S  Tomar (Delhi).
Most Improved Body Builder: Sunil Sakpal (Mah 'A').
55 kgs: 1. Sunil Sakpal (Mah 'A'), 2. Rahul Salokhe (Mah 'A'), 3. R. Munllya (Mah 'B'), 4. Gautam Kalita (Assam), 5. Biplab Dey (WB).
60 kgs: 1. Shrikant Bangera (Mah 'A'), 2. Mahender Singh Rana (Delhi), 3. Samir Ghosh (WB), 4. Dinesh Pawar (Mah 'B'), 5. Sanjiv Kumar Jha (Har).
65kgs: 1. Raju Khan (Har), 2. P. Anil Kumar (Telangana), 3. Sakir Mansuri (Har), 4. Yogesh M. Nikam (Mah 'A'), 5. Chetan Tehsildar (Kar).
70 kgs: 1. Paresh Mhatre (Mah 'A'), 2. Jason Jacob (Ker), 3. Navin Chauhan (Delhi), 4. Vijay V. More (Mah 'A'), 5. Debjit Gogoi (Assam).
75 kgs: 1. Bobby Singh (Assam), 2. Y S  Tomar (Delhi), 3. Prashant Salunkhe (Mah 'A'), 4. Rahul Sharma (Punjab), 5. Harkesh Kumar (Har).
80 kgs: 1. Suhas Khamkar (Mah 'A'), 2. Ramakant Sharma (Chand), 3. Jagat Kumar (Delhi), 4. Ajay Chowkekar (Mah 'B'), 5. Mukesh Thakur (BSB).
85 kgs: 1. Mandar Chavarkar (Mah 'A'), 2. Kiran Patil (Mah 'A'), 3. Raj Kumar (Punjab), 4. Rashad Khambatta (Mah 'B'), 5. Mallesh Honagekar (Kar).
90 kgs: 1. Bijit Gogoi (Assam) & Sham Rahate (Mah 'A'), 2. Sukhwinderpal Singh (Chand), 3. Dharminder Singh (Punjab), 4. Lokesh Patidar (MP).
90kgs & above: 1. Dattakumar Chodankar (Mah 'A'), 2. Mukesh Singh (Delhi), Deepak Tripathy (Mah 'B'), 4. Anil Raj (Punjab), 5. V. Sarvan (AP).