'From world No 9, I reached world No 4 with three titles'
'People should think about me getting more medals for the country and not about what I am doing and where I am training. Practice is my problem and I will take care of it very well'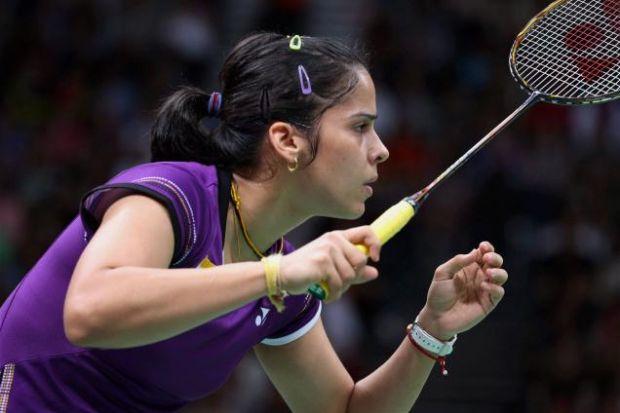 Star shuttler Saina Nehwal. Photograph: PTI
Upbeat over winning the China Open and moving up to fourth in the latest BWF rankings, star shuttler Saina Nehwal says she is working on becoming the best in the world.
"From world No 9, I reached world No 4 with three titles. Now I am hoping to do well in the Dubai Super Series final next month," she said.
Besides seeking more success on the tour, the Hyderabadi said she is focussed on maintaining fitness in the run-up to the 2016 Olympics.
"It is very important to stay fit now as the Olympics are close. It will be more about remaining fit and playing the best against the top three Chinese players in the world. I will try to beat them as many times as possible or try to give them a very tough fight which is very important," she said.
She said she would work hard for achieving the number one position, but no time-frame can be put to it.
"I will try my best. World No 1 is a target obviously everyone wants to achieve. But it is not easy as the other Chinese are also strong. So I would just keep working hard and you never know anything can happen. (I) reached World No 4, so, hopefully, would like to win some more tournaments and would like to give my best. It is not going to be easy, but, I am going to work very hard for that," she said.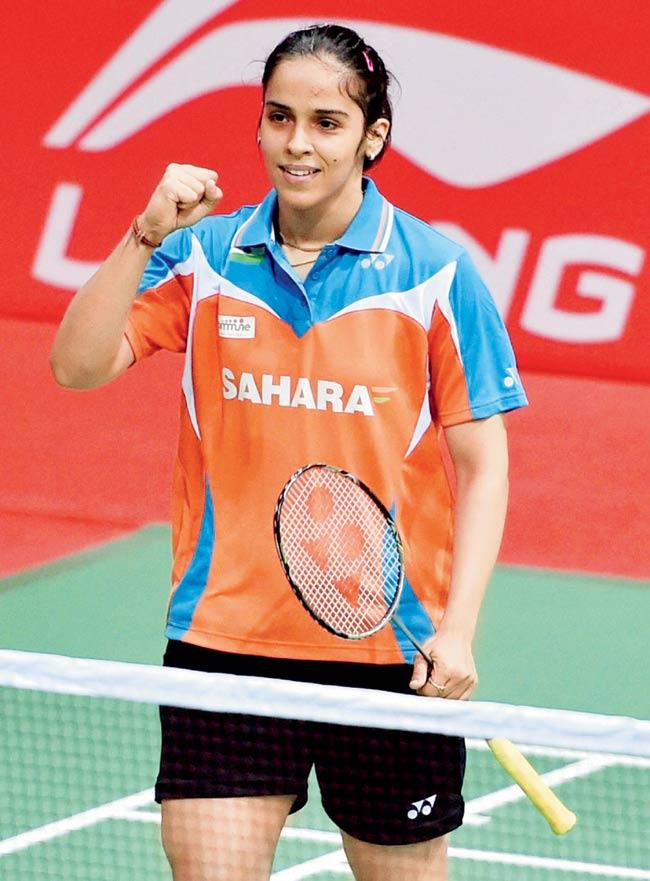 Saina Nehwal. Photograph: PTI
Ahead of the keenly-fought China Open, Saina worked on rectifying the loose-ends in her game, particularly her movement on the court, in consultation with coach Vimal Kumar, in Bangalore.
"The training I did before going to this tournament was right and I rectified the mistakes I was making in the previous tournaments and finally it got right in the China Open. I can see the improvement from the Asian Games when I played Wang Yihan, and then I played in the Denmark and French Open; I almost beat (a top player) in the third game. I was leading 15-6 and lost from there on.
"So I was learning from those matches and, finally, with the kind of training I was doing with Vimal sir and the strategy we both applied worked."
Saina, who trained with chief national coach Pullela Gopichand for long in Hyderabad, shifted to Bangalore about two months ago to train under Vimal Kumar.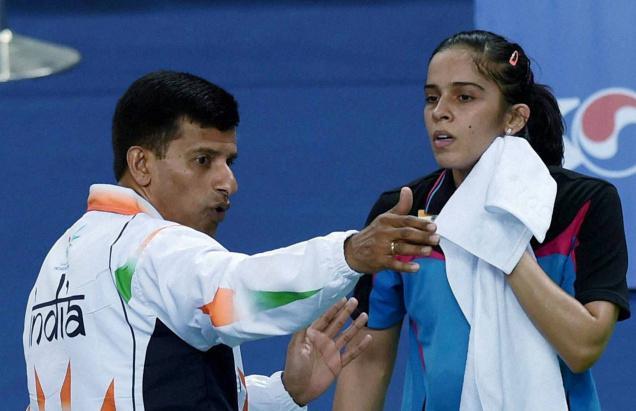 Saina Nehwal with Vimal Kumar. Photograph: PTI
Replying to a query about training under Vimal Kumar in Bangalore, she said the matter of her practice and training should be left to her.
"I think it is done now. I am training there and getting the desired results. I think people should think about me getting more medals for the country and not think about what I am doing and where I am training. Practice is my problem and I will take care of it very well. It's not that much of an issue," she stressed.
Saina added that she wanted to shift to Bangalore following a lean phase in 2013.
"In 2013 I did not win a single title. I was feeling that I was stuck somewhere. I wanted to do something different and see if I could improve. In the world championship also, I felt that, with Li Xuerui I was not very comfortable. Vimal Sir was there with me in the World Championships. He thought, may be, I should improve in some areas. I thought of practicing with him for some days.
"Obviously, it's not easy to shift from someone you have been training for so many years," she said.