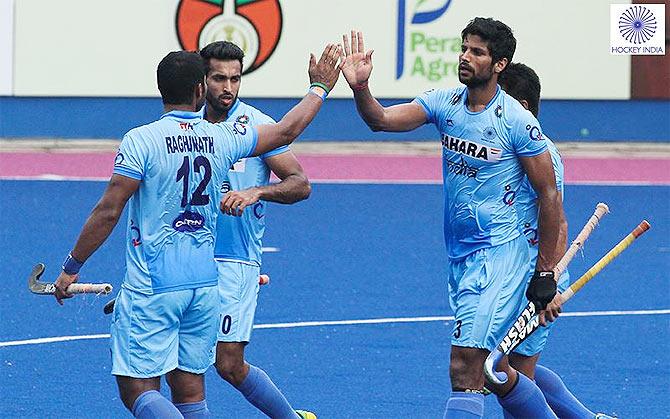 India hockey players celebrate a goal. Photograph: Hockey India/Facebook
Young striker Nikkin Thimmaiah scored a hat-trick as India produced their best performance of the tournament to stun world champions and title holders Australia 4-2 on Saturday and secure a place in the third and fourth place play-off at the Azlan Shah Cup hockey tournament in Ipoh, Malaysia.
Already out of title race, India played without pressure and at last came up with a complete performance that had Australia on the backfoot for most part of the match.
The win gave also gave India's new chief coach Paul van Ass his best moment of a short career with the Indian team.
India scored a goal each in all the four quarters through VR Raghunath (1st minute), Nikkin (23rd, 32nd, 60th), while Australia's goals came from the sticks of Daniel Beale (14th) and Matt Gohdes (53rd).
By virtue of this win, India finished their league engagements with seven points from five game and will now face Korea in the play-off tomorrow after the East Asians drew 3-3 with New Zealand today.
The Kookaburras struggled for ball possession throughout the match and their defence crumbled when put under pressure by the Indian forwards.
Barring the two soft goals which they conceded, there was no blemish in India's performance on the day.
After four games, the Indians at last showed class and made a promising start to the match.
India were by far the better side on display in the entire 60 minutes as they dominated the proceedings against all expectations.
The Indians were off to a great start as they went on the offensive from the word go and in the process earned two penalty corners in succession with the very first move of the match and Raghunath converted the second set piece with a booming flick to give the side an early lead.
The Indians continued in the same vein and had another great chance in the 10th minute which was wasted by Satbir Singh who scooped over with only the approaching Australia goalkeeper Tristan Clemons to beat.