Shiv Kapur had the best performance among Indian golfers as he finished fourth at the Panasonic Open India which concluded at the Delhi Golf Club in New Delhi on Sunday.
There were seven Indians who finished in the Top-15 as Australian Wade Ormsby won his maiden Asian Tour title with a final round of one-under-par 71 to pip Thailand veteran Boonchu Ruangkit by one stroke.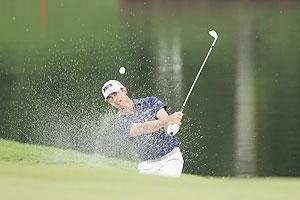 Kapur was in contention till three holes from the finish before he ran into trouble on 16th and 18th and dropped shots on both to drop to fourth, while SSP Chowrasia (68) made a valiant bid only to end up fifth alongside defending champion Digvijay Singh, who carded four sub-par rounds.
Ormsby held his nerve to overcome a triple bogey and complete a wire-to-wire victory by one stroke for his maiden professional title at the Panasonic Open India.
Ormsby, who held at least a share of the lead from the opening round, carded a final-round one-under-par 71 for a total of nine-under 279 to finish a shot ahead of Thai Boonchu Ruangkit (69) at the Delhi Golf Club.
Singapore's Lam Chih Bing (72), who had the lead briefly during the final round, finished third while India's Shiv Kapur (71) bogeyed two of his last three holes to finish three shots behind Ormsby in fourth.
Starting the day with a one-stroke advantage, Ormsby came back strongly after the triple bogey by sinking three birdies in four holes from the fifth to the eighth hole.
He dropped another shot on the 12th hole but an 18-foot birdie conversion on the 17th was enough to seal his victory.
"It means so much. I've played tournaments worldwide but to finally get a win in Asia is fantastic," the 33-year-old, who finished tied 33rd and tied 20th in Malaysia and Chiangmai respectively, told the Asian Tour.
"I was so disappointed in Malaysia and Chiangmai as I played well on both weeks but didn't finish them off. I knew there was a win in there for me and I am glad I came here."
Boonchu, who was looking to become the oldest winner on the Asian Tour at 56, was happy to have been able to challenge his younger opponents.
"Conditions were really tough out there the entire week but to be able to play the way I did even at 56 years old really says a lot about my game," Boonchu said.
"I've shown that I still have what it takes to compete against the younger boys but I just ran out of steam towards the end. But overall, it has been a good week and all I can say is never write off an old man."
Ormsby, Boonchu and Lam, the top three finishers, will be invited to the Asia-Pacific Panasonic Open, co-sanctioned by the Asian Tour and Japanese Tour, in Osaka in September.
Photograph: Ian Walton/Getty Images