The Australian Open will hike total prizemoney 10 percent in 2014 to A$33 million, organisers said on Wednesday, offsetting a depreciation in the local currency.
Last year's total prize pool of A million was worth about .2 million when men's champion Novak Djokovic and women's winner Victoria Azarenka sealed their winner's cheques of A.43 million.
But the Australian dollar has since retreated by about 10 percent in U.S. dollar terms and was trading at just under 94 cents early on Wednesday.
Organisers last year hiked 2013's prize money A$4 million to a total A$30 million after some players on the men's tour agitated to boycott the previous year's tournament just before the opening round.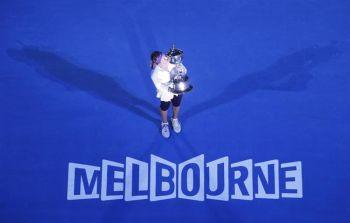 Players had complained that entrants were not receiving a fair share of total revenues generated by the four lucrative grand slams, but talk of industrial action has since been muted.
Tournament director Craig Tiley said top players had already been informed of 2014's prize pool and had responded positively.
"We've got great feedback and support from them. What other slams do is their decision," he told reporters at the tournament's launch at Melbourne Park on Wednesday.
Organisers had yet to decide on the total winner's cheques or how the pool would be split across different rounds.
"Again, around our initiative of being very close the playing group, we'll sit down with the women's tour and the men's tour and make a decision as to what that distribution should look like," Tiley said.
Photograph: David Gray/Reuters