Venus Williams was denied a chance to better her world record for fastest serve in women's tennis in absence of proper measuring technology at the Pan Pacific Open in Tokyo.
Williams blasted a 209km-per-hour serve during Thursday's 6-3, 6-7 (4), 6-3 win over Canadian teenager Eugenie Bouchard in the quarter-final match.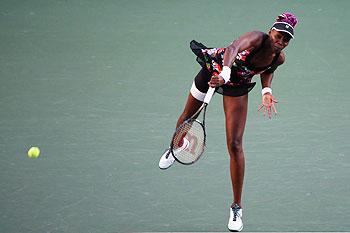 The WTA uses IDS radar guns to measure service speeds but they are not deployed in Tokyo, the governing body said in an email response to Reuters.
It meant that the 33-year-old American's serve of 207.6 km per hour, hit during the 2007 U.S. Open, stands as the fastest serve in women's tennis till date.
The multiple grand slam-winner, who has suffered a spate of injuries in the last two years, was herself surprised with the reading on the speed gun on Thursday.
"I saw that but I was like: 'Is that real?' So I don't know if that's real," Williams told the WTA in an interview. "I know I've been serving a lot harder this tournament than since I've come back from my back injury.
"I couldn't really serve that hard at the US Open and this summer. It feels good but I don't know if it was that hard. I hope it was... that's insane, it's awesome."
Williams, who beat world number two and top seed Victoria Azarenka in the second round, lost to Petra Kvitova of the Czech Republic 6-3, 3-6, 6-7 (2) in the semi-finals on Friday.
Photograph: Koji Watanabe/Getty Images