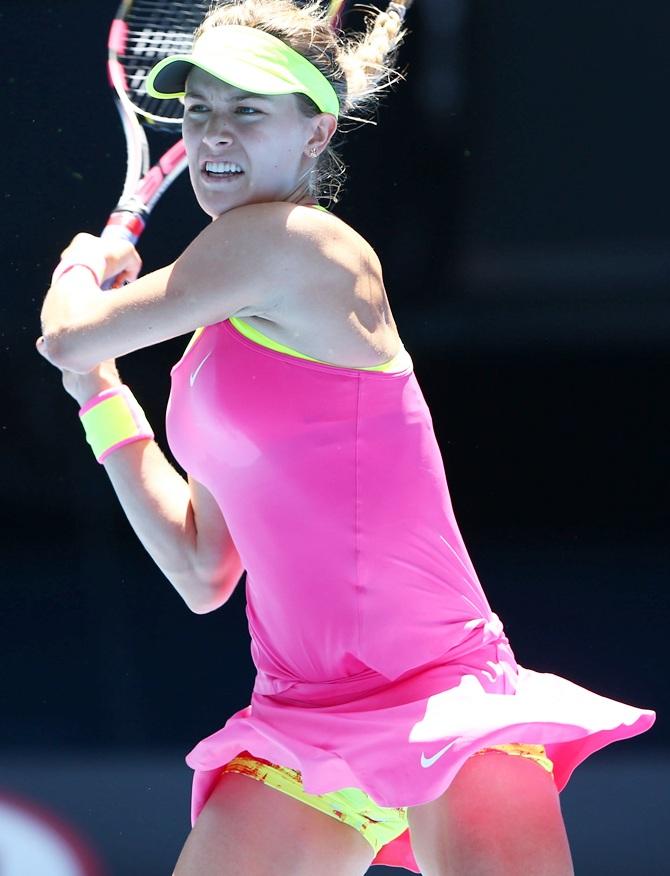 Eugenie Bouchard of Canada plays a backhand in her third round match against Caroline Garcia of France. Photograph: Cameron Spencer/Getty Images
Canadian tennis ace Eugenie Bouchard was left surprised after a male presenter conducting her on-court interview, post her dominating 6-0, 6-3 win over Kiki Bertens at the Australian Open, made an unusual request by asking her to give them a twirl.
Is fluorescent 'in' at Australian Open?
The male presenter asked Bouchard if she could give them a twirl, and the Canadian surprisingly asked whether the presenter really meant what he said. The presenter coaxed her saying, "Yes! A twirl, like a pirouette," urging the Canadian to show her outfit, a pink skirt and top with bright yellow straps, to the crowd.
'It was very unexpected'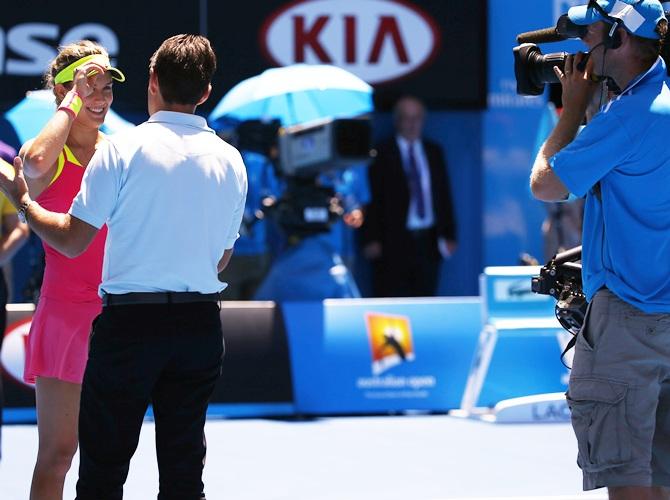 Eugenie Bouchard of Canada is interviewed on the court after defeating Caroline Garcia of France. Photograph: Issei Kato/Reuters
The World No 7 twirled somewhat uncomfortably, and then she laughed and buried her face in her hands.
Channel 7 has been slammed around the world after the incident, which comes a year after the network also reportedly came under fire for asking Bouchard about Justin Bieber.
During her post-match news conference, Bouchard spoke first about her dominating 6-0, 6-3 win over Bertens of the Netherlands in just 54 minutes, before she addressed the twirl. She said that it was 'very unexpected'.
Bouchard, who is considered the next big star of the women's tennis, said, "I don't know, an old guy asking you to twirl. It was funny."
Bouchard is one of several players sporting this season's colour theme of neon pink and yellow tennis outfits.
'I wouldn't ask Rafael or Roger to twirl'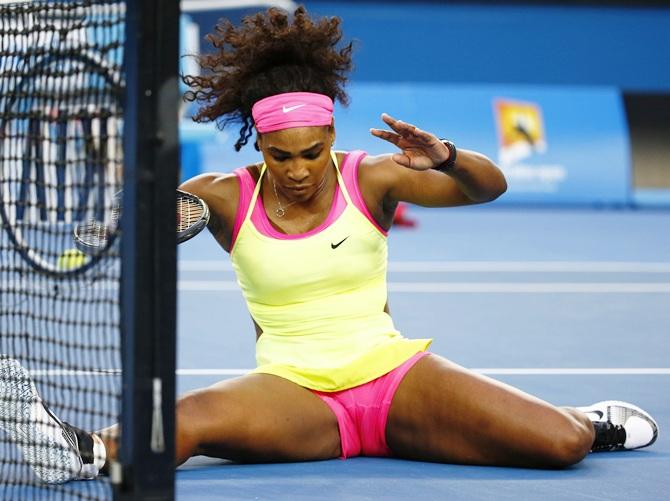 Serena Williams of the US reacts as she slips. Photograph: Issei Kato/Reuters
World No 1 Serena Williams was wearing a somewhat similar dress, in yellow with pink straps but with a large chunk cut out of the back.
After Williams' first-round win Tuesday on Margaret Court Arena, the Australian Open's second show court, the same presenter asked her to twirl for the crowd.
"I didn't really want to twirl because I was just like, you know, I don't need all the extra attention," said the No 1-ranked player who is aiming to win her 19th Grand Slam singles title.
She preferred not to enter the debate of whether the request was sexist.
"A commentator asked me to twirl. I wouldn't ask Rafael [Nadal] or Roger [Federer] to twirl. Whether it's sexist or not, I don't know. I can't answer that."
Anyway, Williams said she always twirls. After winning matches, she walks back to court and twirls with a wave to thank the crowd.
Twelve-time Grand Slam champion Billie Jean King wrote on Twitter, "The Australian Open interviewer asking the women to twirl on court is out of line."
"This is truly sexist. If you ask the women, you have to ask the guys." The 71-year-old added: "Let's focus on accomplishments of both genders and not our looks."