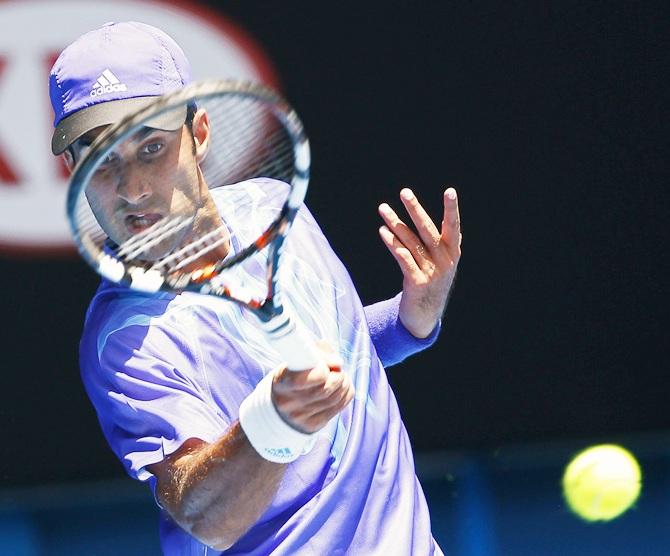 India's Yuki Bhambri hits a return to Andy Murray of Britain during their men's singles first round match at the Australian Open. Photograph: Athit Perawongmetha/Reuters
Warm, dry conditions and an unknown hard-hitting opponent gave Andy Murray some cause for concern before the sixth seed advanced to the second round of the Australian Open with a 6-3, 6-4, 7-6(3) victory over India's Yuki Bhambri on Monday.
The 27-year-old Murray, appearing on the newly refurbished Margaret Court Arena, did not look too troubled by the former junior world number one, even though he had some nervous moments in the third set when the qualifier held a 4-1 lead.
"The last couple days have been pretty cold, very cloudy, and today obviously the sun was out (and) the court was livelier," Murray said of the conditions at Melbourne Park.
"When it's dry as well, it didn't feel humid at all, the ball travels through the air quicker.
"He was hitting the ball very flat and coming to the net a lot (and) rushing me.
"I had never seen him play before, and never practiced with him. It was tough to know what to expect."
Aus Open Photos: SHOCKING! Qualifier knocks out Ivanovic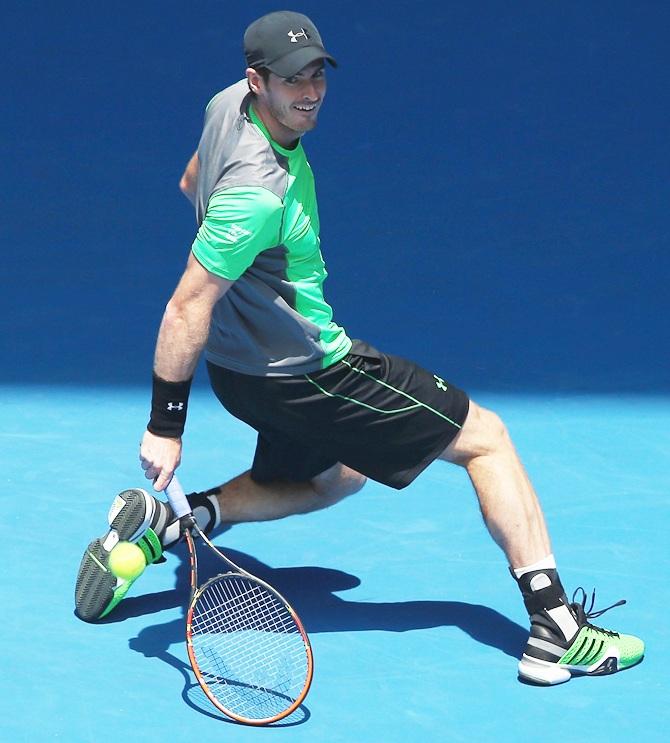 Andy Murray of Great Britain plays a backhand in his first round match against Yuki Bhambri during day one of the Australian Open. Photograph: Hannah Peters/Getty Images
Bhambri is ranked 317th in the world and was making his Grand Slam main draw debut. Murray, though, does not expect the 22-year-old to be languishing in the lower reaches of the rankings for too long.
"He's way better than ranked 300 in the world," Murray added. "He missed five or six months last year through injury.
"I would imagine by the end of this year he would definitely be around a 100 in the world if he stays injury-free.
"He returns well. He sees the game very well. He's talented. Good volleys. He likes to take the ball early and come forward.
"If he continues playing like that, I think by the end of this year he won't be far off."
The 2012 US Open and 2013 Wimbledon champion, who is on the same side of the draw as Rafael Nadal and Roger Federer, will face Marinko Matosevic in the next round after the Australian beat Russian qualifier Alexander Kudryavtsev.