Canadian Frank Dancevic slammed Australian Open organisers for forcing players to play in "inhumane" conditions after he suffered heat stroke in temperatures of 41 degrees Celcius (108 degrees Fahrenheit) on Tuesday.
Dancevic, who collapsed during the second set of his first round match against France's Benoit Paire on the uncovered court six at MelbournePark and passed out for a minute, said conditions were plainly dangerous for the players.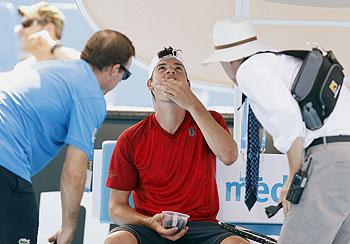 "I think it's inhumane, I don't think it's fair to anybody, to the players, to the fans, to the sport, when you see players pulling out of matches, passing out," he told reporters.
"I've played five set matches all my life and being out there for a set and a half and passing out with heat-stroke, it's not normal.
"Having players with so many problems and complaining to the tournament that it's too hot to play, until somebody dies, they're just keep going on with it and putting matches on in this heat.
"I personally don't think it's fair and I know a lot of players don't thinks it's fair."
The tournament's "extreme heat" contingency plan was put into force for women's matches on Tuesday, allowing an extra 10-minute break between the second and third sets.
Under a change to the rules for this year, however, the decision on whether to stop matches at the tournament is now at the discretion of tournament director Wayne McKewen.
Rather than use the raw Celcius readings to assess the heat, organisers prefer to use the Wet Bulb Global Temperature composite, which also gauges humidity and wind to identify the perceived conditions.
"It's not only the ambient heat we're battling, but also the heat from the court," Dancevic added. "And also the sun, they test the temperatures in the shade."
Dancevic, who said he had felt dizzy from the middle of the second set, resumed after medical attention but unsurprisingly ending up losing 7-6, 6-3, 6-4.
"I was really close to stopping completely," he said. "I wasn't really running too much towards the end. I wasn't tired, I just felt my body temperature was too high."
A ball boy had earlier required medical attention after collapsing during Milos Raonic's 7-6(2), 6-1, 4-6, 6-2 victory over Daniel Gimeno-Traver on the equally exposed court eight.
Most competitors, though, followed the line that, although conditions were tough, they were the same for both players.
"I don't think it's much to do with the shape the players are in, some players are used to the heat, their bodies can genetically handle the heat, and others can't," Dancevic said.
"It's hazardous to be out there, it's dangerous. It's been an hour and a half after my match and I still can't pee."
Image: Frank Dancevic of Canada receives medical attention during his men's singles match against Benoit Paire of France on Tuesday
Photograph: Brandon Malone/Reuters