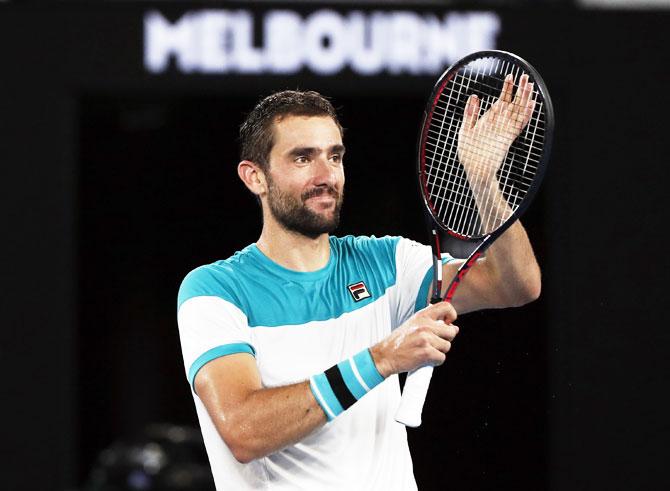 IMAGE: Croatia's Marin Cilic celebrates winning his match against Britain's Kyle Edmund during their Australian Open semi-final at the Rod Laver Arena in Melbourne on Thursday. Photograph: Issei Kato/Reuters
A business-like Marin Cilic doused the fire of Kyle Edmund before crushing the ailing Briton 6-2, 7-6(4), 6-2 to become Croatia's first Australian Open finalist on Thursday.
Sixth seed Cilic, who won his quarter-final when Rafa Nadal retired hurt in the fifth set, was again ruthless against a reduced opponent, ending 49th-ranked Edmund's dream run after just two hours and 18 minutes at a floodlit Rod Laver Arena.
Sealing the match with a thumping serve, the 2014 US Open champion will bid for his second grand slam title against Friday's winner of Roger Federer and South Korea's rising star Chung Hyeon.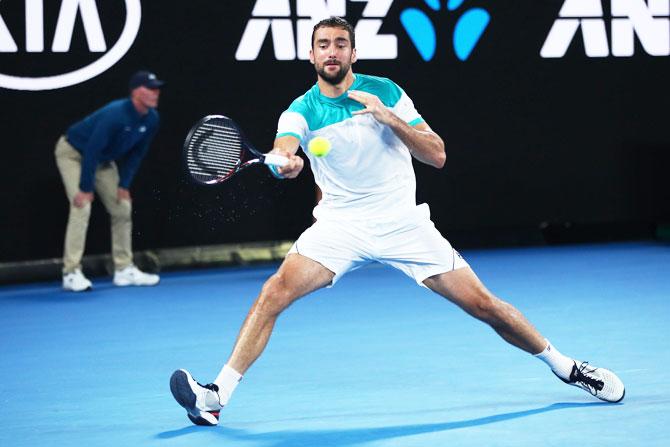 IMAGE: Marin Cilic blasts a forehand against Kyle Edmund. Photograph: Clive Brunskill/Getty Images
He will also enjoy two full days off after his centre court cakewalk which left the largely pro-Edmund crowd cold on a hazy, moist evening.
Everything is in a "good, solid spot", said the confident Croatian, who will contest his third grand slam final after being thrashed by Federer at Wimbledon.
"I'm playing much, much more aggressive," the 29-year-old told reporters.
"I'm feeling that I am, for most of the shots, hitting them really, really good ... Feeling really excited about the final, too."
It was hard to disagree with the 6-ft 6-in (1.98m) Cilic, who put on a masterclass of clean hitting and was virtually unplayable on his first serve.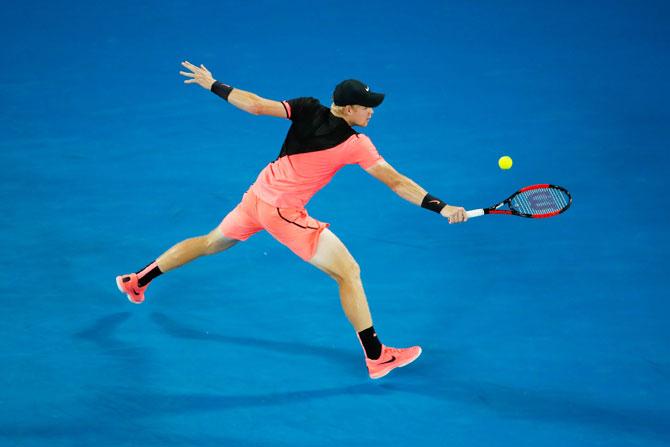 IMAGE: Kyle Edmund plays a backhand return. Photograph: Scott Barbour/Getty Images
An agitated Edmund, however, needed a medical time-out after the first set and slowed appreciably in the third.
Match Stats
6-Cilic
Edmund
Aces
11
7
Double Faults
1
3
Break points won
4/8
0/2
Net points won
9/10
3/5
Winners
32
25
Unforced errors
30
35
Total points won
108
82
Match duration: two hours, 18 minutes
It was a deflating end to a match that had showed promise when the 23-year-old Yorkshireman came out in a blaze of shot-making to grab early break points.
Cilic served away the danger and studiously avoided Edmund's bazooka forehand.
Given little latitude on his favoured side, a frustrated Edmund was broken in the sixth game when he slapped a backhand into the net tape and the rebound went wide.
Cilic calmly broke him again, wrapping up the set with a searing forehand to the corner.
With only a single forehand winner to his name, Edmund exited the court for a medical time-out but returned still troubled of mind.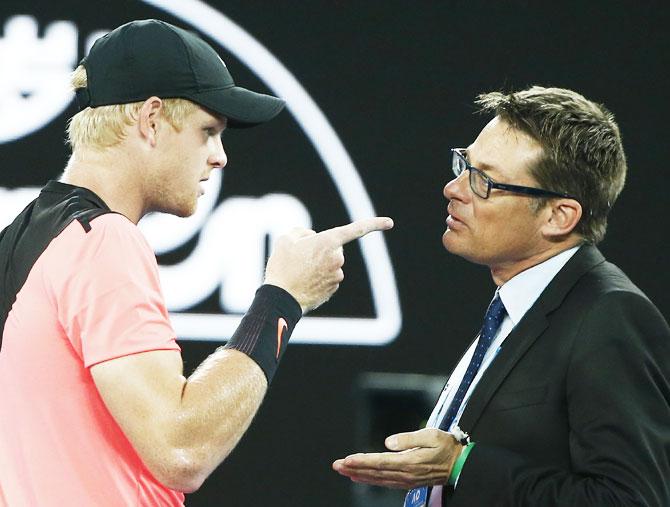 IMAGE: Kyle Edmund speaks with an official after arguing with umpire John Blom. Photograph: Thomas Peter/Reuters
He lost his temper at 2-2, arguing with the umpire heatedly after Cilic was awarded a point on a challenge.
"Get the referee, I'm not having it," he snapped before being flat-batted by the second match official.
The blow-up seemed to help as he served out to love and kept snapping at Cilic's heels all the way to a tiebreak.
But from there the big Croatian played with sublime control, landing a pinpoint serve to claim three set points.
Edmund saved one but Cilic was soon roaring in celebration, a backhand winner down the line closing it out.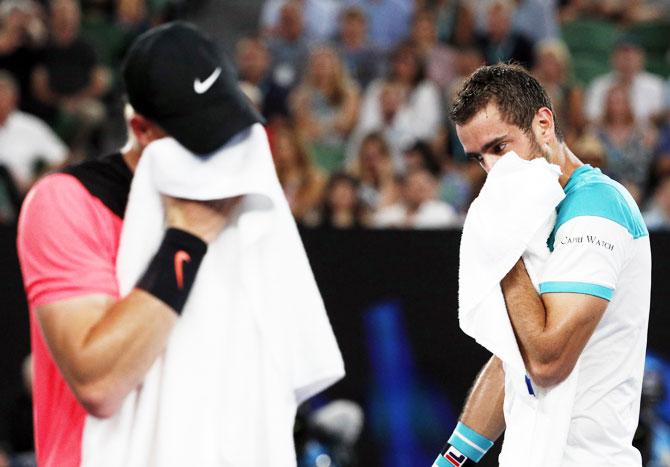 IMAGE: The heat took a toll on both, Kyle Edmund and Marin Cilic. Photograph: Edgar Su/Reuters
It looked bad for the Briton, who began hobbling when in pursuit of Cilic's raids on his backhand.
Tossed around like a rag doll across the court, Edmund was broken at 1-1 when he netted a weak retrieve.
It prompted only a quiet fist pump from Cilic, who knuckled down to break him again at 4-2.
An 11th ace and a volley put him a point from the finish before he wound up his serve one last time to end Edmund's misery.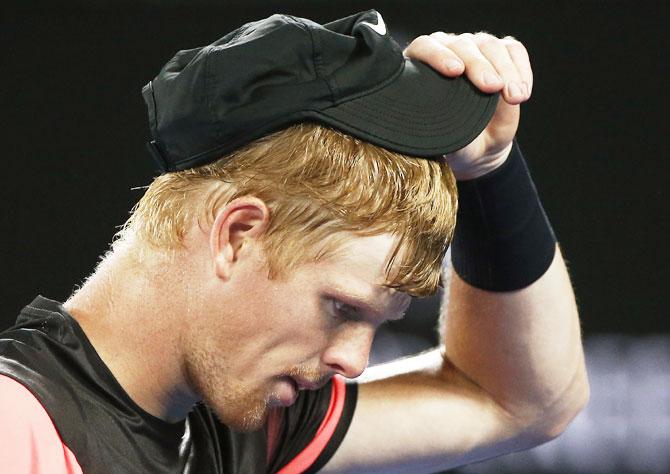 IMAGE: Kyle Edmund was run ragged in the semi-final. Photograph: Thomas Peter/Reuters
It looked like a groin injury that did for the Briton, but he refused to play the sympathy card.
"Yeah, there's something, but whatever," said the man who upset third seed Grigor Dimitrov in the quarter-finals.
"I'm definitely disappointed about it, but it's one of those things where I have to look at the whole week.
"It's been so good ... One of the biggest tournaments of the world, and making a good run and beating top players."