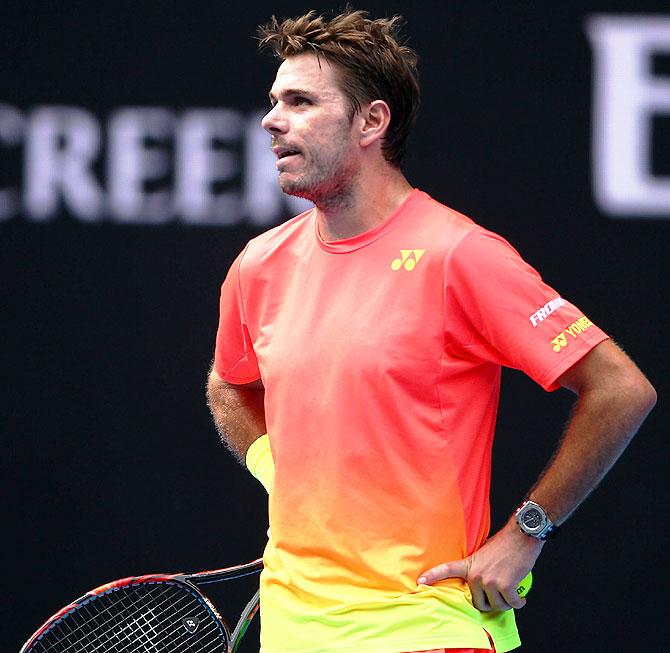 IMAGE: Switzerland's Stan Wawrinka reacts after losing a point during his fourth round match against Canada's Milos Raonic at the Australian Open on Monday. Photograph: Mark Kolbe/Getty Images
French Open champion Stan Wawrinka blamed a lingering cold for his exit from the fourth round of the Australian Open at the hands of Canada's Milos Raonic on Monday.
- Aus Open PHOTOS: Murray eases into quarters, Raonic stuns Wawrinka
The 30-year-old admitted he was far from his best in the three hour, 44 minute contest on Rod Laver Arena, the scene of his first grand slam triumph in 2014, and was surprised only that he managed to force five sets.
"I think honestly I've come from too far. I've been sick for 10 days now," the Swiss told reporters after the 6-4, 6-3, 5-7, 4-6, 6-3 loss.
"Still trying to get into the second week. Couldn't really be at my top. When you play a top guy like Milos, it's difficult. You need to be 100 percent to have a chance.
"Today he pushed from the beginning. He was better."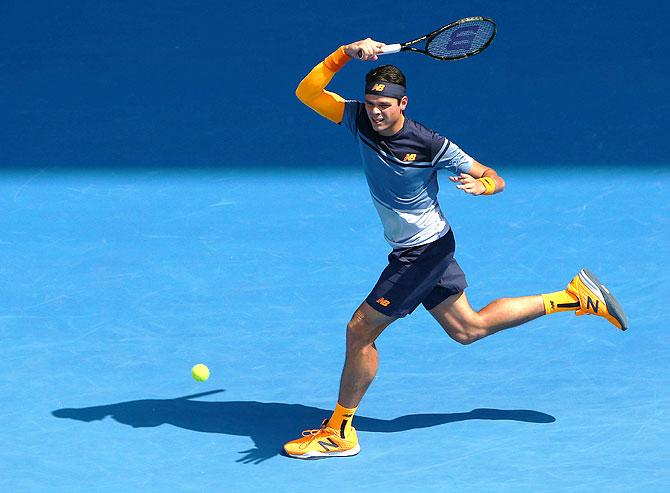 IMAGE: Milos Raonic plays a forehand return in his fourth round match against Stan Wawrinka. Photograph: Scott Barbour/Getty Images
Fourth seed Wawrinka had reached at least the quarter-finals of the last six grand slams and when he battled back to level after dropping the opening two sets on Monday it looked as though that run would continue.
But there was not enough left in the tank and Raonic broke midway through the deciding set, staying rock solid to post a first win over Wawrinka at the fifth attempt.
"It's been a tough 10 days for me. So it's tough to recover, to rest, and at the same time play a grand slam. That's it," Wawrinka, who has broken the grip of the established "Big Four" in men's tennis, said.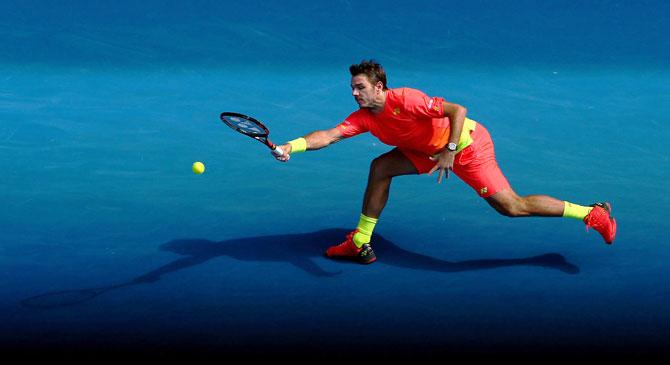 IMAGE: Stan Wawrinka plays a return. Photograph: Scott Barbour/Getty Images
Wawrinka, the only player apart from Novak Djokovic to have won the Australian Open in the last five years, had reached the last 16 without dropping a set and despite falling short against Raonic, he certainly did not consider his tournament a failure.
"Well, it's always a disappointment to lose a match, to lose before quarter, whatever, to lose in five sets," he added.
"Again, in general, when I look at a tournament, I look about everything, not just the last match that I lost. And I think it was still a positive tournament. Find a way to be there, but lost against Milos.
"He's a really good player also. So it can happen."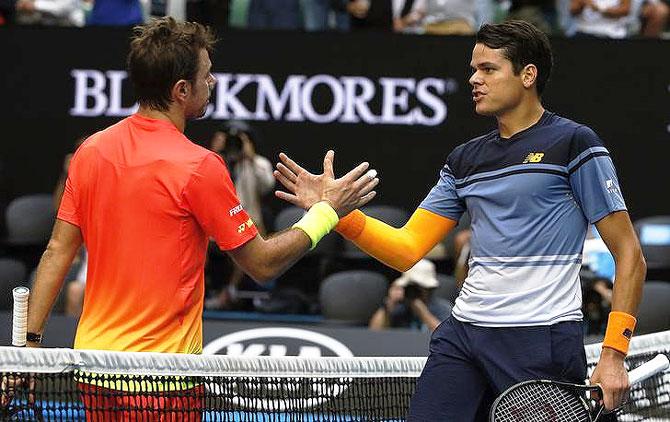 IMAGE: Milos Raonic (right) greets Stan Wawrinka at the net after winning their fourth round match. Photograph: Tyrone Siu/Reuters
And, for all his heavy metal tennis, big-serving Raonic relies on a quiet head on his shoulders during times of trouble, as was the case when beating Wawrinka in the Australian Open fourth round on Monday.
The Canadian 13th seed looked serene as he moved two sets ahead against the Swiss former champion but even when Wawrinka roused himself to level the match, Raonic called on his Zen-like inner peace and refused to panic.
Sitting tranquilly on his court-side chair staring into the middle distance, the 25-year-old re-focused on the task in hand and completed a victory in five sets to book a quarter-final spot.
"I felt very clear in what I needed to do and I believed that I could do it," Raonic, who pounded down 24 aces and hit 82 clean winners, told reporters.
"I think that gave me some kind of calm and some kind of peace inside. The more I understand my game, what I need to do, the more I can keep a quiet head on my shoulders."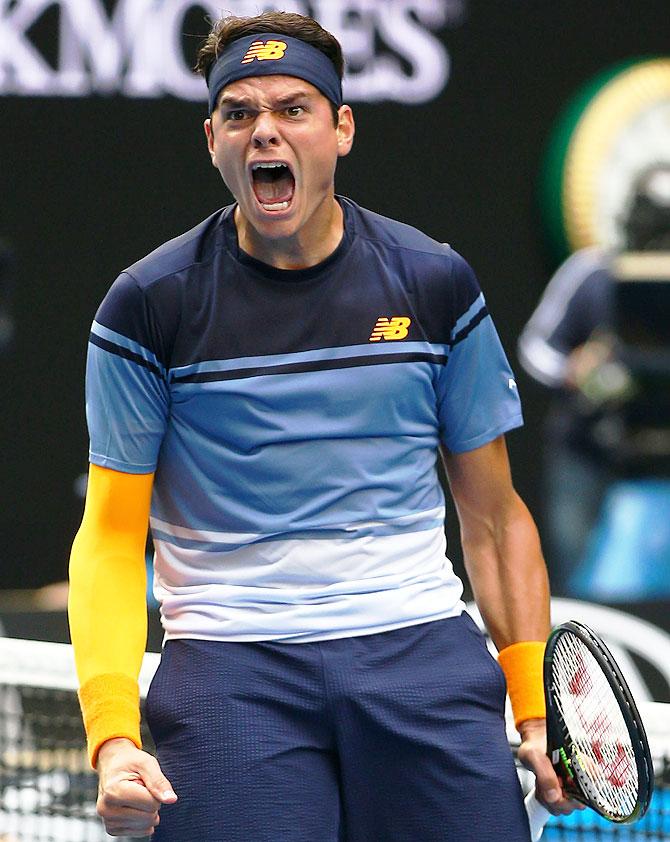 IMAGE: Milos Raonic celebrates. Photograph: Mark Kolbe/Getty Images
Raonic, who reached a career-high of world number four last year before suffering foot and hip injuries, is one of the sport's deep thinkers.
His mental maturity was first noted when he reached the fourth round of the Australian Open in 2011, having come through qualifying, and it continues to serve him well.
As does the attention to detail that means Raonic is always seeking marginal gains to add to one of the game's most destructive serve/forehand combinations.
He recently added Spanish former world number one Carlos Moya to his entourage to work with long-time coach Riccardo Piatti as he bids to win the grand slam title many have predicted, but which has proved elusive.
Needless to say, just an hour after beating Wawrinka for the first time in his career, Raonic was already plotting a path past flamboyant and unpredictable Frenchman Gael Monfils -- the polar opposite of himself.
"My mind's already on what's the process for my next challenge," he said.
"It's very much an internal match for me."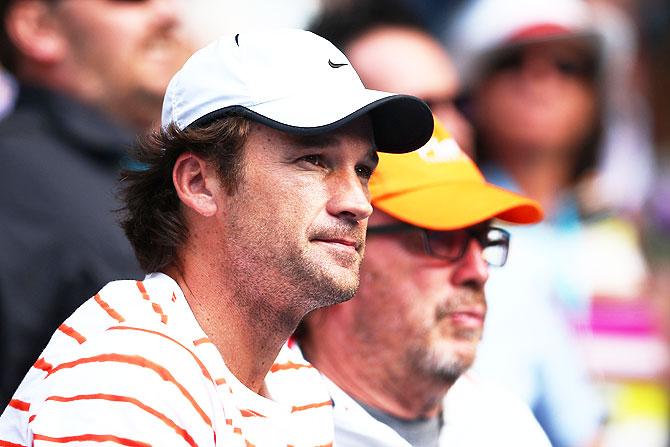 IMAGE: Milos Raonic's coach Carlos Moya looks on. Photograph: Mark Kolbe/Getty Images
Raonic is on an eight-match winning run this year and had clocked up 19 consecutive sets before Wawrinka's fightback.
While his serve remains one of the most efficient in tennis -- he won 80 percent of points on his first delivery -- Raonic's volleying skills are vastly improved.
He came to the net 83 times against Wawrinka, one of the best passers, winning 54 points.
Moya has encouraged him to volley more, devoting much more time in practise to net play.
"It was something definitely I felt was necessary," he said.
"Carlos is sort of telling me keep getting yourself up there.
"He's sort of organising my weapons."