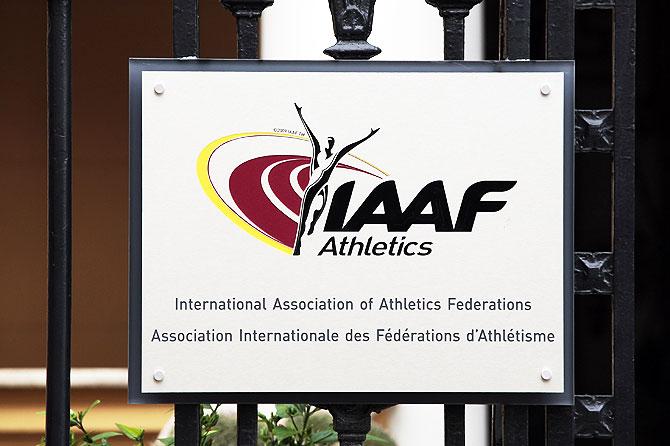 IMAGE: A view shows a plaque at the IAAF (The International Association of Athletics Federations) headquarters in Monaco. Photograph: Eric Gaillard/Reuters
Australia has backed a World Anti-Doping Agency (WADA) recommendation that Russia be banned from international athletics, including the 2016 Olympics, after a report alleged systemic state-backed cheating.
- Russia faces ban from athletics for widespread doping offences
- Kremlin terms doping allegations against Russian athletes 'groundless'
- Key points from WADA's damning report against Russian athletics
Both the Australian Olympic Committee and Athletics Australia (AA) said Russian track and field athletes should not be allowed to compete at the Rio de Janeiro Games.
AA chief executive Phil Jones said there was not enough time for Russia to prove its track and field program was clean before Rio 2016 started on Aug. 5.
"The runway clearly is very short to address all the issues that the report calls out," he told state radio broadcaster ABC on Tuesday.
"I think given the time between now and the Rio Olympics, it's very difficult to see that their house is going to be demonstrably in order by the middle of next year."
Australia's Olympic chef de mission Kitty Chiller said she hoped the IAAF's new president Sebastian Coe would have the courage to "do what's required".
"If Russia is not in Rio, I think the reputation of athletics will be enhanced," she told reporters in Sydney.
A WADA anti-doping commission reported allegations of widespread corruption and collusion by Russian officials, including state security services, to cover up the results of drug tests, destroy samples and intimidate laboratory staff.
Russian Sports Minister Vitaly Mutko said there was no evidence for the accusations.
The WADA report also identified "systematic failures" at the IAAF, athletics' world governing body, which has been rocked by a French judicial investigation into fraud involving its former chief Lamine Diack and other senior officials.
The accusations have angered Australian athletes, including race walker Jared Tallent, who has demanded he be awarded the 50km gold medal from the 2012 London Games after finishing runner-up behind Russian drug cheat Sergei Kirdyapkin [L3N13526S].
Only the IAAF has the power to ban Russia from international competition. Coe has given Russia a week to respond formally to the allegations.
Jones doubted Russia was alone in its doping problems.
"I don't think it's surprising in any way," he added.
"It's difficult to imagine Russia is the only country where there would be anti-doping issues. It would be very surprising if Russia was an island in this regard."
The report has cast doubt on results at a number of international events, including the London Games, where Russia won eight gold among 17 track and field medals.
Athletics New Zealand joined Australia in supporting the WADA stance and said if Russia was proved to have been involved then they should face sanctions.
Russia is to host the World Race Walking Cup at the Volga river port of Cheboksary in May, 2016.
Many of Russia's leading walkers have tested positive for performance-enhancing drugs and Tallent said he had no intention competing at the meeting unless it were moved from Russia.
Jones said AA would support other local athletes if they wanted to boycott the meeting.