English football star David Beckham is 40.
David Beckham's 40th birthday, wish him
The world's biggest male icon is busy celebrating his big day in exotic Morocco with his family and friends.
Rediff.com have put together a picture gallery of the legendary footballer, model, businessman, doting father, loving husband, ambassador. Take a look…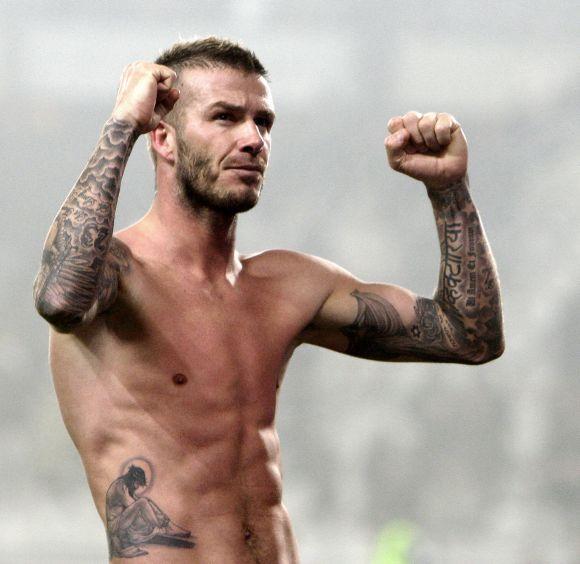 David Beckham flaunts his tattoos. Photograph: Stefano Rellandini/Reuters
For some, whatever he does becomes a style statement.
The former England ace has also attracted an audience with his love for tattoos.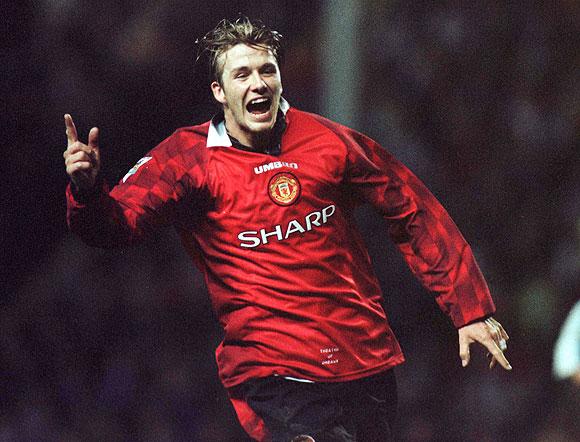 Beckham was born on May 2, 1975 in London. He joined Manchester United as a 16-year-old trainee in 1991. By 1995 he became a regular during the club's most successful era.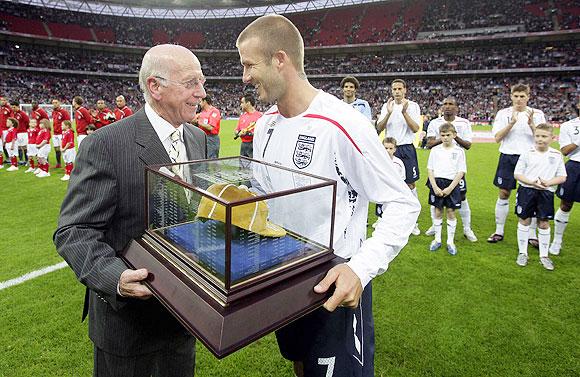 England's David Beckham (right) receives his 100th cap from Sir Bobby Charlton at Wembley Stadium in London May 28, 2008. Photograph: Michael Regan/Action Images/The FA/Pool/Reuters
Beckham made his England debut on September 1, 1996 in a World Cup qualifier against Moldova. Beckham captained England on the first of 58 occasions against Italy in a friendly in November 2000 and the next year booked them a place in the 2002 World Cup finals with a stunning injury-time free kick, salvaging a 2-2 draw against Greece.
In 2006, he resigned as England captain after his side lost in the World Cup quarter-finals to Portugal, who knocked them out at the same stage of Euro 2004.
Beckham returned to the team a year later and earned 115 caps, an England outfield record. His last international appearance was against Belarus at Wembley in October 2009.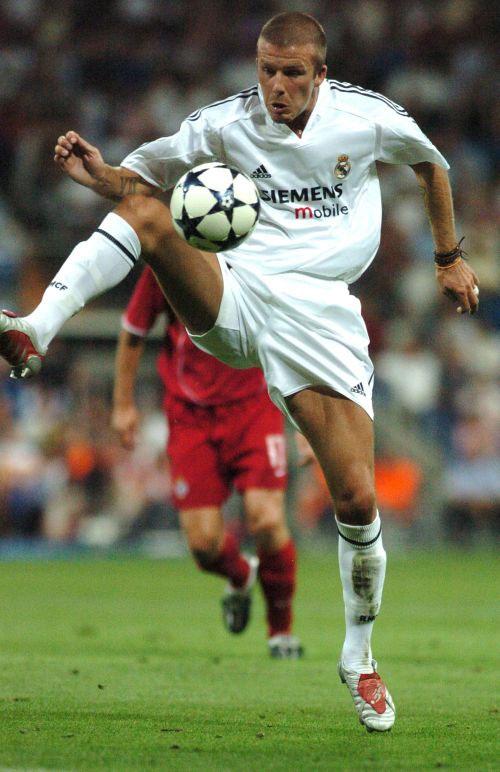 David Beckham in action. Photograph: Carlos Alvarez/Getty Images
Beckham signed for Real Madrid from United for 25 million pounds in 2003 and after the Spanish club went three seasons without a major trophy, the team won the league title in 2007.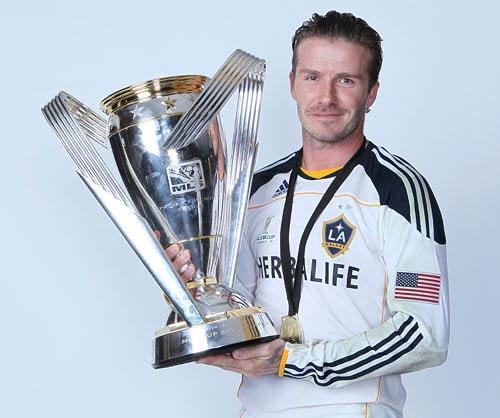 David Beckham with his first MLS title with LA Galaxy in November 2012. Photograph: Getty Images
He joined the Los Angeles Galaxy in July 2007 in a mega-money deal in a bid to promote soccer in the United States.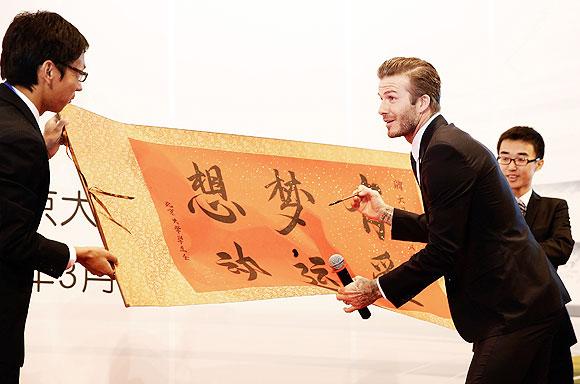 David Beckham learns Chinese calligraphy during a visit to Peking University on March 24, 2013 in Beijing, China. Photograph: Lintao Zhang/Getty Images
In March 2013, China named Beckham as its first global soccer ambassador to revive the game's image there.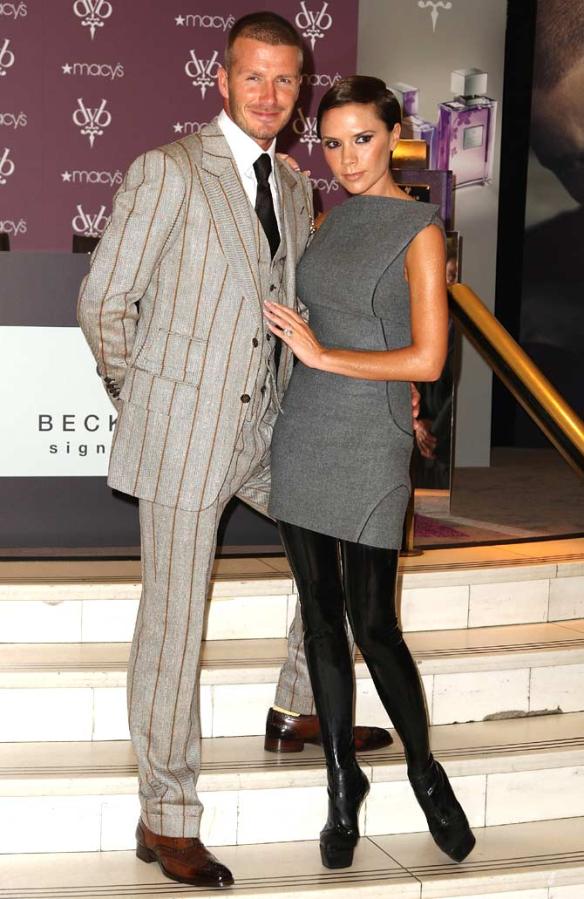 David Beckham and Victoria Beckham attend the launch of the Beckham Signature fragrance collection Photograph: Andrew H Walker/Getty Images
Beckham met Victoria Adams in the mid-1990s when she was a member of pop group the Spice Girls. The perfect media match-up, the couple were instantly catapulted into the limelight.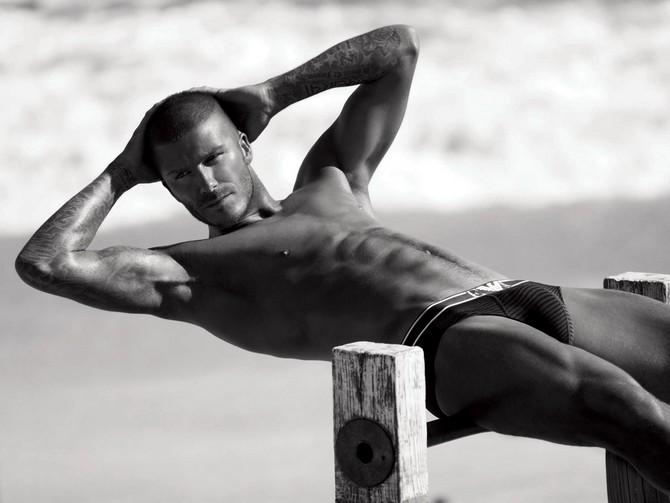 David Beckham strikes a pose for Emporio Armani underwear. Photograph: Courtesy Emporio Armani
David Beckham doesn't mind dressing down and giving us an eyeful of that heavenly body underneath those perfectly tailored clothes.
David Beckham for H&M. Photograph: Courtesy H&M
Fashion designer Tommy Hilfiger believes that the famous star can pull off the seductive look in minimal clothing, reported Daily Mirror online.
"I have seen all kinds of underwear models, but we all wish we looked like David Beckham at the end of the day.
"He is like the underwear model of the century," Hilfiger said.
The handsome star first posed wearing briefs in 2007 when he appeared alongside his fashion designer wife Victoria in the Emporio Armani campaign.
In 2012, he bared his toned physique once again when he launched his own bodywear line for the high-street retailer H&M.
However, Beckham has previously revealed that his sons Brooklyn, 15, Romeo, 11, and Cruz, nine, get embarrassed when they see him posing in his undergarments.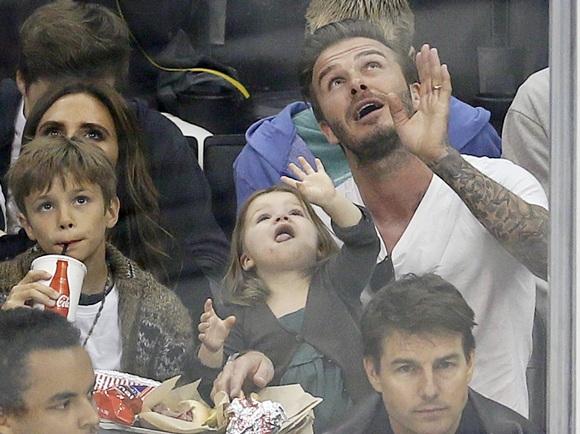 David Beckham sits behind actor Tom Cruise with his daughter Harper, 3, sons and wife Victoria. Photograph: Lucy Nicholson/Reuters
Talking of family, he is the head of inarguably the most fashionable family in this world and doesn't shy away from showing it.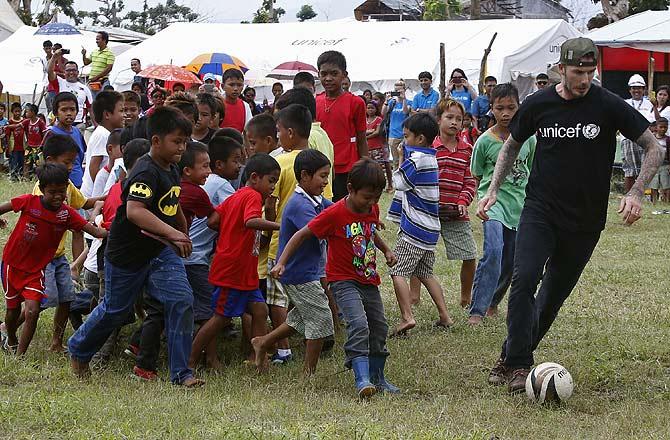 David Beckham plays soccer with typhoon survivors at an evacuation centre after super Typhoon Haiyan devastated Tanauan, Leyte, in central Philippines. Beckham is one of the biggest donors to areas devastated by super typhoon Haiyan in central Philippines in 2014. Photographs: Erik De Castro/Reuters
When he isn't making news being a fashion icon, he is making headlines for reaching out to the less fortunate ones.