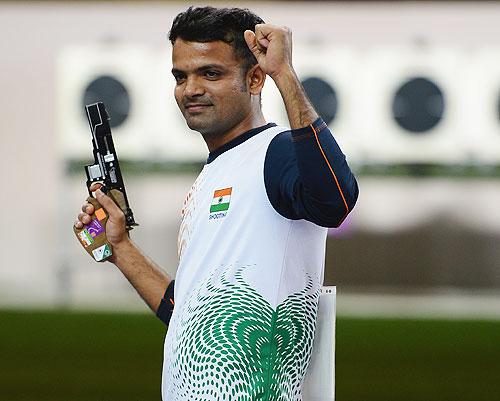 Vijay Kumar of India celebrates. Photograph: Lars Baron/Getty Images
The Indian men ended their campaign in the pistol events on a winning note, shooting down a silver medal in the 25m centre fire event even as the women's team exited from the 50m three-position competition without success at the Asian Games, on Friday.
The men pistol shooters – spearheaded by London Olympics silver medallist Vijay Kumar – clinched second place with a total score of 1740, two behind gold medallists China.
Had the Mhow-based army men's trio, comprising Kumar, Pemba Tamang and Gurpreet Singh, equalled the Chinese, they would have secured gold as their number of inner tens was higher than that of their formidable opponents.
- Complete coverage: 2014 Asian Games
Vijay took part in the competition despite being troubled by cervical
spondylitis for which he is set to undergo surgery soon after returning home from the Games.
It was the eighth medal the shooters have from the Games -- one gold, one silver and six bronze medals -- all but two of them coming in team events.
Barring Jitu Rai, only Abhinav Bindra won an individual medal in Incheon, an indication of how competitive the shooting competition has been.
Tamang was better in the Precision round, scoring a brilliant 99, but was slightly off the mark in the subsequent Rapid fire when he shot 97 to earn the 8th spot with a tally of 581. He was followed by Gurpreet (580, 9th) and Kumar (579, 12th).
Tamang, hailing Arunachal Pradesh, said he made an extra effort and tried very hard to fetch India the medal.
"I am very happy with the team silver after we as a team missed the bronze by a whisker (by virtue of shooting lesser inner tens) in the 25m standard pistol," said the father of two young children.
"I have started to love shooting after I joined the Army Marksmanship Unit in Mhow and I want to make both my children take up this sport," he said.
Gurpreet, whose two rounds fetched him scores of 95 and 97, said it was the last match and he was happy to be returning home with at least one medal from the Games.
The Indian women team, comprising Lajja Gauswami, 44-year-old Anjali Bhagwat and Tejaswini Muley finished sixth in the 50m Rifle 3 Positions Team Finals.
Lajja also flattered to deceive in the individual 50m Rifle 3 Positions as she finished a lowly seventh in the final while Anjali (572) and Tejaswini (568) got eliminated after finishing a distant 25th and 29th respectively.
"It was our last match and there was lot of pressure on us," said the Punjab-born Gurpreet.
Kumar, on his part, said he was happy to be going home with at least one medal hanging around his neck which has been troubling him for some time now.
"I had undergone MRI scan and it has been found out that I have cervical spondylitis. I intend to undergo surgery after I go back. I may be out of competition for 20 days. It is the result of overtraining."
There was some drama also in the event when South Korean shooter Kim Youngmin's gun became faulty after 40 shots of the 60-shot finals and he had to get off the firing position to get it repaired within the 15-minute deadline and finish his last 20 shots after all others had done so.
He ultimately finished fourth in the individual event and helped the Games host to pick the bronze after they ended up one point behind India.
The women's 50m three-position event raised hopes of a medal when Lajja reached the finals with the fourth best qualifying score of 582 with 25 inner tens.
However, she could not reproduce the form in a tense final in which there were three Chinese shooters and she got eliminated second from the bottom with a score of 401.6 in the three positions – kneeling, prone and standing - after firing a series of 9s.
She was inconsistent, hovering between the 5th and 6th places over the first 30 shots and then her form dipped when the knock out standing phase came as she misfired with four consecutive nines and followed by a very poor 8.8.
During the prone phase which was her best among the three styles, she had one perfect shot of 10.9 and had a notable sequence of 52.0, 51.0 and 50.7 after a run of 50.2, 50.5 and 49.8 in the preceding kneeling phase. In standing, she got eliminated after sequence of 48.4 and 49.0.
India's medal hopes now lie only on their men's rifle team, including star shooter Gagan Narang, in the 50m 3-position event to be held tomorrow.