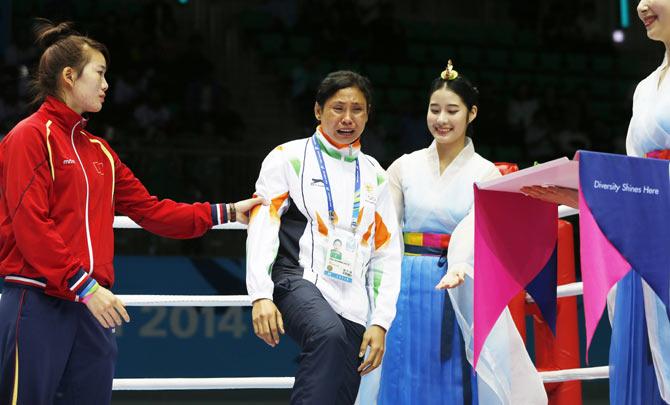 Indias L. Sarita Devi cries looking at a medal as she steps on to the podium helped by bronze medalist Vietnams Thi Duyen Luu during the medal ceremony for the women's light 60-kilogram division boxing at the 17th Asian Games in Incheon on Wednesday. Photograph: PTI
Facing the prospect of a ban, Indian boxer L Sarita Devi offered an "unconditional apology" for refusing to accept her bronze medal during the Asian Games presentation ceremony, the International Boxing Association said on Friday.
In a statement, the International Boxing Association (AIBA) has said that the boxer has regretted her actions.
"The Head of the Indian Mission at the Incheon Asian Games 2014 Mr Adille J Sumariwalla has forwarded to the President of the International Boxing Association, Dr Ching-Kuo Wu, a letter of apology of Woman boxer Sarita Laishram Devi (57-60kg) who had refused to receive the bronze medal at the Award Ceremony for the 17th Asian Games," the AIBA said in a statement.
"Mrs Devi expressed 'an unconditional apology' for her 'emotional outburst' at the ceremony yesterday, writing that 'I regret and apologise. Such an incident will never reoccur in the future'," the letter further stated.
Sarita was furious after losing her semi-final bout with South Korea's Park Ji-na on Tuesday, believing she should have been declared the winner.
Her husband launched an expletive-laden tirade at the judges and Sarita lodged a protest against the decision but it was rejected, triggering cries of foul play from the Indian team.
The following day, she refused to wear the bronze medal when it was presented to her, taking it only in her hand before trying to drape it over Park.
When the presentation was over, Sarina left the medal behind, despite being told by the organisers to take it with her.
The AIBA took a dim view of her behaviour and submitted a formal report to the Olympic Council of Asia (OCA), requesting disciplinary action be taken against her.
AIBA said that the "whole incident looked like a well planned scenario by her and her team, and it was regretful to watch a boxer refuse the medal regardless of what happened in the competition."
Her medal was reinstated on Thursday after a hearing by the Olympic Council of Asia during which the Indian delegation expressed regrets over the incident.
AIBA said the India's chef-de-mission at the Asian Games, Sumariwalla, has claimed that the incident was not planned.
"The Head of the Indian Mission has furthermore asked the AIBA President to take into account this letter and the specific circumstances which led to such a 'spontaneous knee jerk reaction', which according to Mr Sumariwalla, was not 'a planned effort' of the Indian delegation," the AIBA statement read.