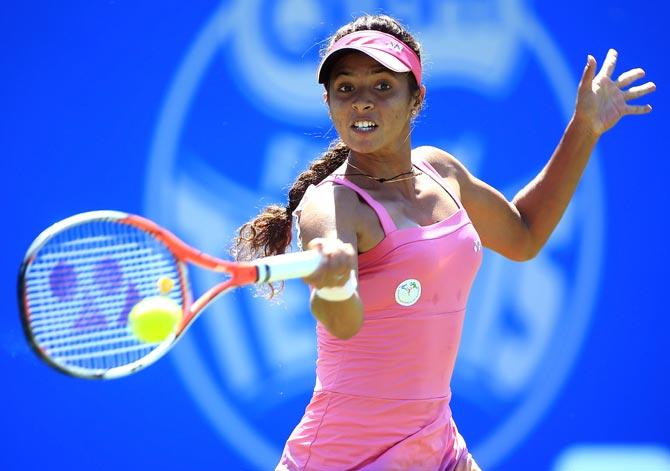 Ankita Raina and top seeds men's doubles pair of Rohan Bopanna and Divij Sharan assured India of at least a couple of bronze medals in the tennis competition by progressing to the semifinals at the Asian Games, in Palembang, on Wednesday.
World No 189, Raina dispatched Hong Kong's Eudice Chong 6-4, 6-1 to enter the last four of the women's singles competition. In all the five events, both losing semifinalists get a bronze.
Raina played well against an opponent ranked more than 400 places lower than her but also benefitted from a more open draw after the shock loss of world no. 92 Luksika Kumkhum of Thailand.
Ankita has assured India's third medal in women's singles at the Asian Games with Sania Mirza being the only other Indian to do so (silver in 2006, bronze in 2010).
Ankita was down 1-4 in the first set before bouncing back to close it in 54 minutes. She took only 27 minutes to claim the second set.
"Ankita is a fighter and has volunteered to play in all three events in this heat. She played well today. The Thai player in her draw lost, so that opened up the draw for her," India captain and coach Zeeshan Ali said.
Bopanna and Sharan, who don't have much experience of playing together, played a solid match against the seasoned pairing of Yang Hsieh and Yang Tsung-Hua of Chinese Taipei.
The win in the quarterfinals must have given the Indians a lot of confidence and they are well on their way to a gold medal.
Ramkumar Ramathan, second seed in the men's singles, however disappointed in his round of 16 match against Jurabek Karimov of Uzbekistan.
The world no. 134 played a serve and volley game for the majority of the match on the slow courts of Jakabaring Tennis Center and paid the price by losing 6-3, 4-6, 3-6 against the 428th ranked player.
"Tactically, Ram got it all wrong. The courts were on the slower side, all the more reason he did not need to serve and volley. He kept doing that and paid the price for it. It was not expected from a player of Ram's caliber," said Ali.
Prajnesh Gunneswaran, however, got one step closer to a medal after advancing to the quarterfinals. He beat Vietnam's Ly Hoang Nam 6-3, 5-7, 6-4 in the punishing heat of Palembang.
The women's doubles pairing of Raina and Prarthana Thombare exited the women's doubles competition with a 1-6, 3-6 loss against Kazakhstan's Danilina and Ainitdinova Gozal.
The other men's doubles pairing of Sumit Nagal and Ramanathan too crashed out of the competition.
The only Indian pairing left in the mixed doubles draw is of Bopanna and Raina, who beat Wong Chun Hun and Eudice Chong of Hong Kong 6-4, 6-4 to enter the quarter-finals.
No podium on last day, India finish wrestling campaign with 3 medals
After the high of two gold and a bronze medal in freestyle competition, India endured a disappointing end to their wrestling campaign at the Asian Games with Greco-Roman grappler Harpreet Singh losing his bronze medal bout.
Harpreet, competing in a higher weight category (87kg), lost 3-6 to Kazakhstan's Azamat Kustubayev in a bout in which a few questions were raised about umpiring.
Harpreet was India's lone medal hope after Gurpreet Singh (77kg), Naveen (130kg) and Hardeep (97) failedto reach the medal round. Harpreet was given passivity warning when he seemed to be more aggressive than his opponent.
Indian coaches cried foul, saying Harpreet has been made to lose.
"The Kazakh wrestler has not won but our wrester has been defeated," said one of the coaches.
However, national Greco Roman coach Kuldeep Singh said Harpreet should not have conceded point on lift.
"There may be issues with regards to officiating but he should not have conceded that lift from ground position. He has never done that in his career and now at this big stage, it was not expected," Kuldeep lamented.
"I was on the move and I should have gone that passivity point," said Harpreet, whose original category is 82kg.
WFI secretary V M Prasood said if Harpreet was leading the bout, they would have protested against the referee's decision.
The WFI though is satisfied with two gold medals.
"In the last Asian Games, we won just one gold. This time we have two gold and a record that Vinesh is the first Indian woman to win at Asian Games. These wrestlers have improved a lot from the last Games in Incheon," Prasood said.
On three of the four days of competition, Indian wrestlers won medals but could not better their performance at Incheon Games, where they had won five medals.
Bajrang Punia had won a gold in the men's freestyle 65kg on the opening day of the competition, while the second gold was claimed by Vinesh Phogat on Monday, who became the first Indian woman to emerge a champion in the Asiad.
Divya Kakran, on Tuesday, won a bronze in 68kg.
Strong medal chance in men's golf
Represented by a young and motivated squad, India stand in with a strong medal chance in the men's golf competition of the Asian Games.
Rayhan Thomas is the best ranked Indian in the men's golf team but Aadil Bedi and Hari Mohan Singh, son former India hockey star, MP Singh, have shown excellent form in recent weeks.
The fourth Indian, Kshitij Naveed Kaul, has spent a lot of time in Jakarta getting used to the Pondok Indah Golf Course.
It looks extremely forgiving for the golfers with wide fairways and very little rough, meaning the scores should be low. The weather has been perfect and the early starters will have a definite advantage.
India boats of a young team with most of them in their teens. The men's team is represented by 18-year-old Thomas, Kaul (17), Bedi (17) and Singh (24), while the women's team has Sifat Sagoo (17), Ridhima Dilawari (20) and Diksha Dagar (17).
India won a bunch of medals when the sport made its debut at the ninth Asian Games in New Delhi in 1982 with gold and silver in individuals and gold in team event. The next medal came from Shiv Kapur in 2002 at Busan, when he won the individual gold.
In both 2006 (Anirban Lahiri, Gaganjeet Bhullar, Chiragh Kumar and Joseph Chakola) and 2010 (Rashid Khan, Rahul Bajaj, Abhijit Chadha and Abhinav Lohan), the Indians won a team silver.
At the 2014 Games, India narrowly missed a medal.
Though Thomas, at No. 19, is the third highest world ranked player in the field, Bedi and Singh have shown fine form while playing alongside professionals. The duo finished tied 22nd at the recent Take Solutions Masters in Bangalore. Bedi was also tied 14th at the LP Cup, an ADT event, also in Bangalore.
The men have a great chance to grab a medal, but the young women's team will find the going tough against the likes of South Korea, Thailand and China.
The Indian women have never won a medal at the Asian Games.
Women's compound archery team 2nd in ranking round
The Indian women's compound archery team qualified second for the Asian Games quarterfinals, pipped by powerhouse Korea in the ranking round.
India were already through to the quarters with a first-round bye and today's round only decided the placement of the teams in the draw based on their rankings. India ended up in the bottom half with Korea in the upper half.
Jyoti Sureka Vennam was the star of the show, grabbing the second spot in the individual rankings. Jyoti finished with 706 points, just one less than top-ranked Yinsuhan Chen of Taipei.
Muskan Kiran finished ninth with 691 points while Madhumita Kumari was 11th with 689. Trisha Deb, who had won a bronze in the 2014 Asian Games, managed 683 points, which placed her 19th.
The Indian team tallied 2085 points behind Korea, which created a Games record of 2105.
The compound event for the ongoing Games only has team medals on offer and individual medals have been done away.
The quarterfinals are scheduled to be held on Sunday.
"We will see before the event, which players will compete in team event. It was very close. We had a good day. The conditions were good, though it was slightly hot out there," India's Compound coach Jiwanjot Singh Teja said.
"Our archers have been very consistent. The performance at Incheon had boosted their confidence. We have done well in World Cups too. We are surely contenders for medal in Compound," he added.
The men's compound rankings will be decided later in the day.
The women recurve team had yesterday qualified in the seventh place and men's team qualified eighth.
Deepika Kumari was the best placed Indian in individual recurve at number 17.
Rowers qualify for lightweight double sculls final
Indian rowers Rohit Kumar and Bhagwan Singh topped the repechage round in the men's lightweight double sculls with a timing of 7:12.23.
They qualified for the main A-final, and will now take a shot at winning a medal.
Bhagwan Singh-Rohit Kumar finished top in Heat 1 repechages.
Swimmers fail to qualify for finals
Indian swimmers Sandeep Sejwal, Sajan Prakash and Avinash Mani topped their respective heats but still failed to qualify for the finals.
Sejwal finished first in his heat with a timing of 62.07 but could not make the final of the men's 100m breaststroke despite his impressive outing at the GBK Aquatic Center.
Before that, Sajan Prakash won his heat with a timing of 54.04 in men's 100m butterfly, while Avinash Mani beat Saudi Arabia's Bu Arish in their two-man unseeded heat. Mani had a timing of 56.98.
Both the Indian swimmers failed to qualify for the finals.
Earlier, Sajan had surged ahead of the pack to top Heat 2, while Mani topped Heat 1.
In the men's 4 x 100m freestyle relay, the Indian team of Sajan Prakash, Virdhawal Khade, Anshul Kothari, Aaron Dsouza finished top of Heat 1 by clocking 3:25.17, but chances of making the final with this score were grim as this was an unseeded heat.
There were two more heats to go before the announcement of the final list.