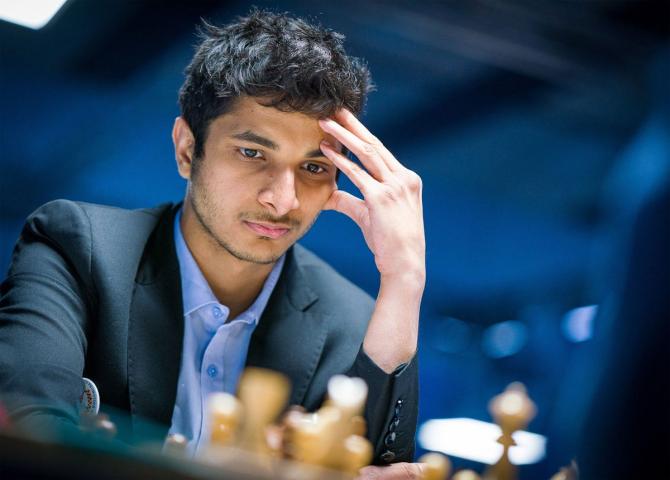 Indian Grandmaster Vidit Santosh Gujrathi, the third highest ranked player in the field, suffered a shock defeat at the hands of Kazakhstan's IM Kazybek Nogerbek in the second round of the men's individual event at the Asian Games in Hangzhou on Sunday.
In the women's event, India's top players -- Koneru Humpy and D Harika -- started well, securing wins in the first two rounds.
Having started with a win over Bangladesh IM Mohammed Fahad Rahman in the first round, Gujrathi faced a reverse at the hands of his Kazakh opponent.
Arjun Erigaisi, the other Indian player in the fray in the individual event being played on the rapid format, has 1.5 points after two rounds.
After beating Paulo Bersamina (the Philippines) in the opening round, the 20-year old Erigaisi drew his second round game against Vietnam's Le Tuan Minh.
Top players, including Uzbekistan star Nodirbek Abdusattorov and China's Wei Yi, are in the fray in the men's tournament.
Abdusattorov scored wins in round 1 and two, while Wei Yi bounced back after a draw in the opening round to post a victory in the second round.
In the women's event, Humpy and Harika, the third and fourth highest ranked players in the field, had no trouble posting two victories each.
Humpy, a Grandmaster, beat Vietnam's Pham le Thao Nguyen in the second round after having put it across Alinasabalamadri Mobina (Iran) earlier.
Meanwhile, GM Harika began with a win over Alali Rouda (UAE) and then beat Singapore WGM Qianyun Gong in round two.
The two Indian women are among the five players with full points after the second round.
The team event will be held after the conclusion of the individual competition.