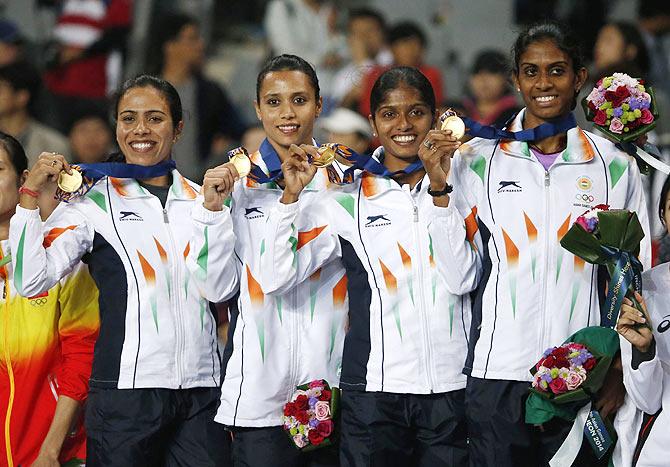 India's gold medallists Pawar Priyanka, Lukka Tintu, Kaur Mandeep and Poovamma Raju Machettira pose during the medal ceremony for the women's 4x400m relay final on Thursday. Photograph: Jason Reed/Reuters
The women's 4x400m relay quartet lived up to their expectations by clinching a gold after a brilliant race as India ended their athletics campaign with an impressive haul of 13 medals in the 17th Asian Games in Incheon on Thursday.
Complete coverage: 2014 Asian Games
Medals tally: 2014 Asian Games
But the biggest disappointment of the day was Arpinder Singh, finishing a poor fifth in men's triple jump with a best effort of 16.41m, well below his season's and personal best of 17.17m. Arpinder, who went into the Games as the Asian season leader, was considered a sure-shot medal prospect but came a cropper as he could have only two legitimate jumps out of six.
Thursday's gold in women's 4x400m relay was the second for India from the blue-riband discipline after Seema Punia bagged the yellow metal in women's discus throw.
India ended its athletics campaign with 13 medals (2, 3, 8), one more than in Guangzhou in 2010 though they won three gold lesser than the last edition.
In 2010, India had won five gold, two silver and five bronze from athletics.
The men's 4x400m relay quartet of Kunhu Mohammed, Joseph Abraham, Jithin Paul and Rajiv Arokia missed out on a bronze as they finished fourth in season's best timing of 3:04.61. Japan (3:01.88), South Korea (3:04.03) and Saudi Arabia (3:04.03) won gold, silver and bronze respectively.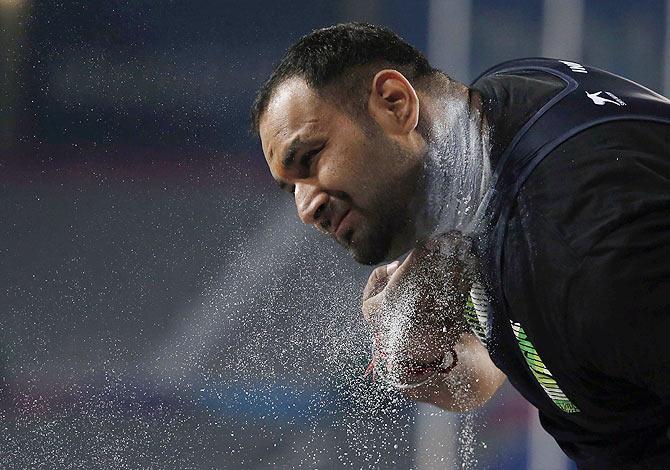 India's Inderjeet Singh chalks his neck as he competes in the men's shot put final at the Incheon Asiad Main Stadium on Thursday. Photograph: Jason Reed/Reuters
In shot put, Inderjeet struggled for most part of his event as he had 18.52m as his best throw from his first four attempts. But he came up with a 19.63m in his fifth and penultimate throw to fetch the bronze. His sixth and final attempt was a foul.
The other Indian in the fray, Om Prakash Karhana, who was cleared in the eleventh hour following an injury, finished a disappointing ninth with a best throw of 16.94m.
The national record holder, who injured his ankle while warming up for a selection trial on September 15 before being cleared for the Games at the last minute, had 16.26 and 16.94 in his first two attempts while his third effort was a foul. He failed to make it to the top eight placers after three rounds.
In men's triple jump also, Renjith Maheshwary could come up with a best effort of just 15.67m while his season's best is 16.54 and personal best 17.07. He also could not make it to the top eight after three rounds.
In men's 10000m race, India's Rahul Kumar Pal and Suresh Kumar finished fourth and fifth with personal best timings of 28:52.36 and 28:58.22 respectively.
O P Jaisha, who won a bronze in 1500m on Monday, ran a personal best of 15:18.30 in 5000m race to finish fourth on Thursday while the other Indian and 2010 silver medallist Preeja Sreedharan ended at eighth in 15:39.52.
In men's javelin throw, Rajender Singh finished 11th with a best effort of 73.43m.
The women's 4x100m quartet of Sharadha Narayana, Asha Roy, Srabani Nanda, H M Jyothi finished sixth with a timing of 44.91 secs.