Star cueist Pankaj Advani provided the first gold medal for India in the 16th Asian Games by clinching the title in billards singles while the shooters accounted for a silver and bronze on the second day of competitions in Guangzhou on Sunday.
Defending champion Advani kept his reputation intact with a thrilling 3-2 victory over Myanmar's Oo Nay Thway in the billiards final as India pushed their medals tally to one gold, three silver and a bronze to retain their fifth position on the table.
Hosts China continued to rule the roost and maintained the top position on the medals table with a tally of 36-14-12 while South Korea (13-10-12) and Japan (8-19-15) were in the second and third spots respectively.
The shooters were again in the spotlight with Heena Siddhu, Annu Raj Singh and Sania Rai claiming the silver in the women's 10 m air pistol team event and Vijay Kumar bagging the bronze in the men's 10 m air pistol at the Aoti shooting range.
India's men's tennis team also assured itself of a bronze medal by securing a place in the semi-finals against top seed Chinese Taipei but the performance in other disciplines such as weightlifting, judo, swimming, cycling and triathlon left much to be desired on a day of mixed fortunes.
The day clearly belonged to the 25-year-old Advani who showed nerves of steel under severe pressure to clinch the first gold medal for India when he came twice from behind to edge out Myanmar's Oo Nay Thway 3-2 and retain his title after a bitterly fought billiards singles final.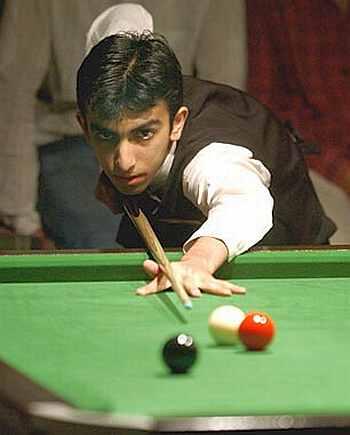 Advani was down 1-2 after losing the first and third frames, but fought back in dogged fashion to clinch the fourth to take the match into a nerve-wracking final frame.
A beaming Advani, who has won the world professional and IBSF titles in the past, said this was the biggest title of his career.
"This feels great. This is Olympics for me as unfortunately we are not there in the Olympics. This time I made it a point to win the first gold for the country. It's an absolutely emotional moment for me. I can't ask for more," he said.
After Narang's exploits on the opening day, the Indian women shooters Heena Sidhu, Annu Raj Singh and Sonia Rai had their moment of glory as they won the silver medal in the 10m Air Pistol team event.
The Indian trio combined to shoot 1140, a point adrift of the gold medallist Korean troika of Yunmi Gim, Byunghee Kim and Lim Ho Lee.  Chinese shooters Qi Sun, Jun Wen Guo and Ling Su Yu settled for the bronze medal with a score of 1139.
Heena shot a score of 381, while Annu and Sonia managed scores of 380 and 379 respectively to help India win its third silver in shooting.
Vijay just about made the cut for the finals by finishing eighth in the qualification round but shot the highest score of 101.4 in the medal round for a total of 680.4 to take the bronze.
Lee Daem-Yung of South Korea won the gold with a total of 685.8 while Chinese veteran Tang Zongliang totalled 684.5 for silver.
Earlier in the qualification round, Gurpreet Singh totalled 573 to finish 20th while Omkar scored 568 to settle for the 28th position.
Away from the shooting ranges, India's tennis players kept themselves in medal reckoning by moving into the semi-finals by prevailing over last edition's bronze medalists Thailand with a 2-1 margin.
Unranked Sanam Singh defeated 546th ranked Kittipong Wachiramanowong 6-1, 6-4 in the first singles match in one hour and eight minutes.
World number 106 and Commonwealth Games gold medalist Somdev Devvarman then clinched the issue for India by edging past 464-ranked Danai Udomchoke 7-5, 7-5 in one hour and 43 minutes.
In table tennis, Indian paddlers put up a good show as both men's and women's teams advanced to the quarter-finals.
Making a positive start to the day, the Indian women routed Maldives 3-0 and then Achanta Sharath Kamal starred in men's 3-1 win over Vietnam in the men's competition as he won two singles rubbers.
In the women's event, Mamta Prabhu, Madhurika Patkar and Kumaresan Shamini needed just 30 minutes to win their respective singles rubbers and seal India's place in the next stage.
Patkar routed Mueena Mhamed 11-6, 11-6, 11-7 in just 12 minutes and then Patkar needed just nine minutes to dispose of Fatimatch Jumana Nimal 11-3, 11-4, 11-1.
Shamini sent packing Aminath Shiura Shareef 11-4, 11-4, 11-1 in the third singles. With two wins and a defeat, India finished second in group B with five points.
Indian weightlifters continued to put up a dismal show with Rustam Sarang and Omkar Otari finishing ninth and 11th in the men's 62kg category.
The Indian swimmers continued to disappoint with Rehan Poncha and Virdhawal Khade failing to qualify for the men's 100m butterfly event.
Poncha and Khade were drawn in the same heat and while the former finished sixth, the latter settled for the eighth spot in the standings.
There was more disappointment for India in the men's 200m freestyle event where Havaldar Rohit Rajendra and Aaron Agnel Dsouza failed to make the finals.
In cycling, Okram Bikram Singh and Hylem Prince failed to qualify for the men's sprint quarter-finals after losing their repechage events.
India suffered their second consecutive loss, going down 28-37 against Qatar in a Group A match of the handball competition here today.
With the loss, India are now in a difficult position to qualify for the semi-finals. They had lost to China 21-41 in their opening match on Saturday.