Top-ranked India will take on South Korea in the semi-finals of the fourth Asian Champions Trophy after the Koreans conceded a late equaliser to Malaysia and finished fourth in the round-robin league standings in Kuantan, Malaysia, on Thursday.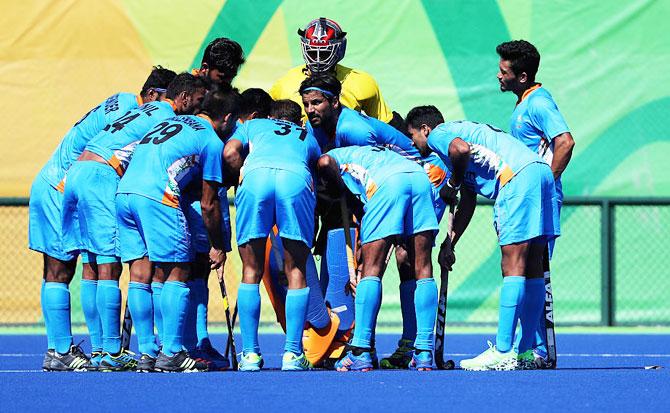 India had topped the league standings with 13 points after finishing their preliminary fixtures on Wednesday, but there was plenty of drama on the last day of the league fixtures.
Pakistan defeated China 4-0 to take their points tally to nine, the same as Malaysia before the last outing against the Korea, who had seven points ahead of the last match.
Pakistan's goal-difference was far inferior to that of hosts Malaysia, so a tie on points would put Malaysia ahead.
Malaysia needed a victory or a draw to take the second spot in the group, but a victory in the last outing would have lifted the Korea to the second place in the standings, pushing Malaysia down to the third spot and Pakistan to the fourth.
In case of a Korean victory on Thursday, India's semi-final would have been against Pakistan.
This scenario was unfolding after Jeong Jun-Woo put the Koreans ahead in the 37th minute, while Malaysia's strikers kept spraying their shots wide.
With the Koreans leading by a goal until the 56th minute, an India-Pakistan semifinal was on the horizon, but seasoned shooter Razie Rahim converted a penalty corner four minutes from the end to earn Malaysia a draw.
Behind India, Malaysia finished second in the league standings with 10 points, followed by Pakistan on nine and South Korea on eight.
India now get a chance to make up for their erratic show against the young Korean team in the 1-1 draw, while defending champions Pakistan come face to face with Malaysia who had stunned them 4-2 in the opening match.
Image: The Indian hockey team in a huddle (Image used for representational purposes)
Photograph: Sean M. Haffey/Getty Images