Double Asian Games gold-medallist Ashwini Akkunji was on Saturday named in the Indian women's 4x400m relay squad for next month's World Championships in Moscow just days after completing a two-year ban for a dope offence.
Akkunji, whose ban period for steroid doping in 2011 ended on July 3, was included in the women's 4x400m relay squad of six members as India named a 15-strong team for the August 10-18 World Championships.
The other members of 4x400m relay are M R Poovamma, Tintu Luka, Anu Mariam Jose, Nirmala and Anilda Thomas. The first four had won a gold for India in Asian Athletics Championships in Pune early this month which ensured the country's qualification for Moscow.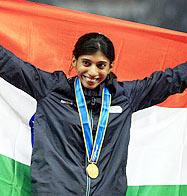 Six walkers were also named by the selection committee of the Athletics Federation of India after a meeting in New Delhi.
K T Irfan, Gurmeet Singh and Chandan Singh were named for the men's 20km walk as all of them have qualified for Moscow with 'A' standard. Amritsar girl Kushbir Kaur has been named for the women's 20km walk.
In the men's 50km walk, Basant Bahadur Rana and Sandeep Kumar will represent the country.
Vikas Gowda (men's discus throw), Sudha Singh (women's 3000m steeplechase) and Renjith Maheswary (men's triple jump) complete the list of 15 athletes to represent India.
The Indian athletes will leave for Moscow on August 6, except for Gowda, who will join the team directly.
"The 4x400m relay team, which had won a gold in Asian Athletics Championships in Pune, is likely to do better in Moscow. K T Irfan, who had finished 10th in London Olympics, is likely to improve his performance," the AFI said in a release after the selection committee meeting chaired by Gurbachan Singh Randhawa.
Image: Ashwini Akkunji