Monfils told chair umpire he was 'about to collapse' at one point
'It's a bit risky. I'm telling you, I was dying on the court for 40 minutes'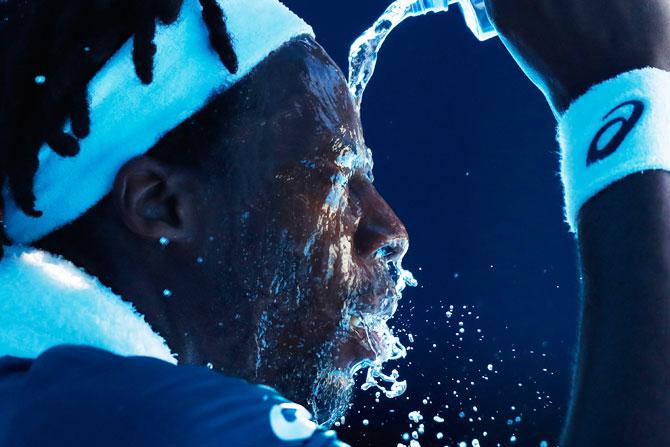 IMAGE: Gael Monfils cools down between games in his second round match against Novak Djokovic on Thursday. Photograph: Michael Dodge/Getty Images
Gael Monfils said playing Novak Djokovic in temperatures of 40 degrees Celsius on Thursday was a 'risk' to health and that the 25-second rule between points should have been relaxed.
His second-round clash with the six-times Australian Open champion on Rod Laver Arena, just as on all the other courts, continued in furnace-like conditions as organisers decided it was not necessary to implement its heat rule.
Monfils told the chair umpire he was 'about to collapse' at one point during his four-set defeat and needed the assistance of the doctor, while both players used ice towels in a bid to cool down during changeovers.
The 31-year-old Frenchman's biggest gripe though was that the 25-second rule between points was being too rigidly enforced considering the extreme conditions.
"It was tough to breathe," he told reporters. "For sure, we took risk. At one stage I said to the chair umpire that the 25-second rule, there's no need."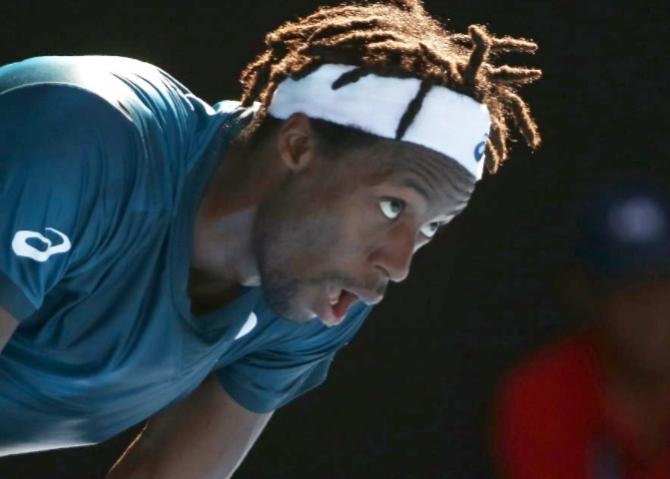 IMAGE: Gael Monfils of France reacts. Photograph: Thomas Peter/Reuters
"Definitely it squeezes you, because it puts you under so much pressure with the heat, then you rush. Honestly, I played two sets out of breath, for nothing, just to please the official."
"So at the end, it's a bit risky. I'm telling you, I was dying on the court for 40 minutes."
Had the temperature reached 40 degrees and Wet Bulb Globe (humidity) reading exceeded 32.5 degrees, organisers would have stopped play on the outside courts and the roofs closed on the three main courts to provide shade.
However, humidity was not a major factor.
Monfils said he did not ask for the roof to be closed but suggested there could have been a short delay.
"Maybe not the roof because the fittest wins, and I think that is fair enough," he said.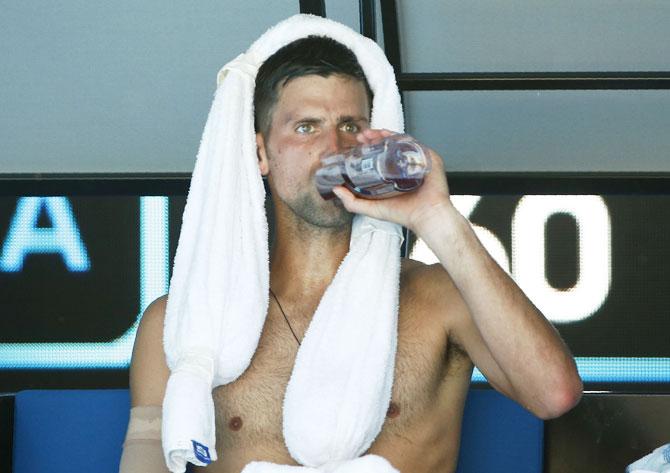 IMAGE: Serbia's Novak Djokovic has a drink during a break in his match against France's Gael Monfils on Thursday. Photograph: Thomas Peter/Reuters
Djokovic, who was given a time warning in the fourth set, said playing conditions had been right on the limit but was reluctant to criticise umpire John Blom.
"I got a time violation today, and didn't say anything," the Serbian 12-time Grand Slam champion told reporters.
"The chair umpire in the next changeover was trying to justify why he gave me a time violation. He did give me the pre-warning today. I have nothing to say. I respect that."
"It's not easy also for him to sit out there and kind of control both players."
Three-time former Australian Open champion Mats Wilander, working for Eurosport as a commentator, rejected suggestions that organisers should have shut the roof.
"No way should they have put the roof on," the Swede told Reuters. "Two choices, either play or don't play."
"I don't think today was (that bad). Juan Martin del Potro didn't have a problem. I think it's more a problem for players who don't have options and variety in their game.
"Someone like Monfils who doesn't like to come forward and finish points at the net, he will suffer more. Is it unfair?"
"You watch Roger Federer in this heat and you wouldn't be able to tell the difference."
"Today was borderline. But players are the fittest people around, it's more for the spectators and ball kids."