'Why do you need to give Arjuna every year. Is it necessary? We are now throwing the awards away'
'You can't beg for award or demand it'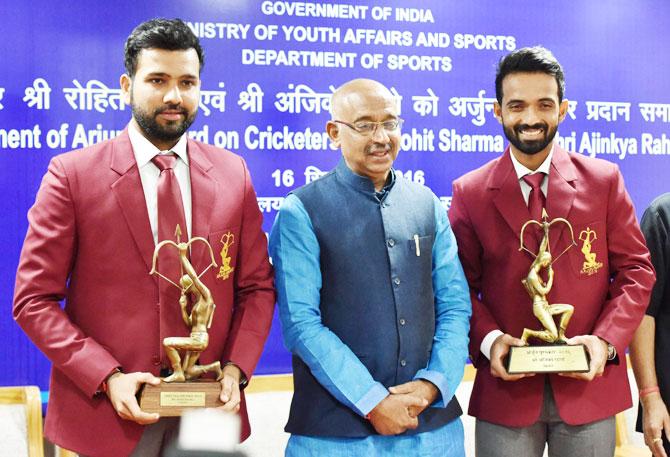 IMAGE: Ajinkya Rahane and Rohit Sharma with sports minister Vijay Goel in New Delhi (picture for representational purpose only). Photograph Courtesy: PTI
Former recipients of the Arjuna award on Tuesday lamented that its dignity has been lowered and the government is now 'throwing' the honour away.
Former India hockey captain Ashok Kumar, who is son of legendary Dhyanchand, legendary middle-distance runner Sriram Singh Shekhawat, who holds national record of 1:45.77 in 800m since 1976, and former India volleyball skipper Suresh Mishra all voiced the same sentiment.
"The dignity has to be maintained. Why do you need to give Arjuna every year. Is it necessary? We are now throwing the awards away," Ashok said.
"They (government) have set their own parameters. The value attached with the award should be increased. There should be a cap that only Asiad and Olympic medal winners should be selected for the Arjuna honour," Ashok, member of 1975 World Cup winning Indian team, said.
Ashok, himself a 1974 Arjuna awardee, also denounced the current procedure, where athletes have to send application to be considered for the honour.
"You can't beg for award or demand it. Why should I blow my own trumpet that I have achieved something. When someone goes out for competition, it happens with the permission of the government. They know the achievements so it should be the government which should pick athletes rather than players sending applications," he said.
India's ace squash player Saurav Ghosal also felt the same.
"I think the concept of recommending or nominating someone for the awards is flawed. It just doesn't sound right that player needs to be recommended or needs to apply for the award. The committee should pick the winners on their own on the basis of performances. Applying for the awards is like asking for a grant," the 2006 Arjuna awardee said.
Asked if he feels any undeserving candidate has been selected, Ashok said, "I am not talking about any specific athlete but the system."
Shekhawat, who won gold medal in 1974 Tehran Asian Games and a silver at 1970 Bangkok Asian Games, shared how tough the fight used to be for Arjuna among achievers of that era.
"When Arjuna awards were decided for year 1972, I was Asiad medallist but still did not get it. There was only one slot and the award was given to V S Chauhan. We both were national record holders but since he was senior to me, he was chosen," Shekhawat, who was chosen for honour in 1973, recollected.
"The selected athletes should be a medal winner at least at the Asian Games level," he suggested.
Suresh Mishra, who also coached Abu Dhabi police volleyball team for 15 years in 80s and 90s, said there should be only Arjuna award and the decision to make a Rajiv Gandhi Khel Ratna the highest honour was not correct.
"Which name is bigger, Arjuna or Rajiv Gandhi. It's an insult to Arjuna award. It has been degraded," he said.
Arjuna award was instituted in 1961 and Khel Ratna in 1991-1992.
Former India hockey captain Zafar Iqbal though chose to differ, saying giving awards was a way to encourage athletes.
"The award is not only for the athletes but also for the masses who follow. It encourages everyone. It has been fair. I don't think it's devalued," the 1979 Arjuna awardee said.
Former hockey defender M P Singh suggested that achievements at Commonwealth Games should not be considered.
"The level of competition is not that high at CWG Games. And the government should make a policy for sports which do not figure in Asian Games and Olympics," he said.
Close to 20 Arjuna awardees had gathered at the launch of an NGO, Sports: A way of Life, founded by 25-year-old Kanishka Pandey and pledged support for its programme, Sports Literacy Mission.