Russian tennis bombshell Anna Kournikova has been chosen brand ambassador for the Amby Valley project in Sahara Lake City near Mumbai.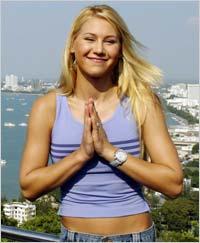 Percept Profile, which is handling Kournikova's four-day trip to India, said the tennis star will land in Delhi on November 11 and be flown straight to Amby Valley, where she will stay for three days.
Rahat Beri, COO, Percept Profile, said Kournikova will hold a press conference at the JW Marriott Hotel in Mumbai on November 14 and fly out of India the same evening.
Sahara Pariwar, which is behind the Amby Valley project, refused to divulge details of the tennis star's visit.
The 2000-hectare Sahara Lake City resort is being flaunted as India's first planned hill city and will include man-made lakes, golf courses and sports academies.
The Indian cricket team which reached the final of the World Cup in South Africa have been gifted houses there.
Kournikova, who is yet to win a WTA title, shot into the limelight when she reached the Wimbledon semi-finals in 1997. Plagued by a chronic back injury which threatened her career, she has hinted that she will stage a comeback to the sport with an exhibition match against Thailand's Tamarine Tanasugarn in Pattaya later this month.
The 22-year-old, who earns about $15 million a year in endorsements, is more famous for her off-court activities, which include multimillion dollar modelling assignments and celebrity boyfriends. She recently co-hosted the 15th Annual World Music Awards in Monaco.