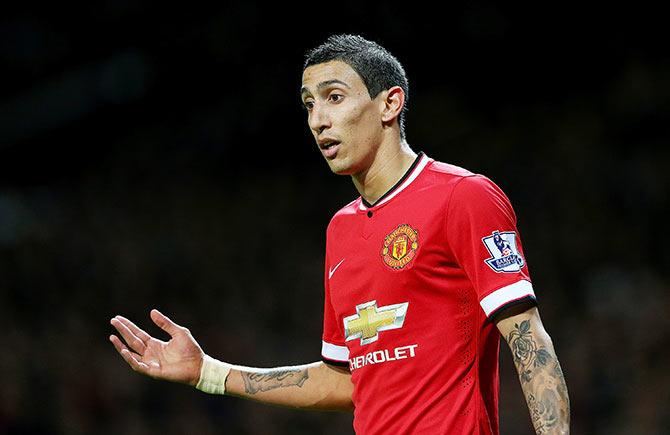 Angel Di Maria gestures during Manchester United's Barclays Premier League match. Photograph: Alex Livesey/Getty Images
Angel Di Maria apologised to Manchester United fans for his underwhelming stint at Old Trafford but insisted it was not due to a lack of effort.
The Argentina international joined United for a British record fee of almost 60 million pounds (about $93 million) from Real Madrid last year but completed a switch to French champions Paris St Germain on Thursday after only 12 months.
- Goodbye Angel; good riddance, Manchester Utd!
"I write this note to thank all the Manchester United family for the great support received during the year I've been part of this Club," Di Maria told United fans in an open letter, published widely by the British media.
When Manchester United chose me as part of their team I felt extremely honoured because I knew what this Club means and how it trusted me.
"Nevertheless, I'm aware things didn't work as we all expected and believe me, I feel really sorry about it."
The winger made an impressive start at Old Trafford with three goals in his first four games, but suffered a two-month injury layoff and then failed to nail down a regular starting place under manager Louis Van Gaal.
"I can guarantee you it was not for trying. I did my best but football is not like maths: often a lot of things out of our control affect the way we feel and the way things turn out," the 27-year-old said.
"I am sorry it did not work out as I would have wished in this amazing huge club."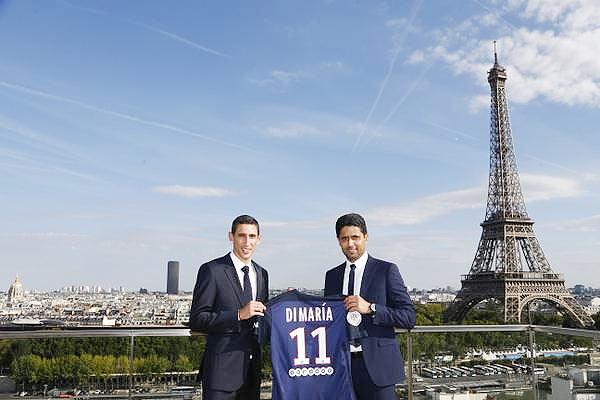 Angel di Maria at the Eiffel Tower after being signed by Paris St Germain. Photograph: PSG/Twitter
Di Maria was also reportedly unsettled by a break-in at his Chesire home in January.
He earlier said at a press conference on Thursday that Manchester United wanted to sell him.
"First, you must know that Manchester United wanted to sell me," the former Real Madrid man told the press.
"It is a shared decision between the three parties. They wanted to sell me. I also wanted to leave and PSG wanted me. But I am very happy be here. Manchester is the past," he added.