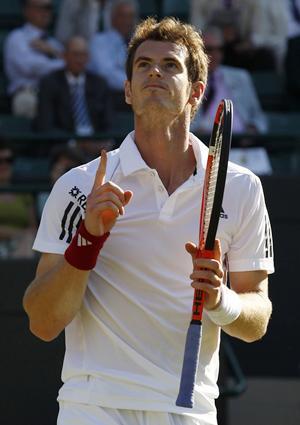 Andy Murray arrived in Canada without a coach and a title this season and left on Sunday as a major contender for the US Open after a stunning defence of his Toronto Masters crown.
Murray capped an imperious week on the Canadian hardcourts in style with a clinical 7-5, 7-5 win over Roger Federer to become the first back-to-back winner of the event since Andre Agassi in 1995.
Having reached the final in Los Angeles, Murray carried his form into Toronto dropping one set en route to the title.
The Scot ended Argentine David Nalbandian's 11-match winning streak in the quarter-finals then became just the fifth player to beat world number one Rafa Nadal and Federer in the same event.
"It was one of the best weeks I've had," Murray told reporters. "Winning a tournament is always great, but it's the first time I beat Roger and Rafa in the same tournament, which is probably the most pleasing thing.
"And I didn't drop a set against either of them.
"It's very satisfying. I mean, it doesn't happen that often for anyone."
Murray has long favoured hardcourts and all four of his victories in 12 meetings with Spaniard Nadal have come on the surface.
All of his wins over Federer have also come on hardcourts and the victory in Toronto left him with a 7-5 winning record over the Swiss master.
HUMBLED
The numbers may give Murray hope of ending Britain's long wait for a men's grand slam champion in the lead-up to Flushing Meadows, but the Scot has enjoyed similar strong form in the past only to crash out in the high-stakes matches.
Murray roared into the final of this year's Australian Open only to be humbled in straight sets to Federer, who was also his master in the final of the 2008 US Open.
Murray was optimistic, albeit cautiously so, about his chances at Flushing Meadows.
"I know things can change in a very short space of time but obviously I feel good after this week," said Murray, who split with his long-time coach Miles Maclagan just three weeks ago.
"(The US Open has) always been a tournament I love playing, so hopefully I can do well there ... I want to win (a grand slam) ... I believe I'm good enough to but it's a very, very difficult thing to do.
"It's a tough era but it's also something that is exciting and challenging, and that's why I think if you can do it, it makes it a much, much greater achievement.