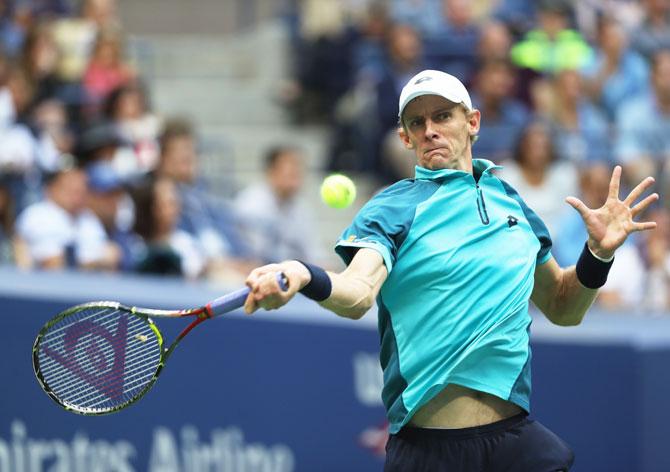 The US Open offers South African Kevin Anderson a shot at redemption as he bids to claim his first Grand Slam title after twice coming heartbreakingly close in the last 12 months.
Anderson burst through the tournament to make his Grand Slam final debut at Flushing Meadows last year at the age of 31, only to be crushed in straight sets by Rafael Nadal.
He then stunned Roger Federer in a nail-biting Wimbledon quarter-final and survived the tournament's longest ever semi-final -- a punishing six hours and 36 minutes against American John Isner -- before the battle-weary South African lost in the final to Novak Djokovic.
On Friday, Nadal praised Anderson's huge serve and told reporters he was one of the best players in the world.
"He plays so aggressively," said the Spanish top seed.
"He's one of those players that are dangerous for everybody."
Anderson's performances have attracted the attention of some of the most acclaimed players in the history of the sport.
Hall-of-famer Rod Laver told Reuters this week that he was among his top picks to win the US Open, along with Djokovic and Argentina's Juan Martin del Potro.
"Kevin Anderson has got a lot to be proud of," tennis great John McEnroe told reporters at a Laver Cup event in New York on Tuesday.
"He came here and got to the finals of the US Open last year and he backed it up with a great run at Wimbledon."
But if Anderson has grown frustrated with his thwarted Grand Slam title efforts, it has hardly shown ahead of the US Open.
"The experience and the confidence (last year's tournament)gives me is very valuable," he told CBS Sports in an interview this week.
"I'm just really excited to get out there and give myself another good shot."
Defeating Sam Querrey in February's New York Open to end a three-year title drought has increased Anderson's confidence and his success has echoed beyond the court.
Richard Glover, CEO of Tennis South Africa, told Reuters there has been "a massive spotlight on tennis in South Africa" since he reached the U.S. Open final last year.
"He is in a very good place and I think making the final at Flushing Meadows last year was a massive breakthrough," Glover said. "He realises he can compete with the very best."