Five-time world champion Viswanathan Anand continued to struggle in his first open tournament in 23 years as he suffered a shock defeat at the hands of French Grandmaster Adrien Demuth in the fifth round of the masters section of Gibraltar chess festival in Gibraltar on Sunday.
Two former world junior champions -– P Harikrishna and Abhijeet Gupta -- emerged co-leaders after the fifth round along with Etienne Bacrot of France and Markus Ragger of Austria on 4.5 points after impressive victories in the fifth round.
Harikrishna waited for his time and struck hard wh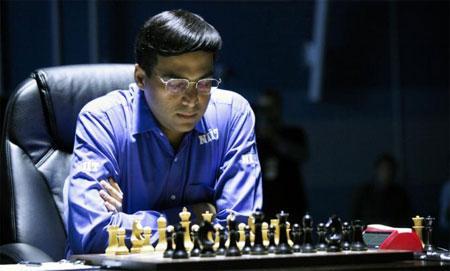 en the opportunity knocked against S P Sethuraman while Abhijeet was a class act against higher ranked Zoltan Almasi of Hungary.
The two overnight leaders Bacrot and Ragger played out a draw between them with five rounds still remaining in the pound 185000 prize money tournament.
It's pretty crowded at the top with as many as 21 players tied for the fifth spot just a half point behind the leaders. Led by top seed and defending champion Hikaru Nakamura of United States, this list also has Vidit Gujrathi as the lone Indian on four points.
Amongst the Indian eves, Grandmaster D Harika continued with good results in the tournament as she played out a quick draw with Bruzon Lazaro Batista of Cuba. Padmini Rout kept herself in contention for a Grandmaster norm holding countryman Sandipan Chanda.
Important and Indian results round 5 (Indians unless specified): Etienne Bacrot (FRA, 4.5) drew with Markus Ragger (AUT, 4.5); Nils Grandelius (SWE, 4) drew with Maxime Vachier-Lagrave (FRA, 4); S P Sethuraman (3.5) lost to P Harikrishna (4.5); Gawain Jones (ENG, 4) drew with Radoslav Wojtaszek (POL, 4); Abhijeet Gupta (4.5) beat Zoltan Almasi (HUN, 3.5); D Harika (4) drew with Bruzon Batista Lazaro (CUB, 4); Hikaru Nakamura (USA, 4) beat Mariya Muzychuk (UKR, 4); V Anand (3) lost to Andrien Demuth (FRA, 4); G N Gopal (3.5) drew with Laurent Fressinet (FRA, 3.5); V Vishnu Prasanna (3) lost to Ni Hua (4); Surya Shekhar Ganguly (3) lost to Ly Moulthun (AUS, 4); Vidit Gujrathi (4) beat Natalija Pogonina (RUS, 3); Aravindh Chithambaram (3) lost to David Anton Guijarro (ESP, 4); Padmini Rout (3.5) drew with Sandipan Chanda (3.5); Siva Mahadevan (3.5) drew with Grigoriy Oparin (RUS, 3.5); Viktor Erdos (HUN, 3) drew with S Satyapragyan (3); M R Lalith Babu (3) drew with Bernd Kohlweyer (GER, 3); Anurag Mhamal (2.5) lost to Al-Sayed Mohammed (QAT, 3.5); S Kidambi (3) drew with Oskar Hauge Lars (NOR, 3); Prasanna Rao (2.5) lost to Jovana Vojinovic (SRB, 3.5); B Pratyusha (2) lost to Miguel Santos Ruiz (ESP, 3); Daniel Nordquelle (NOR, 1.5) lost to Nisha Mohota (2.5).
Image: Viswanathan Anand