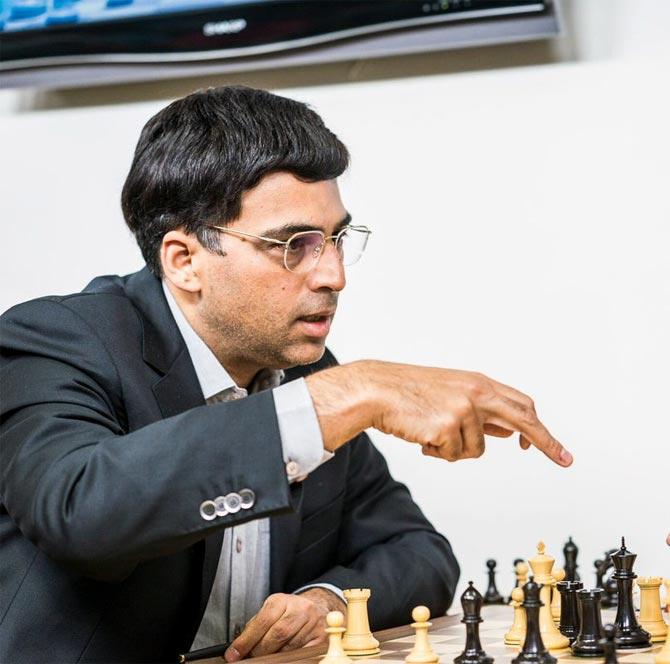 IMAGE: Viswanathan Anand in action. Photograph: Grand Chess Tour/Twitter
Five-time world champion Viswanathan Anand finished joint second after playing out a draw with Wesley So of United States in the Sinquefield Cup, which concluded in St Louis, USA.
Finishing with a tally of 5.5 points out of a possible nine, Anand also gained some valuable rating points to inch closer to the 2800 rating mark. With seven draws and two victories, Anand has moved to seventh place in the world ranking.
Maxime Vachier-Lagrave of France deservedly won the Sinquefield Cup with his best ever performance in an elite tournament.
With a photo-finish guaranteed before the start of the round, the tone was set by Vachier-Lagrave who scored a crushing victory against Ian Nepomniachtchi of Russia to take his tally to an insurmountable six points.
The other overnight leader Levon Aronian's super-run in super-events ended as he ran into a resurgent reigning world champion Magnus Carlsen of Norway.
Carlsen won a fine game to join Anand in second spot, while Aronian had to be content with the joint fourth spot along with Sergey Karjakin of Russia.
Besides Vachier's big win and Carlsen's fine performance, the day produced another decisive result that went unnoticed. Peter Svidler of Russia, who had lost the first game and then seven, defeated Fabiano Caruana of United States.
For Anand there was no real chance to score a win as Wesley So expectedly played a solid line with white pieces.
Anand in fact was in some troubles in the middle game with a worse pawn structure and position but it did not mean much as Wesley So has been woefully out of form in this event.
A rook and pawns endgame was reached quickly and the players signed the peace after 33 moves.
The St. Louis rapid and blitz tournament will have legendary Garry Kasparov back on the chess board in an official event after 12 years' gap. Anand will also participate.
Results round 8: Wesley So (Usa, 3) drew with V Anand (Ind, 5.5); Maxime Vachier-Lagrave (Fra, 6) beat Ian Nepomniachtchi (Rus, 3); Magnus Carlsen (Nor, 5.5) beat Levon Aronian (Arm, 5); Peter Svidler (Rus,4.5) beat Fabiano Caruana (Usa, 4); Hikaru Nakamura (Usa, 3.5) drew with Sergey Karjakin (Rus, 5).