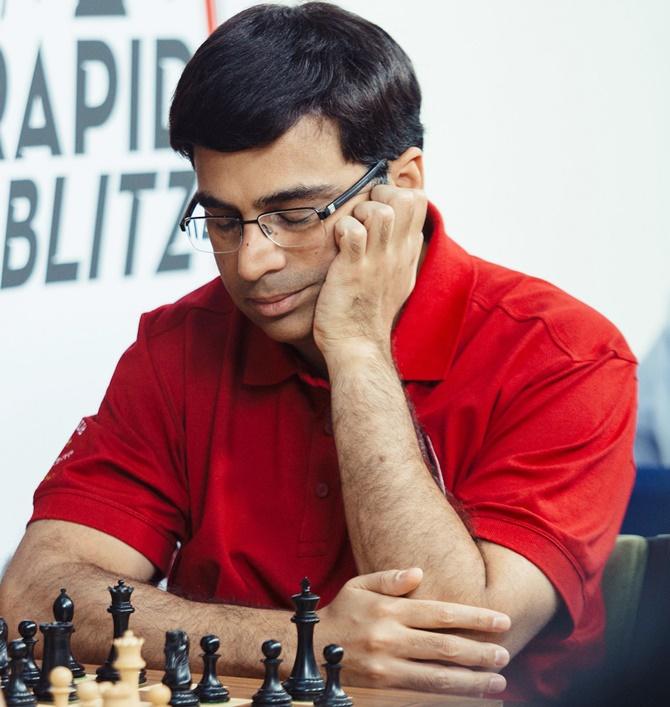 IMAGE: Viswanathan Anand in action. Photograph: Kind Courtesy Grand Chess Tour
Former world champion Viswanathan Anand had another disappointing final day as the Indian finished on ninth spot in the St. Louis Rapid and Blitz Chess tournament, a part of the Grand Chess tour.
Anand got seven points in all in the rapid section spread over nine rounds and another seven in the blitz to end on a combined tally of 14 points in the ten players' field.
The final day saw Anand winning one game, losing three and drawing the remaining five games. The sole victory in the entire blitz came at the expense of Ian Nepomniachtchi of Russia.
This could well mean warning bells for Anand ahead of the world chess cup scheduled in about two week time. The 128-player knockout event will have two classical games in each round, except the final, followed by tiebreak games of shorter duration to determine the winner.
While Anand showed top-form in the classical chess just a week before when he tied for the second spot in the Sinquefield cup, he will really have to sort out the problems he faced here in blitz and rapid section.
That said, one should not forget that the games here were played under the 'delay' time control wherein the clock stopped for the stipulated delays and no time was added while the World Cup will have time added to the clocks.
After a super performance in rapid section, there was no stopping Levon Aronian of Armenia who expectedly won the title with a huge three points margin. Continuing from where he had left, Aronian added another six points to his overnight tally of 18.5 to score 24.5 points in all.
Backed by his very impressive performance in the blitz section, Sergey Karjakin of Russia tied for the second place along with American speed-chess-expert Hikaru Nakamura. Both scored an identical 21.5 points to share the honours.
Garry Kasparov finally had a good day as he inched ahead of Anand in the final standings. Kasparov finished with 16 points in all and played some really fine games on what was probably his last outing in competitive chess for another few years at least. The former world champion had come out of retirement after 12 years to play this singular event.
Kasparov said that his comeback was largely to help promote the Grand Chess Tour, and he thought it worked.
Final standings: 1. Levon Aronian (Arm, 24.5); 2-3. Sergey Karjakin (Rus), Hikaru Nakamura (USA) 21.5 each; 4. Ian Nepomniachtchi (Rus, 20); 5-7. Lenier Dominguez (Cub), Fabiano Caruana (Usa), Le Quang Leim (Vie) 16.5 each; 8. Garry Kasparov (Rus, 16); 9. V Anand (Ind, 14); 10. David Navara (Cze, 13).