Five-time world champion Viswanathan Anand squandered away a good start and could just end Day 1 on a fifty percent score after the end of the fifth round of World rapid chess championship in Berlin.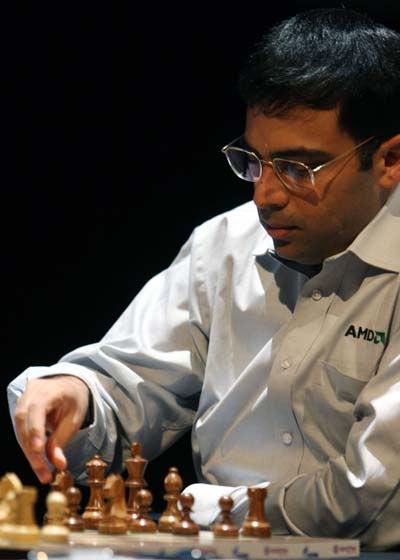 Fast improving Grandmaster Vidit Santosh Gujrathi stole the honours on the opening day of the three-day event after coming out with an inspired performance including a victory over second seed Russian Alexander Grischuk.
Apart from Grischuk, Gujrathi also accounted for higher rated Grandmasters like Gadir Guseinov of Azerbaijan and Andrei Volokitin of Ukraine besides getting two hard-fought draws against Russian Ian Nepomniachtchi and Hungarian Peter Leko to end the day in tied second spot with four points from five games played thus far.
For Anand, the day started with a victory over Russian Grandmaster Kateryna Lagno and Alexander Onischuk of United States. However in the third round, the Indian ace had to find some precise defense to get a draw with A R Salem Saleh of UAE.
Anand lost the fourth round against young Russian Grandmaster Daniil Dubov while in the fifth another Russian -- Pavel Ponktarov -- found the Indian on the wrong foot.
With ten rounds still to come not much is lost for Anand but he will need a far better second day to come back in reckoning in this $ 200000 prize money tournament. The early leader is World cup winner Sergey Karjakin of Russian on 4.5 points and he is followed by as many as 16 players a half point behind including defending champion Magnus Carlsen of Norway.
Among other Indians in the fray, Surya Shekhar Ganguly and B Adhiban are on three points each while Krishnan Sasikiran and S P Sethuraman are alongside Anand, with 2.5 points 0apiece in their kitty.
Ganguly had a good result to boast off as he held former world champion Vladimir Kramnik to a creditable draw in the fourth round game. Sethuraman started with two losses and now seems on his way back while Sasikiran's has carried on with his start steady start. Adhiban has had three wins and two draws.
Indian results (Indians unless specified)
Round 5: Peter Leko (Hun, 4) drew with Vidit Santosh Gujrathi (4); V Anand (2.5) lost to Pavel Ponkratov (Rus, 3.5); Surya Shekhar Ganguly (3) drew with Dmitry Andreikin (Rus, 3); S P Sethuraman (2.5) drew with Vladimir Belov (Rus, 2.5); Tobias Hirneise (2) lost to B Adhiban (3); Krishnan Sasikiran (2.5) beat Cuenca Jimenez Jose Fernando (1.5)
Round 4: Gujrathi drew with Ian Nepomniachtchi (Rus); Daniil Dubov (Rus) beat V Anand; Vladimir Kramnik (Rus) drew with Ganguly ; Adhiban lost to Vladimir Akopian (Arm); Peter Svidler (Rus) beat Sasikiran; Sethuraman beat Ghaem Maghami Ehsan (Iri)
Round 3: Anand drew with A R Salem Saleh (Uae); Alexander Grischuk (Rus) lost to Gujrathi; Ganguly beat Cuenca Jimenez Jose Fernando; Sasikiran drew with Przybylski Wojciech; Jacob
Carstensen lost to B Adhiban; Jose Camacho Collados lost to Sethuraman
Round 2: Alexander Onischuk (Usa) lost to Anand ; Nguyen Ngoc Truong Son (Vie) beat Sasikiran; Gujrathibeat Andrei Volokitin (Ukr) Sethuraman lost to Gadir Guseinov (Aze); Sanal Vahap (Tur) lost to Ganguly; Adhiban beat Christian Seel.
Round 1: Grischuk beat Adhiban; Anand beat Kateryna Lagno (Rus); Guseinov lost to Gujrathi; Volokitin beat Sethuraman; Ganguly lost to Przybylski Wojciech; Sasikiran beat Martin Breutigam.
Image: Viswanathan Anand
Photograph: Patrik Stollarz/Getty Images