World Championships silver medallist Amit Kumar won four of his five bouts as India finished sixth in the FILA Men's Freestyle Wrestling World Cup.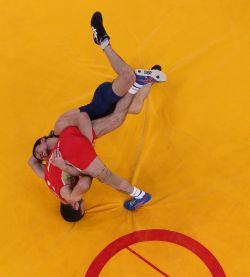 India lost to Mongolia 3-5 in the 5th-6th position match after finishing third in their group.
The Indians started the competition with one wrestler down as Krishan Kumar (125kg) did not get the visa clearance to the US.
Against Mongolia, Amit (57kg) made a solid start as he beat Nomi Batbold levelling the handicap. But Bajrang (62kg) and Rajneesh (65kg) lost their respective contests.
However, Amit Kumar Dhankar (70kg) and Parveen Rana (74kg) put India back into the game with clinical wins.
However, Pawan Kumar (86kg category), suffered his fifth straight defeat which was followed by the loss of junior world bronze medallist Satywart Kadian as India finished sixth in their maiden appearance at the competition.
The 10-nation tournament was played at LA Forum on March 15 and 16.
Earlier, India had overcome Turkey 5-3, and gained 4-4 criteria decision to beat Armenia while suffering defeats at the hands of hosts USA (2-6) and Iran (0-8) to finish third in pool A.
World no. 2 Amit overwhelmed opponents from USA, Turkey, Armenia and Mongolia to guide his side to a respectable finish.
Meanwhile, Iran maintained their dominance at the event capturing their third consecutive title beating Russia 6-2 in the final.
USA finished third, while Ukraine had to settle for the fourth spot.