Fernando Alonso has a magic touch.
The 24-year-old Renault driver, crowned on Sunday as Formula One's youngest world champion and Spain's first, loves to entertain friends and family with card tricks and sleight-of-hand.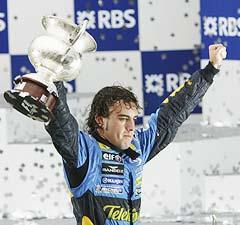 He is also an accomplished mimic and passionate Real Madrid soccer supporter, now as famous in Spain as any of their multi-millionaire 'galactico' players.
Yet there is nothing flash or brash about the softly-spoken Alonso, who prefers a quiet life mingling with students in the English university town of Oxford to basking in the media spotlight in his home country.
"I get recognised maybe once a month...I go to the supermarket, I go to buy the newspaper and I can be there with friends," he said. "In Spain I have people in front of the house so it's impossible."
On the track, the shy and diffident young man is transformed into an aggressive and determined racer who is relentlessly quick.
Much as Michael Schumacher triggered Schumi-mania in Germany, Alonso has awakened Spain to Formula One.
Managed by Italian Flavio Briatore, the Renault team boss who oversaw Schumacher's first two titles with Benetton in 1994 and 1995, Alonso has not so much come of age this year as surpassed his years.
Since March and the second race of the season in Malaysia, Alonso has led the championship with a rare maturity and self-confidence.
Already the youngest driver to start a Grand Prix on pole position and the youngest race winner, both feats achieved in his first season with Renault in 2003, Alonso has won without having the fastest car.
What the Oviedo driver did do was to rack up the early points while McLaren and Kimi Raikkonen suffered reliability problems. By the time they sorted themselves out, it was too late.
Alonso has made just one big mistake, hitting the wall in Canada while leading. Otherwise, his driving has been a model of consistency. He does not appear to feel the pressure.
LAID-BACK
"Fernando does give this incredible impression of being laid back and sometimes you wonder whether he is actually paying attention almost," says Renault's director of engineering Pat Symonds, who also worked with Ayrton Senna and Schumacher.
"But he is. He takes everything in and you can tell from his questions and understanding of a situation that he's actually listened to every word. It doesn't necessarily come over to people.
"I do think that in the team he is quite shy. You do overlook or forget his age, and it's easy to do that because of his ability in the job that he does," added Symonds.
"I'd like to say I'm not surprised [by how he copes with pressure] because I've seen so much maturity in him from the day I first met him. But if I'm honest, and I look at the amazing way he handles himself, of course I'm surprised."
MINARDI DEBUT
For all his youth, Alonso still has more experience of racing than far older rivals.
From an unglamorous background in northern Spain's Asturias region, with his father employed as an explosives expert in the mining industry and mother working in a department store, the champion's career started at the age of three.
His father had made a kart for Alonso's older sister, which she spurned, and by the age of 13 Fernando was a Spanish champion.
The world junior kart title followed and in 2000, while competing in the junior and now-defunct F3000 series, he became Minardi's test driver.
Yet, as a boy, Grand Prix racing was barely on his radar. Spanish television showed only occasional highlights and motorcycling was far more popular.
Until five years ago, he could have walked past Schumacher without either man recognising the other.
"I knew of Michael because I was racing in go-karts and you always know the big names in Formula One," Alonso told Reuters. "But I didn't know his face until five years ago."
In 2001, while contracted to Renault, the Spaniard made his Formula One debut with Minardi and was soon on the fast-track.
"Fernando's got more natural talent than I've ever seen in the drivers I've come across," said Minardi's Australian boss Paul Stoddart.
One race in particular stood out that season, the final round in Japan when Alonso already knew he was leaving to become Renault's test driver in 2002 and Minardi were last in the championship with no points.
There was nothing to prove and nobody would be watching a backmarker at one of the most daunting circuits on the calendar. Yet he drove a storming race, quick lap after lap.
"It was an unbelievable performance and it just showed that he has actually got what it takes," said Stoddart.
There are no doubters now. The only question is how many more titles he can win, even if Alonso will no doubt play down the expectations.
"I am just a normal guy," he said at the start of the season. "I was never totally obsessed with making it to Formula One. For me, this is a job like any other -- it has its own pressures and restrictions.
"Of course, it brings its own privileges too."
List of Formula One champions:
2005 - Fernando Alonso (Spain) Renault
2004 - Michael Schumacher (Germany), Ferrari
2003 - Schumacher, Ferrari
2002 - Schumacher, Ferrari
2001 - Schumacher, Ferrari
2000 - Schumacher, Ferrari
1999 - Mika Hakkinen (Finland) McLaren
1998 - Hakkinen, McLaren
1997 - Jacques Villeneuve (Canada) Williams
1996 - Damon Hill (Britain) Williams
1995 - Schumacher, Benetton
1994 - Schumacher, Benetton
1993 - Alain Prost (France) Williams
1992 - Nigel Mansell (Britain) Williams
1991 - Ayrton Senna (Brazil) McLaren
1990 - Senna, McLaren
1989 - Prost, McLaren
1988 - Senna, McLaren
1987 - Nelson Piquet (Brazil) Williams
1986 - Prost, McLaren
1985 - Prost, McLaren
1984 - Niki Lauda (Austria) McLaren
1983 - Piquet, Brabham
1982 - Keke Rosberg (Finland) Williams
1981 - Piquet, Brabham
1980 - Alan Jones (Australia) Williams
1979 - Jody Scheckter (South Africa) Ferrari
1978 - Mario Andretti (U.S.) Lotus
1977 - Lauda, Ferrari
1976 - James Hunt (Britain) McLaren
1975 - Lauda, Ferrari
1974 - Emerson Fittipaldi (Brazil) McLaren
1973 - Jackie Stewart (Britain) Tyrrell
1972 - Fittipaldi, Lotus
1971 - Stewart, Tyrrell
1970 - Jochen Rindt (Austria) Lotus
1969 - Stewart, Matra
1968 - Graham Hill (Britain) Lotus
1967 - Denny Hulme (New Zealand) Brabham
1966 - Jack Brabham (Australia) Brabham
1965 - Jim Clark (Britain) Lotus
1964 - John Surtees (Britain) Ferrari
1963 - Clark, Lotus
1962 - G.Hill, BRM
1961 - Phil Hill (U.S.) Ferrari
1960 - Brabham, Cooper
1959 - Brabham, Cooper
1958 - Mike Hawthorn (Britain) Ferrari
1957 - Juan Manuel Fangio (Argentina) Maserati
1956 - Fangio, Lancia/Ferrari
1955 - Fangio, Mercedes
1954 - Fangio, Mercedes/Maserati
1953 - Alberto Ascari (Italy), Ferrari
1952 - Ascari, Ferrari
1951 - Fangio, Alfa Romeo
1950 - Giuseppe Farina (Italy) Alfa Romeo.
- - - -
Multiple champions:
7 - Schumacher
5 - Fangio
4 - Prost
3 - Brabham, Stewart, Lauda, Piquet, Senna
2 - Ascari, Graham Hill, Clark, Fittipaldi, Hakkinen